Small Garden Design Ideas to Transform Compact Spaces
By Amy Reeves published
Start planning with these small garden design ideas that will turn a compact space into a outdoor oasis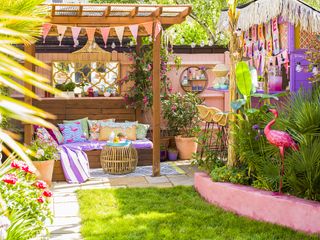 (Image credit: Wayfair)
Small garden design ideas can be some of the trickiest to replicate. Unlike those with sprawling lawns or patios to seat a hundred, every inch of space has to be considered when planning a small garden design. However, try not to feel limited by a compact outdoor space — they often inspire some of the most elegant and interesting design solutions.
As not every space is the same size or shape, we've collected a range of styles, designs and landscaping layouts so you can get started with all of the inspiration and ideas you will need.
Scroll down to find everything from strategic planting tips, ingenious hardscaping ideas and simple, cost effective upgrades that will make the most of any awkward area.
Set Out a Wish-list of Small Garden Design Ideas
First things first, start by thinking about your priorities for your garden.
Do you like planting in beds or pots? When designing beds and planters in a narrow garden, try to construct along just one side, rather than two to reduce the feeling of being boxed in. Pots are great as they can be moved out of the way as needed but consider adding one large, feature pot to create drama.
Will a patio be required for entertaining guests? Is it worth extending the patio through the whole garden, rather than dividing the small space into unusable and separate patio and lawn areas.
Would a covered space for all-year-round use be helpful? If we have learned anything from this year, it's that maximising time out in the garden is key to wellbeing and, sometimes, socialising. Consider adding a permanent cover over a section of garden for use in rainy weather.
Once you have a wish-list it is much easier to collect small garden design ideas that will suit your space that can be replicated for a sleek finish.
Be Smart When Choosing Garden Furniture
If you are after a seating area for your small garden, consider buying foldaway furniture, or a narrow table that won't take up too much of the patio/garden space.
In this tiny outdoor space, extra storage can be found in the built-in seating while the steps also offer different levels to place plants — providing the illusion fluidity and space.
Light Up a Cosy Garden Dining Area
In a small garden which doesn't get much sun – for instance once which faces North or is over-shadowed by trees or neighbours – have a change of perspective and create the perfect outdoor spot for evening and nighttime entertaining.
An essential feature of this is ensuring you've incorporated adequate garden lighting ideas.
Solar LEDs hidden in beds, wired outdoor wall lights and festoon feature lights are all great options for creating a warm and welcoming environment.
Create Privacy in a Small Garden with Strategic Planting
Houses with smaller gardens tend to be overlooked by neighbours in terraces or hemmed in by unappealing fencing so choose plants and shrubs wisely to create height and a sense of privacy around the border.
As small gardens are naturally limited on plantable space, opt for perennials and evergreens that offer visual interest all year round.
Create an Indoor/Outdoor Connection
A trick normally used to make interiors of houses feel bigger, using sliding glass, bifold or patio doors ideas to connect indoor and outdoor spaces can work both ways — making the areas feel like one large, usable living room or kitchen.
Another ingenious garden paving idea shown here is the same porcelain tile flooring continues from the living room out into the garden. Many products can come in with an anti-slip finish, making them ideal to use outdoors.
(MORE: Ways to Bring the Outside In)
Add a Heat Emitter to Create a Winter Destination
Adding a firepit, incorporating an outdoor log burner or searching for the best patio heaters will extend the use of a garden sitting area into the colder months, when usually smaller spaces are left ignored.
(MORE: Best Outdoor Log Burners)
Utilise Cost-effective Tricks for the Illusion of a Bigger Garden
Installing a mirror along a garden wall to reflect the sky, greenery and create the illusion of extra space is a cheap trick that works wonders.
Other ingenious ideas along the walls could include adding shelving to increase potting potential and hanging baskets with creeping and drooping plants.
Transform a Small Shed into a Covered Seating Area
This tiny, narrow garden uses every inch of space to create the ultimate cosy garden seating area but the real winner to us is the shallow shed at the end of the garden, welcoming visitors to shelter with a blanket and a glass of something tasty.
Go Grassless for a Low Maintenance Small Garden
Swapping out a sad patch of grass for decking, slabs or even artificial grass means less work to keep a garden looking fresh.
(MORE: Low Maintenance Garden Ideas)
Create an Outdoor Living Room
Take the principals of decorating interiors to a cosy outdoor corner to give a real sense of purpose in a small garden.
This garden is relaxed yet incredible welcoming — complete with fireplace (and firepit), trolley bar and comfy armchair.
Give a Small Garden Design a Makeover
If your small garden is feeling a little tired and in need of TLC, consider giving a new lease of life to exterior walls and fencing with a bright, vibrant colour (using the best masonry paint).
By creating an identity associated with the space, it will feel renewed and ready for another year to host and entertain.
Get on a Different Level When Designing a Small Garden
Looking at garden steps ideas, adding a sunken patio or creating a change in level will give opportunities to create a feeling of space, as well as a few extra spots for adding greenery, water features, and even a small sculpture. This can also help to create more useable space in your garden if it's on a slope.
(MORE: Sloping Garden Ideas)
Assistant Editor Amy began working for Homebuilding & Renovating in 2018. She has an interest in sustainable building methods and always has her eye on the latest design ideas. Amy has interviewed countless self builders, renovators and extenders about their experiences for Homebuilding & Renovating magazine. She is currently renovating a mid-century home, together with her partner, on a DIY basis, and has recently fitted her own kitchen.
Homebuilding & Renovating Newsletter
Get the latest news, reviews and product advice straight to your inbox.
Thank you for signing up to Homebuilding. You will receive a verification email shortly.
There was a problem. Please refresh the page and try again.