Sunken Garden Ideas For Every Outdoor Space and Budget
By Natasha Brinsmead published
Sunken garden ideas can be adapted to suit a range of landscaping styles and need not cost the earth either — take inspiration from our beautiful collection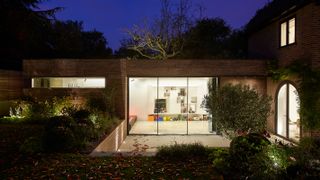 (Image credit: Architect: Patalab Architects Photographer: Julian Abrams.)
If sunken garden ideas tend to conjure up images of grand country houses for you, then it might be time to think again. Sunken gardens can actually be designed to fit in with all kinds of garden sizes and shapes, as well as budgets.
While it is true that, when it comes to garden landscaping ideas, there is most definitely some planning required to create a sunken area within your garden, with a little forethought and careful consideration of what you want from the new space, there is no reason why this needs to be a complicated project.
Although some people do take on the design and creation of a sunken garden on a DIY basis, the input and expertise of an experienced garden designer can also be invaluable here, if only to advise you on the best use of your individual space.
We have rounded up some of the best and most inspirational ways to use and create a sunken garden in order to boost your imagination.
Sunken Garden Ideas: Initial Considerations
Before breaking ground or getting too carried away with your garden design, take time to consider exactly what you want to use your sunken garden for, how it might fit in with the rest of your outdoor spaces and the best location for it.
There are some particularly important elements to bear in mind when creating a sunken area, as opposed to a flat garden, including:
Retaining walls: The walls that will surround your sunken garden need to be sturdy in order to hold back the ground that will be surrounding it. The type of wall you opt for will obviously depend on how far you are digging down for your garden.
Drainage: You definitely don't want your new sunken garden to turn into a swimming pool every time it rains. Good drainage is key to this and it is well worth speaking to a landscape designer about this aspect.
Depth: A sunken garden need not be overly deep — in fact sometimes just slightly lowering a section of patio or lawn can be enough to create interest and a space that seems more cosy and intimate than the other areas of the garden.
Seating: Think about how seating will be provided in your sunken garden. Many people choose to use the retaining wall as the back of a bench, for example.
Outdoor heating: If you plan on including an outdoor fireplace, firepit or outdoor kitchen in your sunken garden, bear in mind its position and how you will direct smoke away from the seating areas.
1. Incorporate Built-in Seating
Including great seating in your new sunken space is key to enjoying it. There are several ways of doing this. While there is most certainly nothing wrong with simply positioning some great patio furniture there, building seating into the surrounding walls is a brilliant way to make the most of the space you have.
When looking at retaining wall ideas, be sure to check out those that use the wall as a backing for bench seating — not only does it look sleek and stylish but when used along two walls this is a great way to create a cosy, intimate feel.
2. Use Curves For a Sociable Vibe
Sunken gardens come in all shapes and sizes so don't feel that you have to stick to straight lines. In fact, curved and circular sunken gardens can really foster a sense of protection and shelter within your outdoor spaces.
It is well worth looking into how to lay a paving circle if you like this idea — with the patio space in place you can then choose between a wall or hedging to form the boundaries of the area.
3. Include a Central Firepit
Firepits and outdoor fireplaces are hugely popular in terms of patio ideas right now. Not only do they give the garden a gloriously snug feel as night falls, but they also make it possible to enjoy it for longer, even when the temperature falls. Many people like to opt for a firepit that doubles up as somewhere to barbecue or toast marshmallows.
This fantastic design is by Sue Gilbert Gardens By Design (opens in new tab) in collaboration with Habitat Landscapes Ltd (opens in new tab). The sunken garden is just one step down but worked with the fact there was a gentle fall in the garden.
4. Create a Formal Style Sunken Garden
The sunken garden of this beautiful oak framed self build suits the style of the house and garden perfectly.
A brick retaining wall surrounds the patio space, with wide steps leading down from the lawn to the extensive seating spot. Low clipped box hedges add a sense of formality and keep the space open so as not to block light from the sun room that now opens out to it.
5. Use a Sunken Garden To Extend Interior Spaces
The best sloping garden ideas often result in some of the most successful landscaping schemes.
In the case of narrow sloping spaces, excavating for a sunken garden that can be accessed from the interior spaces is the best way to ensure a good view of the exterior while allowing for plenty of natural light to penetrate them.
In the garden of this extended house, designed by Paul Archer Design (opens in new tab), the lower ground floor now feels part of the garden and can be fully opened up to the new patio space.
6. Ensure The Space is Private
In gardens that are a little overlooked, it is important that the sunken spaces don't feel exposed — which is where methods of increasing a sense of privacy are key.
To avoid the whole look becoming too oppressive, choose a range of materials to surround the space, including tall plants, such as bamboo and grasses, natural screens and perhaps throw a few privacy fence ideas into the mix too.
7. Include a Pond in Your Sunken Garden
While you are going to the effort of excavating for a sunken garden, why not dig out a pond at the same time?
The garden of this house was heavily sloping meaning 500 tons of soil had to be taken out — the newly formed sunken patio area now features a beautifully contemporary pond with stepping stones leading to the steps that rise to the neat lawn space. It is useful to note, that ponds can also be designed to help with drainage issues and perhaps act an alternative to a soakaway.
8. Use Retaining Walls as Planters
Retaining walls can do more than just hold back soil when it comes to the design of your sunken garden.
Rather than viewing them as just practical features, why not use them to add depth and interest to the space by turning them into raised planters? Simply fill them with soil and get planting — use a range of perennials and annuals for year-round interest and be sure to vary the heights of the the plants you choose.
9. Consider Your Planting Scheme
To ensure your new sunken garden doesn't feel too sterile or isn't only made up of hard landscaping materials, it is important to consider your planting scheme and They can also become great patio planting ideas at the same time up as coming up with your overall design.
The plants you opt for should be considered with the style of your house in mind as well as your soil type and the orientation of the garden. This New England-style self build features a beautiful sunken patio area surrounded by a range of gentle green and purple shrubs that soften the appearance of the brick retaining wall.
10. Create a Lush Feel With Deep Flowerbeds
Sometimes sunken gardens don't feature retaining walls, with the garden gently sloping into them instead, as in this example.
If you decide on this option, make sure to take the opportunity to pack the surrounding slope full of greenery. Not only will this inject a lush sense of wellbeing into the space, but it will also help it to feel distinct from the other areas of your garden, creating a natural division.
11. Give The Illusion of a Sunken Garden
If your garden doesn't quite lend itself to accommodating a sunken area, or your motivation for undertaking a landscaping project is lacking somewhat, then why not fake it it instead?
This is a great one for those after small garden design ideas too. This compact corner has been sectioned off with lattice style fencing, while the Nordic décor Grey Matt Geometric Stone effect Porcelain Outdoor Floor Tiles from B&Q (opens in new tab), create the illusion of a central portion that is lower than the edging.
12. Site a Garden Room in Your Sunken Space
One of our favourite garden room ideas is to ensure your new building has its own patio space to enjoy. Locating a garden office or summer house within a sunken garden will ensure it feels very distinct from your house, becoming somewhere to retreat to or the ideal quite spot to work.
This garden building, by Green Retreats (opens in new tab), feels like a proper space to escape to thanks to it being located in a lowered section of the garden — the hot tub and great selection of outdoor furniture help too...
Natasha is Homebuilding & Renovating's Associate Editor and has been a member of the team for over two decades. An experienced journalist and renovation expert, she has written for a number of homes titles. She has renovated a terrace and is at the end of the DIY renovation and extension of her Edwardian cottage. She is now looking for her next project.
Homebuilding & Renovating Newsletter
Get the latest news, reviews and product advice straight to your inbox.
Thank you for signing up to Homebuilding. You will receive a verification email shortly.
There was a problem. Please refresh the page and try again.