Privacy Fence Ideas: Hide Your Garden From The Outside World
By Natasha Brinsmead published
After privacy fence ideas to shelter your garden and make you feel cosseted within? We have a great round-up, no matter what style or size of garden you have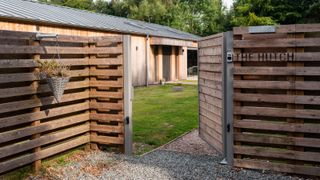 (Image credit: Jeremy Phillips)
There are lots of reasons why you might be searching for privacy fence ideas. Perhaps your garden is very overlooked from neighbouring houses, or maybe it backs on to a footpath or pavement. Maybe your garden runs alongside that of your neighbours and your existing boundary is a little on the low side, making it difficult to dodge a conversation when you're just not in the mood.
Privacy fences can also be used as a garden fencing idea to define certain areas of the garden, such as around an alfresco dining spot, swimming pool or hot tub, where the need for a sense of complete seclusion is paramount.
Our collection of ideas brings together some of the best and most beautiful methods of shielding your garden from view.
Privacy Fence Ideas: What Are They?
Before getting stuck in to gathering new ideas, you may well be wondering exactly what a privacy fence is.
Like all fence types, privacy fences offer a way to create a boundary around your property or can act as a means of sectioning off different zones within your garden. However, they are most often used to add greater visual seclusion through their construction and height.
In general a privacy fence needs to be at least four to six feet high and, if it is at the lower end of this, be topped with trellis or similar.
This type of fence or screen should be of dense enough construction that prying eyes can't find a way through, whether that means they are made of a solid material, such as timber or a composite, or are thickly planted with foliage.
Here, we cover all kinds of privacy fence so whether you only have a small patio area that needs shielding or want your entire garden to be nosy neighbour-proof, we have you, quite literally, covered.
1. Protect an Urban Garden With Venetian Fencing
Venetian fence panels are made up of very minimalist planed slats. They come in a range of sizes and are perfectly suited to contemporary, urban spaces where their unfussy looks fit in beautifully.
If you have existing hedges or walls that are a little on the low side, shorter Venetian fence panels can be used on top to add height and privacy; a great garden screening idea.
The Venetian fencing here is a hit and miss style from Jacksons Fencing — perfect for creating privacy as slats are fitted alternately to the front and back.
2. Use Natural Screening Against a Hedge
In order to create a tidy finish or to improve upon the privacy offered by a hedge alone, install a natural screen made from willow or hazel. The softer lines of this kind of fencing won't jar with your planting scheme yet will prevent prying eyes.
Screens such as this Wicker Screen from B&Q, are simple to fit and are usually sold in rolls — they are also surprisingly robust in strong winds. What's more, this cost-effective idea is comparatively cheaper than the cost to install a fence.
3. Keep Things Fresh With a Painted Fence
A good solid fence need not feeling overwhelming or like a looming presence in your garden. Painting a fence a fresh colour, such as white or grey, can add an airy, coastal or New England feel to any garden.
You could also consider painting your fence a bold, bright shade in order to turn it into a feature or to pick out colours of flowers or plants used in your borders.
4. Create a Cosy Corner To Relax In
Privacy fence ideas really come into their own when it comes to creating spaces that feel completely tucked away and intimate. A fence type such as hit and miss or double slatted is the perfect choice for those after something with no gaps between boards at all.
Using this kind of fencing in the corners of a patio or decking will mean you have somewhere secluded to retreat to at any time of day — ensure you think through your patio cover ideas too so that you can enjoy the space no matter what the weather.
5. Don't Sacrifice Views For Privacy
If you are lucky enough to have a house that enjoys some fantastic views, don't going spoiling that by fitting fences that block them out — there are ways to create privacy without giving up your outlook.
Think about the rooms that are likely to benefit the most from the views — in this beautiful example, the site slopes away so an upside layout works well. While the garden is kept private thanks to panel fencing that follows the slope, the main living spaces can still enjoy the views from huge glazed doors and the large balcony.
6. Position Outdoor Seating Wisely
If you live in a property with a garden that is overlooked by other houses, prioritise marking out a spot to sit and enjoy the garden away from the view of your neighbours.
While you might not be able to shield your entire garden from view, you will usually be able to create a secret seating spot by positioning your outdoor seating right at the base of a solid fence adjoining an adjacent garden, as can be seen here.
7. Get Instant Cover By Faking It
Perhaps you prefer the idea of a hedge to a garden fence but really don't have the patience to wait for one to grow to a height that affords the privacy you require. In this case, artificial screens are invaluable, adding a lush, green feel in an instant.
The Apollo Maple Leaf Contemporary Overlap Trellis panel from B&Q is both quick to install and ideal for anyone after low maintenance garden ideas.
8. Bulk Up a Bare Hedge With Willow Screens
Hedges are undoubtedly a beautiful addition to most styles of garden, but, over time, they can get a little 'leggy' at the base, leaving your garden feeling a bit exposed. This is where natural screening comes in handy, masking the bare, twiggy sections of the hedge without completely taking over.
9. Use Tall Slatted Fences in Contemporary Spaces
Slatted fences – both single and double – really suit contemporary gardens, with their unfussy lines and ability to blend in with pretty much any feature or furniture design. Being minimalist means that you can go really high with them too as they won't overwhelm the space visually.
10. Combine a Living Wall With Fencing
There is nothing in the garden rule book to say that you have to stick to the same boundary type for all your perimeters — very often it is a far better idea to change it up to provide interest. This works well as a small garden design idea – where it helps to deflect the eye away from the size of the space – as well as in larger gardens where it can break up large expanses of the same fence.
Here, a living wall has been positioned opposite a contemporary slatted fence to provide a lush backdrop for the outdoor dining spot.
11. Screen Off a Dining Spot With a Single Panel
Dining areas, both inside and out, should feel like intimate spaces. On large open patios it can be hard to provide this atmosphere so it is a good idea to make your alfresco eating areas into smaller zones that feel tucked away from the rest of the garden — and certainly from the view of any nearby houses.
One brilliant way of doing this is to erect one or two fence panels to one or both sides of your outdoor dining furniture — creating your very own version of a dining booth.
12. Brighten Up a Large Fence With Plants
If you have a paved garden, prefer low maintenance pots over flowerbeds that need weeding or are in a rented property, containers and plant pots make perfect sense — plus, when grouped together, can add interest to or mask an expanse of privacy fencing, softening the whole look instantly.
13. Add Interest With Hanging Plants
Fitting privacy fencing need not mean forgoing garden plants or indulging your love of botany. The right choice of fencing can actually provide the perfect spot on which to hang a range of planters, troughs and pots in which to plant up trailing plants that will add a big hit of greenery to the space.
14. Form An Outdoor Kitchen With Contemporary Fencing
If you are searching for outdoor kitchen ideas, don't forget to factor in the need for the space to be a private area, where friends and family can come together to enjoy cooking and eating.
Choose a high fence to define one corner of your garden as your kitchen area but avoid it from looking too monotonous by combining several fence styles, such as here, where solid slatted fencing has been topped with a more open design.
Natasha is Homebuilding & Renovating's Associate Editor and has been a member of the team for over two decades. An experienced journalist and renovation expert, she has written for a number of homes titles. She has renovated a terrace and is at the end of the DIY renovation and extension of her Edwardian cottage. She is now looking for her next project.
Homebuilding & Renovating Newsletter
Get the latest news, reviews and product advice straight to your inbox.
Thank you for signing up to Homebuilding. You will receive a verification email shortly.
There was a problem. Please refresh the page and try again.