Patio Planting Ideas: 15 Ways to Spruce Up Your Outdoor Area
By Rob Keal published
Patio planting ideas add another dimension to your garden and help enhance outdoor seating areas. Start cultivating a vibrant patio with our 15 suggestions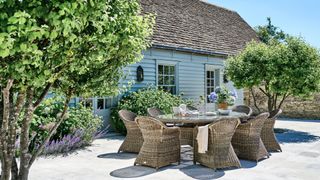 (Image credit: BRIDGMAN)
Patio planting ideas elevate your plot, whether you're looking to create the perfect hub for socialising or simply a quiet place in which you can relax and unwind.
As far as patio ideas are concerned, planting is a surefire way to make your entire garden feel more at one with nature while also helping it look more appealing to anyone wanting to spend time outdoors.
Check out our 15 patio planting ideas for exciting yet practical tips to transform your outside area into a haven that the entire household can enjoy.
Patio Planting Ideas: What to Consider
Patio planting ideas can transform a patio, bringing a hint of colour, texture and definition, softening a hardscaping scheme.
It's important to choose planting which not only complements the style, colour and size of your patio, but also its position, as Jack Sutcliffe, CEO and Co-founder of Power Sheds, explains: "You should pay attention to how much sun or shade your patio receives during the day, and then read plant labels before buying.
"'Full sun' is considered six or more hours of direct sunlight, while 'part sun' is for plants who like about three hours of sun.
"Pots and other types of containers make it possible to have plants on concrete or gravel patios without surrounding soil, but you should give some thought to the container's material. Ceramic has thick sides which protect plants from overheating, whereas fabric provides a more environmentally friendly option."
1. Place Small Pots Around Your Patio
One of the easiest, most effective patio planting ideas is to use small pots to frame your outdoor area. They create an attractive border between your patio and the rest of your garden, as well as being low-maintenance (regular watering is usually all that is needed to keep small potted plants alive).
Choose pots that complement your garden paving ideas. Clay plant pots, for example, lend a rustic aesthetic to brick or stone patios, while square, concrete contemporary planters can suit more modern patio areas.
2. Add a Trellis for Height and Definition
Trellises make themselves at home in all sorts of garden spaces, and including one in your patio planting design will lend extra charm and coverage, as well as better defining the overall space.
Trellis panels can be secured to existing walls surrounding your patio — they can be particularly effective for visually breaking up large areas of brickwork, for instance, surrounding the patio. This will give plants ample room to grow while at the same time bringing a more natural feel to your garden.
A trellis can also be useful in screening unsightly views (such as bins), making it a welcome addition to your garden screening ideas.
3. Fix a Hanging Basket to the Outside Wall
Patio planting ideas don't have to be limited to ground level. Hanging baskets are a great way to showcase the beauty of your garden from a different perspective, and only involve a small amount of watering to keep them looking fresh and vibrant.
You can easily fix a hanging basket to the exterior wall above your patio via a simple bracket. Of course, you will need to screw this into the wall beforehand, so make sure that it can take the weight first before using a cordless screwdriver for a secure fit.
4. Plant Within Your Patio Borders
Planting between patio borders can soften the transition between the patio and lawn, while ensuring the patio remains free from pots. Your patio will need to have a strong boundary that can accommodate garden plants without them spilling over onto your paving and potentially causing an unnecessary obstruction. A landscape designer can aid here.
Framing patio steps with trees is a great garden steps idea, as shown in this garden. They give a focal point to this garden and provide clear definition to the overall patio space.
5. Use Planting to Add Shade
Shade helps make any garden more pleasant to sit in when the weather gets warm. Ensuring your patio is well-shaded adds functional appeal to the entire area.
Consider planting a tall tree nearby and letting its canopy shade your patio area. This not only helps creates a strong focal point around which to develop your other patio planting ideas, but also provides welcome relief for you and your guests when out in the garden on hot days.
Just bear in mind that your patio may require a little extra maintenance as autumn hits. Investing in one of the best leaf blowers will help make the task of leaf collection quick and easy.
6. Zone Your Patio Area With Plants
Garden zoning can be tricky, depending on the amount of space you're working with. Still, if you have a patio, it is possible to use plants in a way that highlights the area's best features.
Surrounding the patio with different sized potted plants is one way to clearly signpost it without being over the top.
7. Create a Floral Boundary Between the Patio and Your House
In a lot of garden design projects, it is easy to see where the house ends and the patio begins. There appears to be a lack of transition from one area to another, but planting can help bridge this gap without it costing you a fortune.
Topiary plants of differing sizes line the exterior walls and patio of this period home. Note too how the clay plant pots echo the materials used to construct the house — clay hanging and clay roof tiles.
8. Soften Contemporary Patios With Planting
Often, planting is designed into a patio scheme to soften it. Take this contemporary patio, for example. Here, planting has been used to create a secluded oasis in this garden, providing the homeowner with a dedicated space in which they can relax and/or entertain while outdoors.
Consider using a diverse array of bushes and shrubs when planting around your patio, and perhaps even a couple of trees to give an entranceway effect. However, do ensure that any planting won't detract from the welcoming appeal of the patio area itself.
9. Draw Inspiration From Garden Furniture
Whether you have a small garden or a much larger plot, your patio will most likely have outdoor furniture, especially if it has been designed to accommodate guests when the weather is warm.
This being the case, you should look to your garden furniture for inspiration when choosing patio planting. Outdoor furniture not only provides a focal point that plants can grow around, but also offers a sounding board from which to develop further patio planting ideas.
For instance, if you have a rustic wooden bench and table standing in a quiet corner of your garden, adding plants to that area creates a more calming atmosphere. Likewise, a combination of potted plants and climbers evokes the feeling of a forest glade that will make you want to spend as much time outdoors as possible.
10. Give Edible Planting a Go on the Patio
An increasing number of home gardeners are taking up growing their own fruit and vegetables. While you may think this requires a lot of space, certain edible plants can be cultivated within the boundaries of your patio area.
Herbs are the most obvious choice if you wish to begin edible planting, as they are relatively low-maintenance and can be grown in a basic planting bed. Alternatively, herbs can be grown in raised planters on the patio.
The close proximity to the kitchen is very beneficial when growing your own produce on a patio.
Vegetables like tomatoes, carrots and peppers are the aim for most gardeners, although the planters you get for these must be at least a foot deep so the roots can properly take hold and spread.
Edible plants also go hand in hand with organic gardening, so if you're keen to create a chemical-free garden, your patio can be a good place to start.
11. Pick Out Raised Planting Beds
Rows of raised planters can be a great idea in narrow gardens where space is limited. They help create a tranquil, natural environment that is also accessible to the entire household for outdoor activities like socialising or light gardening.
While you can add raised planting beds after a patio has been constructed, it's often more cost-effective to integrate the planters as part of your overall hardscaping project. The payoff is a garden layout that maximises all possible space and highlights the beauty of your patio in a stylish, innovative way.
12. Let Your Climbing Plants Grow Freely
Climbing plants are a welcome addition to any outdoor area, paved or otherwise. They not only provide effective screening, but add natural depth to the overall plot, giving it an extra sense of dimension.
With climbing plants, your first step is determining what support structure they need. Some climbers can be left to grow freely, while others require a trellis, or support system to help them reach their full potential.
You may also wish to allow your climbers to grow up any existing garden structures, like a pergola, or perhaps even create a living wall, but take care to ensure that their weight does not cause the framework to become unstable.
13. Try Tiered Planting for an Elevated Effect
Ideal if you have a sloping garden or want to build up across several gradients, tiered planting affords you the opportunity to display your creativity while still maintaining a fully functional patio area.
By staggering your planting above the patio, you can create ambience and structure, while at the same time offering a fresh perspective on your garden flora.
Perennials are a great idea; growing every year without the need for replanting each spring. Likewise, flowering bushes such as rhododendrons or hydrangeas offer a wider reach.
14. Find Room for a Greenhouse
A greenhouse is the perfect addition to your patio if you are a hobby gardener looking to try your hand at growing some new plants. Using a greenhouse as a dedicated space from which to begin planting adds an element of intrigue to your overall patio design.
Keep in mind that large greenhouses do require a lot of space, and should be built on elevated patios to avoid overpowering the rest of your garden plot.
An alternative could be a potting shed, which despite not always being as roomy, still affords the opportunity for you to grow your own plants in a safe, secure environment.
15. Add Colour to a Patio with Planting
Colour is important to the appearance of any garden, and yours is no exception. By adding colour with your patio planting ideas, you will create a bright, attractive space that makes everyone in your home feel like spending time outdoors.
According to Sutcliffe, some of the best plants for bringing colour to your patio include:
Sweet Alyssum
Succulent
Nemesia
Caladium
Eggplant
Begonia
Lamb's Ear
Fuchsia
Creeping Thyme
Cuphea
These can be planted in pots to suit each plant's mature size, or cultivated freely in the soil surrounding your patio. You should visit your local garden centre first for advice on how best to achieve successful growth.
How Much Does Planting Around a Patio Cost?
This depends on how big your patio is, how much planting you intend to add and the overall scale and complexity of your landscaping project.
Incorporating a few small- to medium-sized plants around your patio means budgeting anywhere from £10-£50 per plant, although international flora does usually cost more on account of its exotic origins.
Of course, larger planting and therefore comparatively bigger landscaping projects will cost considerably more, given the work involved.
Sutcliffe explains: "If you already have a patio and existing space for plants, you can do a lot of the work yourself and may only have to pay the cost of the plants.
"For gardeners looking for inspiration when it comes to patio planting, you could try adding planters to your patio, growing climbing vines, planting a hedge wall for privacy, or even using small trees to add some shade."
Naturally, the final costs for your patio planting ideas depend on the extent to which you plan on renovating your garden space, so be sure to carefully consider the cost-benefit ratio of the work you want to have carried out.
What Are the Best Patio Planting Pots?
"The first thing to consider when choosing planting pots for your patio is what their intended use is," Sutcliffe explains.
"Are you interested in growing fruit or vegetables or is this strictly ornamental? This is because potted vegetables require closer attention to space and depth, whereas ornamental plants give you more freedom when choosing the aesthetics and style of your planting pot.
"Materials are also an important consideration, Terra-Cotta is easily accessible if you mistakenly overwater your plants and ceramics protect plants from overheating, but both are difficult to move around.
"If mobility is important, you can buy plastic pots that mimic the appearance of stone, ceramic, or concrete."
Rob Keal is the Content Editor at Homebuilding & Renovating. With a background in content marketing, he began his career back in 2016 as a freelancer, before honing his craft at various digital marketing agencies. Looking to specialise in DIY and homes, he joined the team in February 2022.
Renovation has been part of his life since he was nine years old, when his parents bought a medieval cottage and completely revived it, introducing him to kitchen remodels, loft conversions, landscape gardening, and much more besides along the way. A bedroom extension and patio refurbishment are among his next planned projects. He is also passionate about interior design and landscape gardening.
Homebuilding & Renovating Newsletter
Get the latest news, reviews and product advice straight to your inbox.
Thank you for signing up to Homebuilding. You will receive a verification email shortly.
There was a problem. Please refresh the page and try again.