Garage Conversion Ideas: Practical Solutions for Your Home
If you're looking for garage conversion ideas, take a look at these great options that could not only transform how you live in your home, but add a real sense of wow-factor too!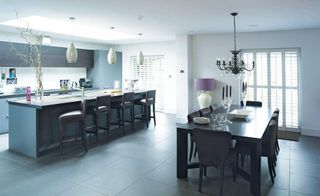 (Image credit: Oliver Beamish)
Most garage conversion ideas will involve a little design ingenuity to turn them into practical living spaces. As garages were originally designed to house cars, they are relatively long and narrow spaces that don't instantly lend themselves to habitable living.
You may need to knock down or reposition walls to make the most of the extra square footage and some homeowners choose to combine this project with a ground floor remodel to really maximise the benefits of the additional space and how it works with the rest of the existing home.
Whatever the reason for you wanting to convert your garage, maybe your kitchen was too small, you needed a utility room or somewhere to house your hobbies or work from home, you'll find some great garage conversion ideas below.
(Check out our ultimate guide to garage conversions for a comprehensive look at everything you need to consider for converting the space – from planning rules and building regs to costs and ideas for bringing in light).
Relocate Your Living Space as a Garage Conversion Idea
A popular idea for a garage conversion is to relocate the living room (or create a cohesive kitchen/dining/living room. Open up the space by knocking down internal walls — you could not only improve the flow of your home, but also make a small, dark home feel a lot more spacious.
Combining the removal of internal walls with the addition of a roof lantern, bifold doors or some fixed glazing will flood the new layout with natural light.
Use Your Converted Garage for Your Hobbies
If you want to make space to enjoy your hobbies from home, then creating a dedicated zone is a great idea for your converted garage.
This could include a:
games room
man cave
library/reading room
craft/hobby workshop
Having a dedicated space for your hobbies means that you can kit out the room as required without impacting on your existing layout (or affecting other family members).
You might also find that the long and narrow shape of the existing garage works well with your chosen hobby and removing existing walls is unnecessary.
Depending on the use, you could even install an entrance door to allow direct access for visitors.
Create a Spacious Kitchen-Diner by Knocking Through
Where garages adjoin the kitchen, knocking out the wall between the two in order to create one larger kitchen-diner is a great idea — and also overcomes the long, narrow issues.
Adding a roof lantern can be a great way to flood the space with natural light, making it feel more spacious. It can also help to zone the new room and prevent it from feeling too cavernous. If going open-plan doesn't appeal, you can opt for a broken plan design and incorporate sliding or pocket doors or internal glazing.
This will allow you to keep the flow of light throughout the space, with the flexibility to close off spaces when required.
Another good use of garages that sit alongside a kitchen is as a utility room, as they also offer the potential for a back door. You can also add a downstairs WC (very useful if your family is growing).
(MORE: Top 10 Kitchen-Diner Design Tips)
Consider Extending Above During a Conversion
If you are keen to add considerable space to your home, then it is worth considering extending over your garage when you convert it, especially if you need to factor in an additional staircase. This can help to create balance between the ground and first floor space.
Incorporate an en suite and this can make a great self-contained guest bedroom. But if you are looking to add an extra bedroom for a member of the family, you will need to consider the layout of the top floor and how the new bedroom will be accessed from the upper level so it feels connected to the rest of the house.
Use a Converted Garage as a Home Office
Another great garage conversion idea is to design a home office. This can make perfect sense as garages are usually located away from the main living areas and allow for a self-contained entrance for work-related visitors.
Having a designated work space means you can set your workstation up as you need, and you don't have to worry about the room having a dual purpose.
Adding a Home Gym is a Great Garage Conversion Idea
Check out our latest subscription offer
Fitness fans may enjoy installing workout equipment in their homes, but it can prove problematic if this equipment has to be located in existing living space. Housing a home gym in a garage conversion is a great way to avoid large items like a treadmill or elliptical machine in your living room.
Having a dedicated space will allow you to kit out the space with hard-wearing, slip-resistant flooring that may not be suited to other areas of your home. You could also consider adding an air conditioning unit or soundproofing measures.
Using the space as a playroom and keeping it partially open to an adjacent kitchen makes it possible to supervise younger children while carrying out day-to-day jobs. Make sure you add loads of storage options for toys.
Garage conversions are also the ideal spot for a second living room for older children to relax in — keeping the inevitable noise away from your own relaxing spaces and avoiding squabbles over what to watch on TV.
Use Your Garage Conversion as an Additional Bedroom
Depending on the existing layout of your property, you may wish to convert your garage into an additional bedroom. You could also break the long and narrow space up with a stud wall and include a WC/bathroom/shower room.
Garage Conversion Ideas for Detached Garages
Create a Separate Annexe
In the case of detached garages you also have the option of converting them into a separate annexe. Be aware that this may be subject to planning permission.
Homebuilding & Renovating Newsletter
Get the latest news, expert advice and product inspiration straight to your inbox.
Thank you for signing up to Homebuilding. You will receive a verification email shortly.
There was a problem. Please refresh the page and try again.