12 Garage Conversion Ideas: Inspirational Ways to Repurpose Your Garage
Our collection of the top 12 garage conversion ideas around should get you well on the way to adding extra space and value to your home — without having to extend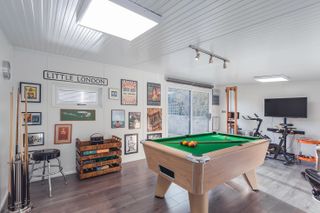 (Image credit: Green Retreats)
Before you start devouring all our garage conversion ideas, there are a few points you need to be aware of from a more practical perspective. 
As garages were originally designed to house cars, they are often slightly awkward long, narrow spaces that don't necessarily lend themselves to habitable living.
In order to convert a garage into a comfortable and homely space, you might find you need to knock down walls or reposition them. This often maximises the extra square footage you will be gaining. Many homeowners combine a garage conversion with a complete remodel of their ground floor spaces — a brilliant idea that allows you to rethink your current spaces and integrate your garage fully into your layout.  
There are lots of reasons why people decide to convert a garage — maybe you want a bigger kitchen, perhaps you fancy it as a new boot room or a home office space. They make great playrooms, dens, quite snugs for grown ups to escape to or downstairs WCs. Some people choose to use them as a ground floor bedroom with a shower room too. 
Whatever the reason for you wanting to convert your garage you'll find some great garage conversion ideas below.
(Check out our ultimate guide to garage conversions for a comprehensive look at everything you need to consider for converting the space – from planning rules and building regs to costs and ideas for bringing in light).
Garage Conversion Ideas No. 1: Create a Home Office
Number one of our garage conversion ideas is for new home office space — there can't be many of us who aren't crying out for this right now. 
Whether it is for children to carry out homework or for you or another member of the family to have somewhere quiet and organised to work from, garage conversion home offices are a great idea. 
Garages are usually located away from the main living areas and allow for a self-contained entrance for work-related visitors.
Include features such as plenty of built in storage, lots of power outlets, a good source of natural light and consider incorporating space for tea and coffee making facilities, a sink and even a toilet if you are likely to have visitors. 
Garage Conversion Ideas No. 2: A Hobby Room
No matter what your new hobby room will be for creating a dedicated zone is a great idea for your converted garage.
Ideas for fun uses for your garage conversion include:
games room
snug or den
library/reading room
craft/hobby workshop
gaming room
home gym
Having a dedicated space for your hobbies means that you can kit out the room as required without impacting on your existing layout (or affecting other family members).
You might also find that the long and narrow shape of the existing garage works well with your chosen hobby and removing existing walls is unnecessary.
Depending on the use, you could even install an entrance door to allow direct access for visitors — this works well for teenage games or hang-out spaces in particular.
Garage Conversion Ideas No. 3: Knock Through to Create a Kitchen Extension
If your garage is adjacent to your kitchen, knocking out the wall between the two in order to create one larger family kitchen or kitchen/diner is a great idea — and also overcomes the long, narrow issues.
You can increase the amount of light entering the new space by incorporating a roof lantern or a run of skylights— a great way to flood the space with bright, pure light and one that will also make it feel more spacious. 
Try to split the new space into zones to ensure each area of the new space has a distinct purpose. Use different types of light, flooring and paint colours to to this and take a look at our guide on Making Open Plan Spaces Work for more ideas. 
(MORE: Top 10 Kitchen-Diner Design Tips)
Garage Conversion Ideas No. 4: Utility Room
Another way to put garages that sit adjacent to kitchens to good use is to repurpose them as a utility room or boot room. 
They offer the potential to easily incorporate a back door, plus you could add a downstairs WC if you don't already have one.  
Garage Conversion Ideas No. 5: Extend Above Your Garage 
If you are keen to add considerable extra space to your home as part of your garage conversion, then it is worth considering extending over your garage when you convert it. This can help to create balance between the ground and first floor space.
Incorporate an en suite and this can make a great self-contained guest bedroom. But if you are looking to add an extra bedroom for a member of the family, you will need to consider the layout of the top floor and how the new bedroom will be accessed from the upper level so it feels connected to the rest of the house.
Garage Conversions Ideas No. 6: Create a New Living Room 
A popular idea for a garage conversion is to relocate the living room there (or create a cohesive kitchen/dining/living room). 
Open up the space by knocking down internal walls — you could not only improve the flow of your home, but also make a small, dark home feel a lot more spacious.
Many people these days choose to have two living spaces (one for family and large gatherings and a quieter retreat) in their homes and a garage conversion can be a great way to make room for one. 
Garage Conversion Ideas No. 7: Creating a Home Gym 
Check out our latest subscription offer
Struggling to get to the gym or looking for alternative ways to keep fit during the colder months? Whilst it is feasible to position workout equipment elsewhere in your house it tends to take up a lot of space — which is why housing a home gym in a garage conversion is a great idea.
Having a dedicated space will allow you to kit out the space with hard-wearing, slip-resistant flooring that may not be suited to other areas of your home. You could also consider adding an air conditioning unit or soundproofing measures.
Garage Conversion Ideas No. 8: A New Playroom
Garage conversions often make brilliant playrooms.  Keeping the newly refurbished space partially open to an adjacent kitchen makes it possible to supervise younger children while carrying out day-to-day jobs. 
Make sure you add loads of built-in storage options for toys.
Garage Conversion Ideas No. 9: Create an Additional Bedroom
Depending on the existing layout of your property, you may wish to convert your garage into an additional bedroom. You could also break the long and narrow space up with a stud wall and include a WC/bathroom/shower room.
Garage Conversion Ideas No. 10: Home Cinema
Garage Conversion Ideas No. 11: Give the Teenagers Their Own Space
A home cinema garage conversion is a brilliant idea for lots of reasons. Firstly, the conversion gives you the opportunity to pack in plenty of soundproofing — meaning the whole house need not be subjected to whatever film has taken your fancy.
Secondly, you are starting from scratch, meaning you can include as many power outlets as your new entertainment system will require. You can also tailor the lighting and think about furniture placement with a blank canvass mindset. 
Garage Conversion Ideas No. 12:  Create an Annexe in a Detached Garage
In the case of detached garages you also have the option of converting them into a separate annexe. Be aware that this may be subject to planning permission.
Natasha is Homebuilding & Renovating's Associate Editor. She is at the end of the DIY renovation and extension of an Edwardian cottage.
Homebuilding & Renovating Newsletter
Get the latest news, reviews and product advice straight to your inbox.
Thank you for signing up to Homebuilding. You will receive a verification email shortly.
There was a problem. Please refresh the page and try again.