Garage Conversions: The Complete Beginner's Guide
By Natasha Brinsmead , Rebecca Foster
Thinking about a garage conversion? Our complete guide has everything you'll need to know about planning and executing your project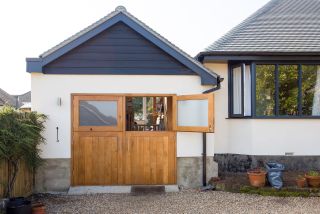 (Image credit: Bliss Interiors )
If you're dreaming of extra space in your home, a garage conversion could be the cheapest and easiest way to gain an extra room.
Using the existing structure, including the foundations, may mean that much less work is required than building an extension from scratch. Also, it's likely to be far quicker too.
However, it's not just a case of blocking up the door and decorating inside — there's stringent Building Regs that apply to converting a garage, and you may also not be able to complete the conversion with planning permission in some instances.
In this thorough guide to the intricacies of garage conversions, you'll find out the main considerations of your project, from whether your foundations are strong enough through to insulation, ventilation and fire regulations.
Is a Garage Conversion Worth the Money?
Whether your home's garage is integral or detached, converting it into habitable accommodation is one of the speediest routes to boosting living space. You're gaining living space from the existing footprint of the garage without having to build a new structure from scratch, as you would for an extension. Plus, a garage conversion won't gobble up precious garden space.
A garage is also a good size for many uses. There are plenty of garage conversion ideas to explore — from an extra bedroom or a utility room, to spaces like games rooms and home gyms.
This type of project is often received more favourably by the planners, too, as they usually involve fewer alterations to the exterior of the house. As you're working with the existing structure you won't necessarily need to dig out new footings. It is always worth getting the existing footings checked out though, especially if you want to build a second storey on top of the garage at a later date.
(MORE: Extending Over a Garage)
"If you're working with an attached garage, removing the dividing walls can add a significant amount of space to the most lived-in areas of your home," says Sabatino Torchitti, head of quality in Building Regulations at architectural practice Resi.
Carrying out a garage conversion makes good sense if you're undertaking a larger house remodel at the same time. That way, you can rejig the floorplan to establish a layout that flows from one zone to the next. Be aware though, that tapping a wall and hearing a hollow sound isn't necessarily proof that it's not load bearing. If you're unsure, it's worth bringing in a structural engineer to check.
Before charging ahead, there's still numerous considerations to factor in, especially if the scheme is to deliver the results you want. "You'll need to consider how the garage is constructed and what you want to use it for," says Jude Tugman, managing director at Architect Your Home. "These criteria will impact on the cost of the conversion."
Do you want more light, a quiet study, a utility area or an extra bedroom? Additionally, if you're doing away with your main storage space for bikes and tools, you'll need to work out where these items can be moved to.
Whilst a garage conversion is, in the majority of cases, a brilliant way to add space and value to your home, there are certain instances where it might not be a viable option or might cause more problems that it is worth. Consider whether this project is right for you by thinking about the following:
Will the work mean one or more existing rooms will frequently be rendered unusable by building work?
Remember that you will be held responsible for the legality of work done on your property. Time and energy will be required supervising work, being present to allow tradespeople access and making design and other decisions
Will planning permission be granted? Is the house listed or in a designated area?
Might the cost of reinforcing foundations, a new roof etc. mean you are paying more than you expected?
Will a Garage Conversion Increase My Home's Value?
Increasing your home's usable floor area will likely boost its cash value, and a garage conversion can add as much as 15% according to estate agent Portico, but you need to consider the individual circumstances of your home.
Does your home really need extra room? Do you have a drive to park on, or is there copious amounts of on-road parking? What is the price ceiling in your area? These factors will affect how attractive your home is to potential buyers and may affect the overall amount that converting a garage adds to the value of your home.
Planning
Does a Garage Conversion Need Planning Permission?
The short answer is: probably not.
Most integral garage conversions will usually fall under Permitted Development, meaning planning permission is not required. However, it is still best to check with your local authority. Resi estimates that only 10% of garage conversions will require planning permission.
If you live in a conservation area or in a listed building, you will almost certainly need planning permission. It is also worth checking for any planning conditions attached to the house or garage when constructed (i.e, the garage has to remain as parking) before beginning works as an application will need to be submitted to remove the conditions.
(MORE: What are Planning Conditions?)
In some areas, especially Conservation Areas, PD rights for garage conversions have also been removed. This may also apply to areas where on-road parking is an issue.
Join the Planning Hub
The Planning Hub is a new online resource that will help you understand how to get to grips with complex planning rules. Join today for access to easy-to-read guides which will provide you with key information to help you secure planning permission.
If the conversion falls under Permitted Development, applying for a Lawful Development Certificate (LDC) is a good idea, particularly if you aim to re-mortgage or sell the house in the future.
Even if Permitted Development rights have been removed, you may still be able to convert a garage, but you'll need to make a householder planning application.
If you are converting a separate, stand-alone garage as opposed to an integral one, then you may have to apply for a change of use.
(MORE: 23 things you can do without needing planning permission)
Cost
How Much Does a Garage Conversion Cost?
As a minimum, it's worth setting aside at least £1,000/m2 for the conversion. This price includes construction, plus the design, planning, Building Regs and a structural engineer's costs, but not finishes and furniture. This could easily rise to between £1,500 and £2,000/m2 depending on the level of work and the finish you choose.
"For a single garage conversion, you'll need to budget around £20,000, with some variation due to your choice of materials and fittings," says Rob Wood, managing director at Simply Extend. "For a double garage, that figure would be more like £30,000."
Of course, there are caveats for all these prices. Project costs will vary depending on structural changes, utilities and plumbing, which can push prices up (and if your project is in London you should always expect to pay at the top end of the range).
It's also worth noting that at present construction material shortages are causing a spike in many building materials, from timber and steel to plaster. In fact, some estimates suggest that building quotes have increased 10% year on year to factor in these increases, as well as an increased workload for builders overwhelmed with new demand and less available labour. You should expect to wait several months before a contractor can start your garage conversion at present — you may find there's a good reason a builder has an immediate availability, and that they're a company to avoid.
(MORE: Need Tips on How to Find a Builder? Check These out.)
Other factors will affect the overall cost of your conversion, from the condition of the existing structure to the fit-out spec and level of finish. If the foundations, walls or roof are in questionable condition before works get started, the cost of putting them right could potentially result in a bigger outlay than you budgeted for.
A final tailored quote would also take into account waterproofing, insulation and the integration of the conversion with the rest of your property.
Before you begin work, be sure to familiarise yourself with the factors that are likely to affect the cost of your garage conversion, including:
the foundations need reinforcing
the walls, floors or roof are in dubious condition
the ceiling height needing to be raised (you need around 2.2-2.4m of headroom once the floor has been raised to 15cm above the external ground level)
design fees
planning applications
the services of a structural engineer.
Design
Should an Architect Design my Garage Conversion?
Whether you decide to use an architect, another house design professional or come up with designs yourself is a personal decision that should be based on the scale and complexity of the project.
Using an architect, an architectural technologist or another type of design professional will mean expert design input and ideas that you might not have thought of. A design professional will also have useful trade contacts and will have experience in dealing with Building Control.
When it comes to architect costs, expect to pay from as little as £1,200 right up to £3,000 for design fees, depending on the complexity of the design.
Some people choose to come up with a design themselves and carry out a DIY garage conversion — a good option for those with limited funds and the spare time to get stuck in.
You could also use a recommended builder — most good builders will be able to take on a garage conversion.
Another option is to use a garage conversion specialist — these companies usually have a wealth of experience but, as with all of the above options, be sure to view completed projects and speak to past clients first.
A garage conversion specialist should have plenty of experience in terms of dealing with any planning issues surrounding garage conversions, as well as building regulations.
Building Regulations
Is Building Regulations Approval Needed for a Garage Conversion?
A garage conversion will most certainly need Building Regs approval.
You or your builder will need to stick to the Building Regulations when converting an attached garage into habitable space. Regulations apply to various aspects of the construction, including:
thermal performance
acoustics
fire safety
ventilation.
The LABC website is a really good starting point for information regarding the Regulations surrounding garage conversions in England and Wales.
A building notice or full plans application will need to be submitted to building control as part of this process. Your local building control department will then register the conversion and carry out inspections throughout the project, then issue the final certificate on completion.
Does a Garage Conversion Need a Window?
Garages don't always open onto hallways, and if this is the case for your build, you may be required to install a window that acts as a fire escape route under Building Regulations. This window is subject to certain criteria, including its height from the floor, how it opens and the size of the openable section:
Width and height no less than 450mm
Maximum 1100mm from the floor level
Openable area of 0.33m2 at the bottom of the window
Generally side hung windows are required
If your garage conversion opens directly onto a hallway providing a direct protected route to an external door, or has access to the exterior from within the garage, the window won't be required.
Bear in mind, windows within garage conversions under Permitted Development are largely only allowed in the section replacing the garage door. Any new windows added to the side of your home may require a planning application.
Key Works of a Garage Conversion
Making a garage into a liveable space isn't just a case of moving your furniture into it. Here's the basic process you can expect of jobs required during a garage conversion.
Level, insulate and damp-proof the floor.
Infill the garage door to create a solid wall if required
Insulate the walls and the roof
Plasterboard and plaster
Decorate
Infilling a Garage Door
The existing garage door is one element that needs addressing in your design. The most common route would be to infill this using walling that matches the building, or using blocks before using house cladding or house rendering to unify the new wall with the existing structure.
It may also be possible to retain a door, or use glazing in the infill to bring natural light into the space, also reducing the additional load on the existing foundations.
Foundations
Will a Garage Conversion Need New Foundations?
On of the key elements of converting a garage is blocking up the existing garage door opening (with an infill wall) — perhaps adding a new window or entry door in its place.
In order to add an infill wall, you'll need to establish whether the garage foundations were continued beneath this opening and/or the concrete slab is adequate to support the new wall. This may involve digging a small trial hole in front of the concrete slab to check.
If the existing concrete slab is 200mm or over, this is generally adequate to extend straight up with new brickwork.
"If the existing slab is not adequate there are typically two options," says Stuart Letts. "Either a 1m footing will have to be dug and filled with concrete or a 140mm x 100mm concrete lintel can be added into the wall on both sides below ground level. The new infill wall can then be built on top of that."
Speak with your designer, builder or a structural engineer in order to ascertain the suitability of your foundations.
There are two main routes for those who find their existing garage foundations are inadequate.
Either a 1m footing wall will have to be dug and filled with concrete, or a 140mm x 100mm concrete lintel can be added into the wall, below ground level, on both sides. You can then proceed to build a new infill wall on top.
Insulation
What Insulation Does a Garage Conversion Need?
If you want your garage conversion be a comfortable space to spend time in you will need to ensure it is properly insulated. If the garage is integrated, it's likely to have been built to the same standard as the rest of the house in terms of its thermal performance, but this is not always the case. The garage's construction will inevitably dictate the work required.
Adding external insulation is not usually recommended as, although it minimises the impact that extra insulation will have on internal spaces, it can cause issues externally with wall thicknesses.
The simplest method is to use insulated plasterboard, fixed to timber battens that are protected by a strip of damp proof course (DPC) placed between batten and wall. Alternatively, insulation can be placed between battens, before a fireproof plasterboard is fixed to them.
Insulating a roof typically becomes a consideration in detached and attached garages with no room above.
Otherwise:
In pitched roofs, go for two layers of 150mm glass fibre quilt, one between the joists, another over as usual. A gap of 50mm should be left for ventilation.
Flat roofs tend to need one layer between of rigid PUR insulation board and another below — the space in between flat roof joists however can't be entirely filled. A 50mm air gap must be left above for ventilation. The second layer underneath will drop the ceiling height a bit. Typically 150mm deep flat roof joists will receive 100mm of PUR insulation between the joists and 50mm beneath them
Floor insulation is always absent in a garage and including some in the conversion should be part of the project, whenever it's possible.
Garage floors are often lower than the house floor and so adding a damp proof membrane (DPM), insulation and a new screed, along with your final floor covering, is a good way to bring the levels up to that of the rest of your house.
(MORE: How to Level a Floor)
You can use the existing concrete floor as a base, adding a solid or liquid DPM, before fitting a layer of insulation on top — building control will advise on how much insulation will be required.
Finally, the new screed is poured, ready to take your new floor covering. Be careful not to cover up any existing air bricks.
This is a good time to think about include underfloor heating within your garage conversion.
When working with very large differences in floor levels, a new suspended timber floor is a good idea. Aim to create a void beneath of at least 150mm between the concrete and underside of the timber, placing insulation between the joists, with new air vents to provide ventilation.
Ventilation
What Ventilation is Required for Garage Conversions?
"Home ventilation is vital for a garage conversion, otherwise you're just building a box that's going to sweat." says Mike Taylor from Taylor + Co Architects. Installing an openable window is an easy way to purge ventilation. The opening should have an area of at least 1:20 of the floor area of the room it serves, whereas bathroom windows can be any openable size. Trickle vents should also be incorporated into the window framework to provide background ventilation.
If your garage already has air bricks, these should not be covered up. Be mindful of Building Regulations regarding ventilation if converting a garage to include a bathroom, kitchen or utility room, as you'll likely need an extractor unit to ensure moist air can be removed from the room. You'll find all the information you need about ventilation in Building Regulations Part F.
Services
How do you add Electric to a Garage Conversion?
An electrician will be able to test the existing wiring and ascertain what work will be required. If your conversion involves knocking down internal walls, they will need to be carefully examined too.
A lot of the time, a garage hosts electric meters and distribution boards, allowing for easy installation of electrics. New lights, sockets and electric radiators could put additional strain on older consumer units, which may need to be upgraded. If you're installing wiring for a detached garage, it can be run through an underground channel.
It is possible to locate the garage on the current consumer unit. If it doesn't have its own miniature circuit breaker (MCB), consider replacing the consumer unit or upgrading it.
If the garage is to be another habitable room in your house, its own MCB is probably enough. Consider adding at least one new 20-amp circuit.
An additional mains supply can be installed, with the cost varying from £500 to £20,000. This will also require the installation of a separate consumer unit.
How is Plumbing Added to a Garage Conversion?
A survey should be carried out to locate the main outflows for water (As well as the waste pipe if you're installing a WC). Consider how far the garage is from the mains and waste pipes of the main house. The further the distance, the more digging pipes will add to your project's cost.
Fire Regulations
What are Fire Regulations for Garage Conversions?
You must consider fire safety and the regs when it comes to your garage conversion project.
"Attached garage conversions are usually accessed by a hallway door, providing a safe means of escape to outside, but if you can only enter this new room from another (outer) room, it defines it as an inner room," explains building control officer Paul Hymers.
"Because a fire in the outer room could prevent your escape, the inner room will need an alternative escape route. That could be a door or window and so the role is often performed by the one replacing the garage doors at the front. Escape windows have minimum criteria. If you inner room is a kitchen, en suite, cloakroom WC or bathroom then it doesn't need an alternative exit."
In partial conversions, where only part of the garage is being used as habitable space, the wall separating the two should be fire-rated to 30 minutes.
Homebuilding & Renovating Newsletter
Get the latest news, reviews and product advice straight to your inbox.
Thank you for signing up to Homebuilding. You will receive a verification email shortly.
There was a problem. Please refresh the page and try again.