Downstairs Toilet Ideas: Get the Most from a Small Cloakroom
Planning downstairs toilet ideas involves more than just paint colours and blinds — get advice from bathroom experts on room size, how to plan and more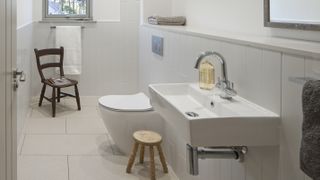 (Image credit: David Barbour)
Small in stature, but an important space to get right, downstairs toilet ideas can come in all styles and designs.
A small cloakroom is generally used by guests and is a must in home with a young family, but they an often a forgotten corner of a floorplan. As such, ensuring the bathroom design is well-considered, practical and welcoming should be top priority.
Designing a downstair toilets in a self build or extension will require a different level of imagination when compared with renovating or updating an existing spatially-challenged spot under the stairs. From bold wallpapers to space-saving sanitary-wear, there are all kinds of clever tricks to make compact water closets the best they can be.
So, we've collected a range of inspirational ideas, with comments from bathroom and industry experts as well as interior designers to help you eke out every inch of potential from your space.
Practical Advice for Downstairs Toilet Ideas
"If you're planning to add a downstairs toilet or cloakroom to your home then there are a few things that you need to consider. One of the most important factors is size; how much space do you have?" advises Graeme Borchard, MD of UK Bathrooms.
"To ensure your new cloakroom is functional the minimum space to work with would be 1,300mm x 700mm, anything bigger than this means that your new space will be that much more comfortable.
"When planning a new downstairs toilet or cloakroom, homeowners forget that Building Regulations require that any new cloakroom has to have suitable ventilation such as an extractor fan. Also it's very useful if your door opens outwards."
You should also have at least two doors between a downstairs bathroom and a kitchen area.
1. Work Out the Size and Shape of Your Downstairs Cloakroom
Let the frequency of the use of the downstairs small bathroom guide the size of the space.
"The size of an additional bathroom area is dependent on your requirements, the main limit would most likely be determined by the layout and space available in your property," advises Lydia Luxford, customer and technical services manager, of Easy Bathrooms. "However for a downstairs bathroom I would suggest only using the amount of space needed to fit the specific items you want in there.
"Unless you have a sprawling home, you won't want to take extra space from other rooms as this could impact the resale value. My recommendation before going shopping to purchase a suite and tiles would be to really assess what you want from the room. Most downstairs bathrooms are just a simple toilet and basin or a toilet, basin and shower area for ease of access and use in a busy household."
2. Prioritise Storage in a Small Downstairs Toilet
Choosing the right bathroom storage ideas to incorporate into a limited space will be high on the list of things to get right from the off. Too much storage and the room will feel cramped; too little and supply of items like towels, cleaning products will have to be outsourced elsewhere.
"Storage is essential in a downstairs bathroom," begins Ann Marie Cousins, founder of AMC Design. "Often these rooms are more compact, so use every nook and cranny available and consider a wall-mounted loo and vanity unit with storage underneath.
"Wall mounted makes the room feel bigger as the eye is drawn to the corners. Make sure you think about what you need to store in there. If it's only extra loo rolls and smaller items, opt for a small unit — don't buy larger for the sake of it."
3. Choose the Right Layout for your Downstairs Loo
For long and narrow rooms, positioning the sink and toilet along the longest wall is a good idea as long as there is enough leg room when sat down. If not, consider dedicating the very end for the toilet and centralise the sink, as in the above example.
Square layouts are blessed with a few different options. For one, adding a built-in units to keep toilet, sink and vanity unit together is a neat solution (plus the opposite wall can be used to hand coats and bags).
L-shaped cloakrooms can be tricky to lay out as you want guests to have room to manoeuvre, while still being practical for storing bits and bobs.
Freestanding and wall-hung units will help to make the floorspace feel less cramped and, if you're building from scratch, concealing the cistern with a stud wall is a worth-while plan.
4. Use Space-saving Sanitarywear in Compact Cloakrooms
There is a fantastic range of space-saving sinks, vanity units and toilets available designed specifically for smaller water closets.
As no one will (generally) will be brushing their teeth or putting on make-up in this space, feel free to simply install a sink with no worktop. Plus, a narrow design will prevent bumped hips while squeezing past.
This stunning bathroom has kept the sanitarywear simple, but the decor interesting; the space is interesting and stylish for guests.
5. Add Some Personality with Quirky Wallpaper
Let a small space make a big impact by going bigger and bolder with the interior design and modern bathroom ideas.
"Bathrooms, in particular cloakrooms, are the perfect places to be a little bit bolder and braver with your interior design choices," explains Rebecca Drury, co-founder, MissPrint. "Homeowners aren't scared any more to make a statement and a vibrant, large-scale or bold dark wallpaper is definitely a great way to do this!"
Note in this small cloakroom that the built-in toilet and storage unit is finished in a complementary green, giving the entire space a cohesive look.
6. Make a Statement with Finishing Touches
"Downstairs loos can often be one of the smallest rooms in the house but that doesn't mean you can't make a statement in them, explains Abbie Ireland, director at Patrick Ireland Frames.
"In my opinion, they are an opportunity to have a bit of fun and play around with patterns and designs that you might not feel bold enough to use anywhere else in the house.
"A statement wallpaper with a beautiful mirror can be all you need, or alternatively, stick to single wall colour and use the wall space for a photo gallery wall using different frame profiles to create more interest."
Here, brassware, the mirror, lighting and vanity handles have been carefully matched for a smart, elegant look.
7. Try a Downstairs Toilet Under the Stairs
"It's pretty simple to create a cloakroom under your stairs; first of all measure the space, keep it simple with just a toilet and basin," explains UK Bathrooms' Graeme Borchard.
"Think about head room; ceiling heights are different from one house to the next but plan for your toilet to be placed under the stairs slope and your basin on the tallest wall or even in a corner.
"The next thing to consider is the waste pipe for your toilet, all waste pipes need to be connected to a soil pipe. Chat to a plumber if you're unsure and at the same time you can plan for the water supply for both your basin and toilet."
8. Play with Optical Illusions in Small Downstairs Bathrooms
Include bathroom tile ideas for small bathrooms, specifically when researching laying patterns, materials and colours. There are endless options that can trick the eye into perceiving a room to be larger, or simple adding a little glamour to a practical space.
"Tiles can really bring a small space to life, especially in a tiny bathroom," Amanda Telford, marketing manager at CTD Tiles, advises. "Try to be creative with the way you lay your tiles — think focal point splashbacks, interesting layouts etc.
"There are so many ways to use rectangular metro tiles for instance, whether that's stacking them horizontally, which can make the room appear larger (as above), or creating a herringbone effect for maximum impact.
"Small bathrooms are often a place where you can be a bit bolder with your design choices, consider opting for pinks, greens, blues for a designer statement."
9. Install a Wetroom or Shower for a Practical Space
Downstairs wetrooms are a highly practical thing to include in a renovation, extension or self build. Not only can they be used to future-proof a ground floor layout (for those who might take in a parent later in life), but they're also ideal for families with pets or small children.
It can be helpful to use shower room ideas to help navigate the options available.
The project above is fabulous example of a small shower room which uses every inch of the space to create an inviting and functional bathroom. The stylish shower screen smartly protects the loo from getting splashed (a bugbear for many with wetrooms) while the monochrome-cum-period design won't easily go out of style.
10. Place a Small Cloakroom Next to a Utility
If you're really short on space, add a compact room next to the utility and only add a toilet — users can wash their hands at the utility sink, rather than cramming it into one space.
Combining downstairs toilet plans with small utility room ideas can also help you maximise the practicalities of both. For instance, if you lay the waste pipes along one wall for both rooms, you will save costs on plumbing.
This space-savvy house renovation included merging the two spaces together to form a unified cloakroom. An old butcher's block was turned into a stand and an antique pail into a sink to save on costs of fitting a bathroom.
11. Go Bold with the Latest Styles
Homeowners tend to be braver in including the latest bathroom trends into a small downstairs toilet than in larger family bathrooms.
"Coloured sanitaryware is making a comeback," explains interior designer Ann Marie Cousins. "If you're tempted, think about a bold basin in your downstairs bathroom. Many companies are doing brilliant bright colours now in a range of materials, from porcelain to concrete. You're not likely to change your sanitaryware often, so make sure to choose wisely!"
While we all remember (and have probably ripped out) turquoise, avocado or pink suites of the past, less garish options are now available and can be mixed-and-matched to tone down the brighter styles.
12. Add Tiles for a Practical Finish
In a similar way to small en suite ideas, choosing the right tiling is essential for a compact cloakroom. Anything too big and the room can feel oppressive, but tiny tiles are equally dangerous (and hard to clean).
"It is important to think about the tile scale relative to the size of the bathroom," says Ann Marie Cousins. "A reduced number of grout lines can help create a sense of space. Small tiles like penny tiles are great for floors but walls need more character."
13. Include Practical Cloakroom Flooring
As with any bathroom flooring, durability and low-maintenance qualities are king:
Porcelain, ceramic and real stone tiles can be expensive, but when designing such a small space, easily offset.
LVT or laminates are cheaper and can be installed on a DIY basis fairly quickly.
Engineered wood flooring will add some luxury when paired with underfloor heating (also eliminating the need for a towel rail or radiator).
In this under-stairs loo the same flooring has been continued into the small room — the result is a space that feels integrated into the rest of the house.
14. Clever Lighting Can Enhance a Small Downstairs Toilet
The key to lighting a small cloakroom isn't in the layering, unlike most other rooms in the house. No, in these compact spaces, choose one type of bathroom lighting ideas to illuminate the space well and to avoid over-cluttering.
A bonus of such a small floorspace is that you will probably only need one or two downlights or one bright pendant, saving money on fixtures and electrician bills.
Remember to check the IP rating before buying any new lights for a bathroom. This stylish design hangs the matt black pendant in line with the mirror so the space receives twice the illumination.
Where Should a Downstairs Toilet be Placed?
"Downstairs toilets are usually located on outside walls as this will give you easier access to drainage," says Lydia Luxford of Easy Bathrooms.
"For most properties, they are most commonly positioned in areas of wasted space such as an unused cloakroom area or under the stairs, which avoids using up much needed floor space in other rooms of the property.
"If neither of these are suitable for your property, I would highly recommend positioning the toilet room close to an entry/exit of the property and as close to outside drainage — this will reduce the costs of linking the toilet to the draining system."
How Much Does a New Small Cloakroom Cost?
Interior Designer Ann Marie Cousins advises: "Taking into consideration the brassware and surface materials which can hugely fluctuate the final cost, we'd give a rough estimate of the below:
£1,000 - £3,000: Vanity unit, basin and taps
£600 - £1,200: Toilet
£300 - £400: Accessories including mirror
£500: Tiles
£800: Electrical items including lighting, radiator / heated towel rail or underfloor heating
£1,500: Labour
How Much Value Does a Downstairs Toilet Add in the UK?
"On average the value increase of an extra downstairs toilet can be up to 5% of a property value as they most definitely make houses more appealing to prospective buyers," says Easy Bathrooms' Lydia Luxford.
Get the Homebuilding & Renovating Newsletter
Bring your dream home to life with expert advice, how-to guides and design inspiration, direct to your inbox.
Assistant Editor Amy began working for Homebuilding & Renovating in 2018. She has an interest in sustainable building methods and always has her eye on the latest design ideas. Amy has interviewed countless self builders, renovators and extenders about their experiences for Homebuilding & Renovating magazine. She is currently renovating a mid-century home, together with her partner, on a DIY basis, and has recently fitted her own kitchen.