Garden Screening Ideas: 14 Solutions for Privacy and Shade
By Rob Keal published
Garden screening ideas can help add a sense of peaceful seclusion and privacy to your garden. Screen off your outdoor space with these suggestions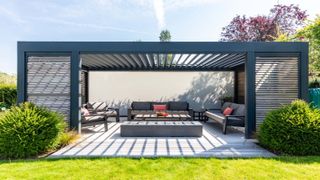 (Image credit: Garden House Design)
Garden screening ideas come in many different forms. Not only do they offer protection from the elements, but they also help make gardens more private and can create a degree of tranquillity.
In the same way you would think about garden wall ideas, garden screening must balance privacy and practicality. Yes, a garden should feel intimate, but the best ones are also welcoming; a space you and those closest to you can enjoy without any outside disturbances.
Get inspiration for turning your plot into a peaceful, private escape with these 14 garden screening ideas, which complement most landscaping designs.
1. Fit the Right Garden Fence for Your Needs
A garden fence not only improves privacy around your plot, but also effectively establishes its boundaries. Understanding how to fit a fence in your garden is therefore vital to the success of your garden screening ideas.
The fence type you choose should reflect the kind of property you own. For instance, many older homes tend to have more rustic garden fences in a shiplap or featheredge style, or perhaps materials like hazel hurdles.
By contrast, modern homes look great with contemporary fencing styles, such as slatted, which looks sleek and steamline while providing effective garden screening.
2. Add an Awning for Shade and Weather Protection
Your garden screening ideas should address every direction, and that includes above. This is where an awning can prove especially useful.
Given the unpredictability of British weather, even during warmer months, an awning provides additional shelter. It will lend shade when the sun is out and also protect your patio design ideas from rain in the event of a sudden downpour.
3. Define Your Garden Space With Trellis Screening
Adding a garden trellis to your walls or fencing will establish a beautiful, vibrant screen that makes your garden appear more in tune with the natural world.
Typically used to grow climbing plants, trellises can also better define a garden's overall area. For instance, in addition to being used around boundaries, they can also be installed so as to provide screening to a seating area, or around flowerbeds.
Trellises are usually square-shaped, although diamond latticework and more ornate patterns are becoming more and more common. It's key to choose a structure that complements your garden design.
4. Use Garden Screening Ideas to Zone Your Plot
Garden screening ideas can help to zone a garden. When you start planning your zones, begin closer to the house, taking into account any patios and/or outdoor dining areas. These will help provide a framework for you to go on when choosing the best garden screening ideas to match your property's aesthetic.
Consider ways of maximising garden usage too. Features like verandas and covered outdoor spaces offer elegant screening, and a gazebo provides an effective social hub when you come to entertain guests.
5. Plant Bamboo for Instant Screening
Bamboo has recently become one of the most popular garden screening ideas. It's typically cheap to buy, grows quickly and is low maintenance, and can be used along border and fences, or in planters or beds to add screening to a patio area.
"You can use planted screening to emphasise a theme and enhance the appearance of your garden," adds Jack Sutcliffe, co-founder of Power Sheds.
"For example, if you want to give your Japanese garden ideas even stronger zen vibes, a screen of bamboo will stay green all year round and transport you to the bamboo groves of Kyoto."
6. Introduce Trees for Shading and Natural Garden Screening
If your garden is big enough, trees including oaks, willows and magnolias provide effective garden screening ideas. They will also lend ample shade and greenery to your plot in the warmer months — and in many ways, instantly help to get your garden summer-ready
Jack Sutcliffe, co-founder of Power Sheds, explains: "If there's an area of your garden you want to keep in the shade in the warm summer months, use a canopy of tall deciduous trees. This is perfect for outdoor dining areas where you want to keep your food and drink cool and give guests an area to relax in if they want to get out of the sun."
7. Install a Wildlife Wall for Local Species
The average garden provides plenty of natural habitats for small animals, so your garden screening ideas should do the same. 'Wildlife walls' are an innovative, new way of making the area outside your home more appealing to local species.
On the lower levels of a wildlife wall, insects and smaller creatures like hedgehogs that rely on them usually thrive. The upper levels, by contrast, are perfect for birds, so hang a few feeders and nesting boxes there for them to feel at home.
Incorporating bee bricks is another good way to enhance your wildlife wall; just make sure you have the right materials, such as plenty of supportive stone, first of all.
8. Block Off Unsightly Views With Garden Screening Ideas
Any outdoor eyesores such as bins, ugly fences or fuel tanks can be covered with the clever use of garden screening ideas.
When brainstorming how to create kerb appeal out front, whether you want to sell your home or because you feel like a change, make sure to deal with any ugly views to achieve a great first impression.
Experiment with different garden screening ideas to cover up any unwanted sights, especially if you're still in the process of renovating or landscaping. A bin store is a welcome addition to any garden, as it protects your privacy.
9. Excite Your Guests With a Sunken Sitting Area
Often called outdoor conversation pits, a sunken sitting area brings a sense of playfulness while also providing effective garden screening. These are ideal for mid-to-large size gardens and help promote a sense of closeness within the space.
Sunken sitting areas can also change the way garden features are viewed, such as flowerbeds, because of how they lower the eyeline.
If you feel like doing something different with your garden seating, install a sunken sitting area around a firepit or outdoor table for the best results. Just remember to keep everything well-covered and secure when not in use, due to the unpredictability of British weather.
10. Purchase a Parasol for Your Patio
Whether yours is a larger plot or you need small garden design ideas, the right parasol can make your garden screening ideas feel more relaxed. Choosing a central location in which to place your parasol ensures ample shade and effective screening from all directions.
How a parasol is positioned will determine its success, and Jack Sutcliffe, co-founder of Power Sheds, explains this is the case for most garden screening ideas: "One of the first things to consider is the direction of your garden in relation to the sun. Think about where the sun is at the times of day you're in your garden, and plan your screening accordingly.
"You should aim to maximise the shade in your screened area, without casting large shadows over the rest of your garden. You can use string or masking tape to mark out your plans in advance and then observe the sunlight's trajectory throughout the day."
Secure your parasol to a suitable base as well; this will keep it steady when the wind blows strong.
11. Let Your Hedges Give You a Helping Hand
If you have any hedges bordering your garden, use them as a form of natural screening. Smaller shrubs and mighty evergreens both work great, but the regular maintenance of your hedgerows is what will help ensure privacy and keep unsightly views at bay.
First, clear the area beneath your hedges to let in more light and increase space; this helps the hedges grow quicker.
Do remember that the roots of hedges can extend quite some way, so avoid planting them anywhere near soakaways, outbuildings or your neighbours' properties.
12. Plan Your Screening Ideas Around a Sloping Garden
Sloping garden ideas are naturally suited to garden screening. Any dips and curves can be screened off at different levels.
Mix natural and artificial garden screening ideas to complement the various elevations within your plot. For example, a fence can be used effectively when screening off a slope, but there may be spots where bamboo bed or trellis would be better.
13. Create Your Own Personal Sanctuary With a Pergola
For a focal point that helps frame the rest of your garden, you can't go wrong with a pergola. Stylish as well as practical, pergolas make a garden appear more interesting, as well as showcasing it as a highly versatile space.
A shaded walkway or quaint relaxation area could be yours with a pergola. Most pergola designs use a wall or fence-style structure as a way of partitioning their available space, which can produce a cabana-like effect that is exactly what you want during warm weather.
14. Embrace Upward Planting for Additional Privacy
Upward planting is an environmentally friendly garden screening idea that encourages the growth and freedom of all your flora. You can use a combination of high-climbing plants, such as hollyhocks and hydrangeas, which don't necessarily require any support to help them keep growing.
These also make colourful additions to front garden ideas and help increase that all-important kerb appeal. It is possible to plant roses in the same fashion, although they will require a trellis or other support to help them reach full screening height.
How Can You Achieve Instant Garden Screening?
A quick and easy way of screening your garden is by fitting a fence. This will create strong borders and better define the garden area itself, which can lead to further screening inspiration.
When determining the cost to install a fence, you must mainly bear in mind how much fencing will be needed. As a safe bet, budget anywhere between £500-£700 for a 36ft-long fence that consists of 4ft timber panels.
For the same length of fence using 6ft panels, expect to pay anywhere between £600-£1,000.
As a way of keeping costs down, you could always undertake this as a DIY job and only pay for the materials. However, installing a fence is hard work and will need an extra pair of hands where possible.
What are the Best Garden Screening Ideas When You're on a Budget?
It's important to remember that garden screening ideas can get pricey, but there are ways you can keep costs to a minimum.
First, think about your materials budget. An average 4m bamboo screen retails at approximately £20-£35 for each panel. Comparatively, the same size screen made of willow would usually cost around £40 for each panel. Timber panels can cost up to £45 each.
Your next job will be determining your planting budget. Jasmine and honeysuckle, which usually cost anywhere between £15-£30, are beautiful climbers that can add a pop of colour to your garden screening ideas.
By the same token, wisteria is another colourful climbing plant, but due to its size and exotic origins, expect to pay around £50 for a medium-sized bush. It may be worth buying a smaller plant at around the £30 mark and leaving it to flourish naturally over time.
Lastly, think about how the plants themselves will affect your outdoor space. Wisteria alone can live for decades, growing larger and heavier all the while. A strong trellis or structure made of the right type of brick will be needed to support these kinds of plants as they grow.
Rob Keal is the Content Editor at Homebuilding & Renovating. With a background in content marketing, he began his career back in 2016 as a freelancer, before honing his craft at various digital marketing agencies. Looking to specialise in DIY and homes, he joined the team in February 2022.
Renovation has been part of his life since he was nine years old, when his parents bought a medieval cottage and completely revived it, introducing him to kitchen remodels, loft conversions, landscape gardening, and much more besides along the way. A bedroom extension and patio refurbishment are among his next planned projects. He is also passionate about interior design and landscape gardening.
Homebuilding & Renovating Newsletter
Get the latest news, reviews and product advice straight to your inbox.
Thank you for signing up to Homebuilding. You will receive a verification email shortly.
There was a problem. Please refresh the page and try again.