Modular Loft Conversions: A Prefabricated Space Solution
Modular loft conversions can provide extra rooms with minimal disruption and a speedy build — find out more with our guide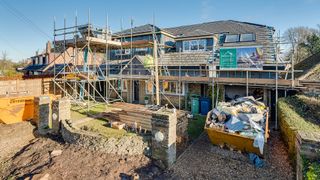 (Image credit: Daniel Atkinson)
Modular loft conversions have been increasing in popularity as a solution to gaining extra rooms in the roof.
Known for their speed of installation and minimal disruption, opting for this type of loft conversion is a viable choice for those who can't extend outwards, but require a new bedroom, bathroom or home office space.
Plus, the prefabricated nature of modular loft conversions can be enticing to home improvers who will remain living on site during the conversion, and to those whose work life won't accommodate managing multiple trades.
What is a Modular Loft Conversion?
Modular loft conversions are a way to add rooms to an existing home which involves replacing the existing loft with a new prefabricated roof structure, which is craned into position. A modular loft will be built in a factory in sections, known as 'modules', and will be designed to your exact specifications.
"Each of the company's off-site manufactured systems comes with a roof, internal and external walls and floorboards," explains renovation expert and homes journalist Rebecca Foster. "These are fitted with floors, walls and external boarding; external finishes (including cladding) can be added in the factory. When finished, the structure is transported to site and dropped into place with a crane."
Compared with a typical loft conversion schedule, the modular building process allows a swift build time with minimal disruption.
"Because most of the work is factory engineered in advance (including the electrics, plumbing, windows and doors), the whole job can be completed in a fortnight," comments chartered surveyor Ian Rock.
Image 1 of 3
Kevin and Sujeewa Gadd added a second storey to their bungalow using Moduloft. After checking the foundations, and gaining planning permission, the modules were build in North Yorkshire and installed using cranes. (Click arrows on image for the build progress)
"On Monday the roof was off and by Friday we had an upstairs with heating and electricity!" says Sujeewa. "We were without hot water for a couple of days but it was so swift we didn't even notice."
The new modular floor added four bedrooms and has doubled the size of this former bungalow.
What Are the Benefits of Modular Loft Conversions?
The real appeal of the modular route is the swift build process compared with other types of loft conversion, which are typically built on site. Benefits include:
They're a solution for lofts with low head heights where a more traditional loft conversion would otherwise be impossible. "It works well for homes with low head heights in the existing loft, where the roof needs to be taken off and completely replaced to establish the desired head room," explains Rebecca Foster.
They increase build cost certainty. As everything is included in the prefabricated off-site construction (including plugs, sockets and windows), these often 'hidden' extras are transparent in the overall cost, reducing the element of financial surprise later in the project.
They provide a quick on-site build process. In addition, the lack of day-to-day mess associated with large-scale building projects is condensed into a shorter period (although the time of installation can be disruptive). When comparing an extension or loft conversion, this can be a deciding factor for families who will be living on site during work.
Less waste is also produced on site, making it an efficient way of gaining extra rooms in a home.
A modular loft can add value. "A Moduloft totally transforms and adds bespoke space to properties, typically we have been advised by customers that some have added up to 70% to the property value," says Lissa Johnson of Moduloft.
Are There Any Reasons Not to Choose This Route?
While the benefits are tempting, there are a few drawbacks to modular loft conversions, including increased costs, access requirements for cranes, and a likely need for planning permission.
If your ridge height will remain the same after the modular loft is installed, work can usually be carried out under permitted development rights, but where gaining extra head-height during the conversion is necessary you will need to apply for permission.
"The main problem with 'raising the roof ' is that it requires planning consent and there's a fairly good chance this will be refused — especially for terraced or semi-detached homes," explains Ian Rock.
As the modules are delivered via lorries and installed using cranes, access to the house can be disruptive not just for homeowners, but also their neighbours as road closures may be required.
What's more, the nature of prefabricated off-site construction dictates that all elements of the build are measured and decided early on in the process, meaning no changes can be made to the design once construction starts in the factory.
Finally, when it comes to loft conversion costs, this can be one of the most expensive routes to take.
Get the Homebuilding & Renovating Newsletter
Bring your dream home to life with expert advice, how-to guides and design inspiration, direct to your inbox.
Assistant Editor Amy began working for Homebuilding & Renovating in 2018. She has an interest in sustainable building methods and always has her eye on the latest design ideas. Amy has interviewed countless self builders, renovators and extenders about their experiences for Homebuilding & Renovating magazine. She is currently renovating a mid-century home, together with her partner, on a DIY basis, and has recently fitted her own kitchen.