Basement Conversion Ideas — 10 Ways to use Wasted Cellar Spaces
By Amy Reeves published
Find the best basement conversion ideas, advice and designs to transform a subterranean room into a stylish space with purpose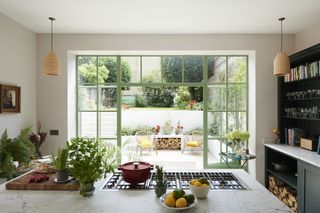 (Image credit: DeVOL)
Get inspired by our guide to great basement conversion ideas that will help you make the most of any wasted subterranean space. From pokey cellars into handy wine storage, damp underground rooms into modern kitchen and living rooms — we've got it all.
Space is at a premium in the current market, so if you're blessed with a room beneath the main house, undergoing a basement conversion is a cost-effective way to maximise every nook and cranny of a floorplan.
If you're asking yourself, 'do I need planning permission to convert a basement?', you're in luck. Changing a basement into a functional living space can be carried out under Permitted Development rights for the most part (where a ceiling isn't raised or the floor dropped for extra head room).
We've gathered some excellent design ideas below, but if you're after detailed practical project advice, read our basement design guide.
1. Use Basement Conversion Ideas to Create a New Hub of the Home
Basement conversions lend themselves well to open plan living spaces that can become a social hub for family or entertaining.
Where the ground floor of a house has to cater for various function rooms like hallways and dining rooms, moving the kitchen into the basement could be the best route towards gorgeous, show-stopping open plan kitchens.
Starting, literally, from the ground up, will give the opportunity to really hone in on the kitchen design that works for your lifestyle.
2. Give Purpose to Small and Forgotten Cellars
Edwardian, Georgian and Victorian homes are occasionally gifted with a small cellar spaces from times gone by. Converting these underground rooms into a support space such as a utility or pantry means more room in the kitchen for more frequently-used items.
Once a pokey and damp cellar in a Victorian semi-detached house, this small space has been transformed with purpose. With a large Belfast sink, extra fridge and freezer space and pantry, the utility room features all the very best galley kitchen ideas to maximise wall space in the narrow room.
Plus, the stylish painted open units at the end provide a bespoke-looking wine storage that could inspire any home.
3. Provide a Dedicated Space for Kids to Play — And Store Their Toys!
Playrooms are a great option for basement conversions as toy storage can be outsourced away from main living areas and as kids grow up they can feel independent with a separate area.
Although windowless, this bright children's play area has been finished with a practical, easy-to-clean flooring and larger toys that would be impractical to keep in a social space upstairs.
Other great ideas for underground playrooms can include built-in storage ideas to pack items away neatly and fold-away spare beds for when friends stay over.
4. Go All Out with an Underground Home Cinema
Using a conversion of a subterranean space as an opportunity to create a home cinema such as this one can be hugely beneficial as there is no need to add windows or a source of light — in fact it's better when the basement is completely blacked out.
As the space will need fresh wiring, tanking and making the cellar dry during the conversion, adding acoustic insulation, recessed speakers and, if you have the head-room, tiered seating can be a natural progression.
5. Design a Great Lighting Scheme for Rooms in the Basement
When converting a basement it can be easy to get a little defensive with a lighting design plan — adding in bright white LEDs everywhere to compensate for the assumed lack of natural light.
However, before you jump into a downlight nightmare it will pay to consider how to introduce all three essential types of lighting – task, ambient and accent – and decide between a cool light vs warm light.
In this basement conversion, warm-coloured dimmable recessed lights have been installed into the ceiling, to work as both ambient and task lighting, while the low accent lights on the stairs and at the small desk area at the back of the room pick out architectural features that create a real wow-factor.
6. Let Light in By Excavating to the Side
While converting a basement or cellar, consider if excavating a small piece of garden could inject some extra light into a space.
When creating a new basement space in this terrace house Mulroy Architects added an atrium staircase down to the new rooms with large swathes of glazing.
A similar effect could be created using clerestory windows along the tops of rooms or flat roof lights below upstairs living spaces.
7. Add Value with an Extra Bedroom in the Basement
Adding a bedroom suite in the basement will not only add value, but also will provide a separate sanctuary that is perfect for guests or a master bedroom.
Make sure the space is as cosy as can be with good quality insulation, new radiators or underfloor heating.
8. Create the Home Office of Your Dreams in a New Underground Room
With people working from home more than ever before home offices are an incredibly desirable feature, but the sad fact of the matter is that our homes generally just aren't set up for full-time workers.
Utilising home office ideas in the basement will give not only the much-needed separation from home and work life that the dining table doesn't offer, but also can provide the opportunity to create a productive and private workspace that many jobs now require.
Getting home office design right can be tricky in an existing home, but including ideas like these floor-to-ceiling built-in bookcases will trick the eye from remembering the space is subterranean and potentially without windows.
10. Include Light Wells for a Brighter Environment
Light wells or sun pipes can be invaluable in basement conversion as ways to introduce light from above.
Here, this basement's living and dining space includes a mock bay window which mirrors the house above. The window has a concealed light well and a characterful wall mural to inject a fascinating architectural feature inspired by nature.
Assistant Editor Amy began working for Homebuilding & Renovating in 2018. She has an interest in sustainable building methods and always has her eye on the latest design ideas. Amy has interviewed countless self builders, renovators and extenders about their experiences for Homebuilding & Renovating magazine. She is currently renovating a mid-century home, together with her partner, on a DIY basis, and has recently fitted her own kitchen.
Homebuilding & Renovating Newsletter
Get the latest news, reviews and product advice straight to your inbox.
Thank you for signing up to Homebuilding. You will receive a verification email shortly.
There was a problem. Please refresh the page and try again.