How to Create a New Basement
By Michael Holmes published
Basements create amazing spaces if well designed and executed. We explain how to ensure your new basement is fully waterproofed and fit for purpose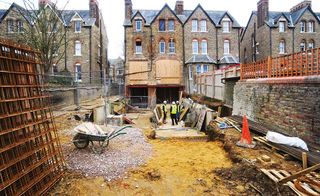 (Image credit: Riach Architects)
While many countries include basement levels to their homes as standard, the UK seemingly lacks this 'basement mentality'. However, where plot size is limited, or capacity for extending is limited, a basement really comes into its own. We are seeing more and more basements being added to homes, especially in urban areas where there is less scope to go wider, longer or higher with the existing building.
Basements are not only useful spaces for plant rooms or storage — they can be used for any residential purpose as long as your think about how to bring in natural light. A subterranean level is also the perfect way to work around potential issues of a sloping site (opens in new tab).
This article looks at adding a basement level to an existing home, or adding one as part of a new build. Alternatively, find advice on converting an existing basement or cellar (opens in new tab).
Can I add a Basement to my Home or New Build?
Start by finding out if your plot or property is suitable for a basement. Ground and site conditions can all mean that building a new basement is not possible. These conditions include:
a high water table
unsuitable bedrock
existing structures and services
archaeological finds.
Assessing and Managing Risks
Even if your site is viable, construction work in the ground carries risk, partly because you don't know exactly what is below the surface. You can reduce the risks by:
Carrying out soil investigations.
Digging inspection pits to confirm the level of the water table before confirming the type and scope of works.
Confirming ground conditions and soil types

(opens in new tab)

. Chalky soil, for example, will drain much better than a clay-based soil.
In urban areas, the soil may contain traces of heavy metals such as lead and arsenic and other hazardous materials such as asbestos. The type of construction used will also have a bearing on the choice of basement route.
Going below ground also means that any service pipes or cables also need to be identified. This is where land searches are necessary. These will include searches for assets owned by utility providers, service providers such as BT Openreach, rail networks and more.
Expect your designers to advise on what tests they would expect to see for the scheme to assist them with their design work. All of these factors assist designers with the structure, after which the design can be worked up and priced.
How Much Does it Cost to Build a Basement?
Generally, a contractor will price basement work according to four stages or components:
shell and core (the structure)
waterproofing (determined by the size of the basement space as well as the number of sump chambers and pumps needed)
fit out
maintenance (if a sump and pump are used).
Building a basement from scratch is likely to cost you anywhere from £2,000-£4,000/m2. Costs depend on the area, access and how easy it is to excavate and remove the soil from the site. Other site-specific factors, such as the need to divert drains, will increase costs.
The costs are almost double for a basement per m2 than for a loft conversion (opens in new tab). This means that basements tend to make sense in high value areas, where the space you're creating exceeds that cost of £2,000-£4,000/m2.
There are also annual maintenance costs that relate to pumps and the cleaning of the perimeter drainage channels. It is important to consider this at design phase to ensure that the design complies to BS 8102 and that it is accessible and maintainable.
Information on registered design specialists, including designers who are registered on the Waterproof Design Register, can be found on Property Care Association (opens in new tab).
What Construction Methods are Best Suited to Basements?
The construction method tends to be decided by the budget, soil type and conditions of the site. Many basement specialists will offer a complete system including design, planning and manufacture, based around the site.
The method used will also depend on whether you are excavating and building underneath an existing structure, or building a new home. If you are building under an existing structure, it will be hard to use methods where prefabricated elements need craning into position.
Popular construction methods include:
Precast waterproof concrete panels, manufactured off-site and lifted into place (suited to new builds with basement levels where panels can be manoeuvred).
Brick and blockwork.
ICF (insulated concrete formwork) or shuttered concrete can be used anywhere you can allow access for concrete to be pumped on site.
How to Waterproof a Basement
Waterproofing/tanking (opens in new tab) is essential when creating a new basement. Any structure below ground that is used for residential space requires waterproofing. This ensure that there is a dry environment that can be controlled by domestic heating and ventilation air conditioning (HVAC) installations.
Below ground basement construction is generally of mass concrete underpinning and slab construction:
the concrete is mixed by a batching plant
arrives at a building site in a mixer lorry
is pumped into the site according to structural underpinning schedules.
While many people think that concrete is waterproof, it's not unless it is treated with the application of additives. These additives must be mixed at the batching plant, monitored and certified to the designed specification to provide the level of protection required for the application (basements in this case). Bear in mind that this is just one step in the waterproofing process and is by no means suitable as a standalone solution. In any event, this process by itself would not receive Building Regulations (opens in new tab) approval.
Constructing the basement structure, referred to in the trade as 'shell and core', can be carried out by a main contractor or specialist basement contractors. The waterproofing must always be carried out by qualified/registered installers of the waterproofing systems and products.
Different Types of Waterproofing Protection
Type A: This refers to a waterproof material or membrane (often called tanking). This is applied to either the inside or outside of the basement structure and includes both walls and ground slab. These systems can include doubling up, i.e. both internal and external membrane protection.
Examples of this type of waterproofing are:
positive pressure membranes applied to the external face of the concrete such as Bentonite (a clay-based membrane)
a PVC sheet membrane (such as DualProof). This can either be applied using an adhesive or as part of the casting/shuttering process.
Type B: This refers to structurally integral protection where the structure of the basement must provide the waterproofing protection and reinforced water-resistant concrete is used. The monitoring of both materials and labour at the batching and construction stage is crucial to the success of the installation. Joints between concrete pours need to be carefully prepared and jointed to avoid water seepage through poor workmanship of cracking after construction.
Type C: This incorporates a water management system and is common in many modern basements. The system allows the ground water to penetrate the structure and drain behind the membrane at both wall and floor. The water diverts into a controlled drainage sump chamber where a pump takes it away from the building into either mains drainage or an attenuation tank.
Often, independent insurers such as NHBC or CRL that are guaranteeing new build basements will insist on two forms of waterproofing to comply with their own requirements. This can be a combination of two of the above to provide a waterproof environment.
What Can Go Wrong?
The most common waterproofing system is Type C. If the membrane is compromised during construction it is likely that the water will damage the internal finishes of the basement room. Repairing a membrane to a finished space is intrusive. It could also be costly if the precise location of a compromise can't be found easily.
Service penetrations through basement walls are also common. These services need to be appropriately sealed, so specialists may need to return to the site to upgrade services after the shell structure has been built.
Construction work should be monitored. If a breach of the membrane is found, the specialists will make a repair which maintains the installation and product warranties.
Many things can go wrong with waterproofing — from the design phase, through to construction and final fit out. Repairing failures after fit out can be costly.
Common problems include:
contractors installing the membranes incorrectly
renders applied over existing finishes that have not bonded to the substrate
fixings applied through waterproof render.
Warranties for Basements
Both product warranty and installation warranty is important and a specialist will ensure that it is provided to the correct standards and without compromise. Although not a regulatory requirement, in many cases it is a necessity for structural warranty (opens in new tab) insurance. This is required for all new build properties and the conversion of properties to new units.
To obtain a structural warranty, a basement must be correctly waterproofed, as well as meeting the Building Regulations for all other works.
Bringing Light in
Artificial light is fine for storage uses, but if you are planning on spending considerable time down there, natural light is best. Sun tunnels/solar pipes are an easy way to bring light in and fairly affordable. However, where the design allows, use a lightwell or sunken courtyard which sits past the rear elevation of the property.
Of course, the whole basement does not have to be below ground. Where the ceiling is above ground level, you can include a row of clerestory windows to bring natural light in from the top of the room.
If you are building on a sloping site, you effectively create a semi-basement, with light coming from the front or back and perhaps also the sides. Anywhere that does not receive natural light can be reserved for use as utility rooms, maybe a home cinema, a plant room or even a bathroom.
Michael is HB&R's Head of Content and Product Development. Michael is also, Chair of the National Custom and Self Build Association (NaCSBA), presenter of multiple property TV shows and author of Renovating for Profit (Ebury). Michael is a regular in the seminar theatres and Advice Centre at the Homebuilding & Renovating Show.
Homebuilding & Renovating Newsletter
Get the latest news, reviews and product advice straight to your inbox.
Thank you for signing up to Homebuilding. You will receive a verification email shortly.
There was a problem. Please refresh the page and try again.