Tanking and Making a Cellar Dry
By Natasha Brinsmead published
If you want to turn your cellar into usable space, then effective waterproofing it is essential. We explain the options, processes and costs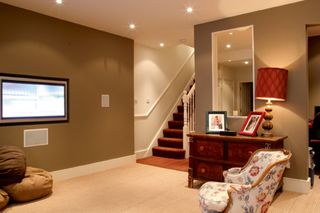 (Image credit: The London Basement Company)
If your home has a cellar, you may want to take advantage of the added space and turn it into a usable room.
Even if you only plan to use the room for storage, rather than living space, you still need it to be properly waterproofed (or tanked) to prevent your belongings from getting damp.
The waterproofing process you choose will depend on the type of ground your home is built on. However, it is also important to consider what you want to use the basement room for, and know your budget, before starting work.
How Much Does it Cost to Tank a Cellar?
How to convert a basement
What are the options and is it financially worth converting a basement? Read this practical overview of things to consider before taking on a conversion project.
Allow £1,350-£1,650/m2 plus VAT for a straightforward cellar conversion.
However, in some situations the costs could rise to £2,000-3,000/m²:
the existing ground floor is concrete slab, rather than floor joists suspended from the walls
you have to divert the existing drains
you live in an area with solid rock, clay, peat or marshy ground
the local water table is high.
To waterproof a damp cellar through tanking can cost as little as £40-80/m². However, remember that lowering the floor level to increase headroom costs around £200-300/m².
A rough cost for underpinning the walls will come in at around £500-1,000/m². Further information on the costs can be found at the Basement Information Centre.
Do I Need Planning Permission to Convert a Basement?
This is not normally required, as the change of use does not constitute development unless it forms a separate independent dwelling. It is classed as development if the conversion involves:
engineering operations, such as excavating to increase headroom or adding a lightwell
or affects the external appearance of the house
However, it will usually meet the criteria for Permitted Development (PD), which does not require a planning application. Small extensions to the cellar may also be classed as PD.
PD rights do not apply to flats or maisonettes and can be restricted by the local authority, so check before starting work
Alterations to a listed building will require listed building consent
If building work affects a neighbouring property, The Party Wall Act in England and Wales applies.
Building Regulations
If you plan to provide an extra bedroom, bathroom or en suite, playroom, study/office or fixed staircase, your cellar conversion will require a Building Regulation application.
The design must comply with Building Regs for:
waterproofing
energy efficiency
fire escape
staircase design
heating and ventilation
electrics and plumbing.
How to Waterproof Effectively
Even if you do not intend to carry out a full conversion to your cellar, waterproofing it will still add value to your home, providing a useful storage area and giving future buyers the option of turning it into another room if they wish.
Being below ground, the earth surrounding the cellar acts as a route for water to enter through the walls. In order to prevent this from happening, the walls must be fully waterproofed.
There are several ways to do this:
sealing the walls using a surface coating, known as wet basement tanking
through the use of membrane systems.
Tanking Systems
These systems add a waterproof coating directly to the inside of the porous cellar walls to prevent moisture from seeping in. They do not remove the water — they simply create a barrier.
Tanking products include:
cementitious coatings
bituminous coatings
membranes
paints
sealants
For a tanking system to work well, the walls that the tanking product is being applied to must provide a good 'key' (i.e. a scratch coat). Tanking systems also require the brickwork of the house to be stable, as tanked walls need to resist water pressure that will build up.
In older homes, preparing walls to take the coating can be quite time-consuming. It involves:
hacking off old plaster
raking out old mortar
repointing
applying salt-neutralising products.
Waterproof coatings can be applied using a trowel or are sometimes sprayed on, with the aim of forming a bond with the masonry substrate, to create a completely waterproof barrier. Plaster can then be applied on top of these coatings.
Attention must also be applied to weak points in the structure where water is most likely to enter. This is typically the wall/floor junction.
Proprietary tanking systems should have BBA or similar independent accreditation. Any other proposed system should be backed by a third party insurance guarantee.
Cavity Drain Membrane Systems
Where the pressure of water around the basement is significant, even the tiniest hole in a tanking system can result in a cellar full of water. In these circumstances, a cavity membrane is the best solution.
Membrane systems are used on most basement conversions, particularly in areas with high water tables and on older properties, as they do not rely on sound substrates for their effectiveness.
The membrane is waterproof but ensures water does not get through into the cellar by trapping it and channelling it into a sump below floor level where it is collected and pumped safely away to the drains.
It is occasionally possible to drain the water that collects behind cavity membrane walls away using natural drainage, where the water flows out to an open, non-earth-retaining elevation.
However, it is usually necessary to have a sump pump system to take water out. In fact, many basement conversion companies will not guarantee a project unless one has been installed.
Sump pumps are usually run off the main electricity supply and should have battery backup.
Insulating a Basement
A basement conversion involves a material change of use under Building Regs. Therefore, as far as is practicable, the external floor and walls will need to be insulated to current Regs.
Walls can be insulated by fixing studwork to them (timber or metal) with the voids between the studs filled with insulation and covered with a vapour barrier and plasterboard. A vapour control layer should always be installed on the warm side of the insulation to prevent water vapour from the basement rooms condensing on the cold cavity drainage system.
Fixing insulation to the walls will reduce the available space, as will introducing a full staircase.
The floor can be insulated using sheets of cellular foam insulation covered with screed or a floating floor (chipboard and then carpet, or floorboards) over the top. Adding insulation to the floor will raise the floor level and this can reduce headroom.
To install waterproofing, insulation and other services it is often necessary to dig out the cellar floor. But there is no minimum ceiling height under Building Regs other than above the staircase, where there must be at least 2m of headroom.
Natasha is Homebuilding & Renovating's Associate Editor and has been a member of the team for over two decades. An experienced journalist and renovation expert, she has written for a number of homes titles. She has renovated a terrace and is at the end of the DIY renovation and extension of her Edwardian cottage. She is now looking for her next project.
Homebuilding & Renovating Newsletter
Get the latest news, reviews and product advice straight to your inbox.
Thank you for signing up to Homebuilding. You will receive a verification email shortly.
There was a problem. Please refresh the page and try again.