Clerestory Windows: Bring in Light from Above With High-Level Glazing
By Michael Holmes published
Clerestory windows are widely used by architects and designers yet despite this, many aspiring self builders don't know what they are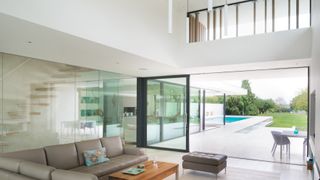 (Image credit: IDSystems)
A dictionary of architecture will tell you that a clerestory window is a means of bringing light into a building from an upper level by adding a complete storey. However, ask any architect specialising in contemporary houses and he or she will describe it as 'high-level glazing'.
How do you say it?
In case you were wondering, it's pronounced Clear-story rather than Clair-est-ory
This light that enters through high-level glazing has a different quality from the light that enters through full-height windows. It penetrates deeper into the building, giving a pleasant, diffused light in the shadows created round the sides of rooms. So clerestory windows are an ideal means of getting light into a house with a deep plan, which many single storey contemporary houses possess.
(MORE: Bringing in Light from Above)
How to Make the Most of Clerestory Windows
Using Clerestory Windows to Bring in Light
Clerestory windows can be particularly useful on the ground floor of a single storey house built on a sloping site as a means of importing light to the rear. The technique is also used for lighting a basement in a house built on a slope.
Creating Unencumbered Wall Space
Additionally it is a useful device when the self-builder wants wall space that is unbroken and unencumbered on the inside. Very often this is so that the wall can be used for displaying pictures or perhaps for bookshelves.
Use Clerestory Windows to Solve Overlooking Issues
Clerestory windows can also come into their own on occasions when planners effectively dictate the position of windows. If a ground-level picture window is not permitted – usually because of overlooking – high-level glazing of this sort is often a way around. The situation also works in reverse: clerestory glazing is a useful tool if you feel your site is overlooked and people will be able to see in from the outside too easily.
A similar use is when your self build or new extension is overlooked on one side by an ugly wall or other feature belonging to the adjoining house that is very close. In this instance clerestory glazing will provide an interesting light at a high level. The narrow size of the window will mean that the ugly feature can hardly be seen.
Clerestory windows can be used to good effect on single storey houses when there is a projection outside the building. Sometimes this takes the form of a corridor, used to get from the front to the rear of a long, thin single storey house. A clerestory above can help counter the effect of the corridor in reducing the amount of light entering the house.
(MORE: Window Styles)
Use Clerestory Windows for Design Wow-Factor
On first floors, clerestories are frequently tucked under the roof at the head of a staircase. It is a popular device with architects who feel – as many do – that staircases often end up depending on artificial light and that, properly lit, they become much more of a feature.
What is a floating roof?
Floating roofs are generally flat roofs that appear as though they are detached from any means of support. A band of light appears to pass between them and the structure of the house.
Many architects like to tuck an upstairs clerestory under the eaves. In this way you have no external wall structure above that has to be supported by the window frame. Glazing of this sort was widely used in Arts & Crafts designs to give a 'horizontal' feel to the building and to emphasise steeply pitched roofs. Clerestory windows also work well on Modernist designs as a means of creating floating roofs.
Michael is HB&R's Head of Content and Product Development. Michael is also, Chair of the National Custom and Self Build Association (NaCSBA), presenter of multiple property TV shows and author of Renovating for Profit (Ebury). Michael is a regular in the seminar theatres and Advice Centre at the Homebuilding & Renovating Show.
Homebuilding & Renovating Newsletter
Get the latest news, reviews and product advice straight to your inbox.
Thank you for signing up to Homebuilding. You will receive a verification email shortly.
There was a problem. Please refresh the page and try again.