Basement Conversions: How to Extend Down to add a Storey
A basement conversion can add valuable extra space for a home in need. Here's what you need to know about converting a basement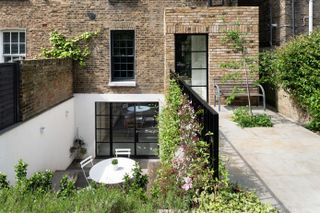 (Image credit: French + Tye c/o Paper House Project)
Have you considered a basement conversion if you're in need of more space? Converting a basement has become increasingly popular in recent times for those looking to improve and not move, extending down to create a basement storey beneath their existing property.
The new floor space it adds to your home can be used for a variety of purposes — unlike a loft conversion, which better lends itself to creating additional bedrooms, a basement is near to the main living spaces, so can be used as a social space too.
If you want to create (or make use of) space below you home, there are three main routes:
Creating a basement as part of a new build
Renovating an existing basement or cellar
Creating a new basement in an existing home, either directly underneath, or by extending out into the garden, front or side of the house.
In this guide, we look at the essentials of basement conversions and how to create a new basement underneath an existing house - from how much they cost and how much value they add to the planning and Building Regulations implications - but some of the advice will apply to those creating a basement as part of a new build too.
How Much Does a Basement Conversion Cost?
Providing there is adequate headroom, a basement conversion would cost around the same as for a simple loft conversion, at around £1,000–1,500/m². It is only when you have to start lowering the floor level to increase headroom, involving digging out the ground beneath the house and underpinning the foundations, that the work starts to get expensive at £2,000-4,000/m².
Conversion of existing cellar: £1,150-£1,450/m²
Lowering floor level and underpinning in existing cellar: £1,500-2,000/m²
Digging new basement space and underpinning: £2,000-3,000/m²
Digging new basement space beneath the garden: £1,750-2,250m/²
Creating a lightwell/external access: £5,500-£9,500
Engineers fees: £1,000-£1,500
Planning application (where required): £206 (England)
Building Regulations application: £750 upwards
Party Wall surveys (where required): £700 per neighbour upwards
VAT: 20% (added to the cost of all work by a VAT-registered contractor and all fees by VAT-registered consultant)
However, you may find that your basement design quotes come in over budget. This could be for a number of reasons, including:
The need to divert drains beneath your house
Your home has solid concrete rather than timber subfloors
Your home sits on difficult ground conditions such as clay, made-up ground, sand or marsh
The local water table is high, necessitating constant pumping
Access to the site is poor
Your location in the country. London, for example, will come at a premium
Is a Basement Conversion Worth it Financially?
According to Build4Less, the average basement conversion adds 18% value to a home. However, whether a basement conversion is financially viable will depend on the cost of the work relative to local property values. It almost always makes financial sense to add lower ground floor space in high-value areas, such as central London and other sought-after urban centres. Elsewhere the potential to add value needs more careful analysis. Estate agents should be able to give you an indication of how much space is worth per square metre in your area.
Bear in mind that good-quality, well-lit basement living space with access directly onto the back garden will be worth considerably more than dark, converted cellar space with compromised headroom. It is also important to take into account the ceiling value for the location: remember, most suburban areas, and especially estates, have a maximum value that is very difficult to exceed no matter what improvements you make.
If you are weighing up adding a loft conversion against converting a basement, it pays to know that a straightforward cellar conversion costs about the same, but creating a basement from scratch is almost twice the amount per m². However, you may be able to create more useable floorspace with a basement than a loft conversion.
How Long Does a Basement Conversion Take?
A simple basement conversion can be completed in a matter of weeks. Converting a single-room cellar using a membrane lining system can take just two or three weeks, including digging out the sump and fitting the pumping system.
Converting and extending the cellar beneath an entire house, involving underpinning of the existing structure, is likely to take several months.
If there is access directly onto the garden or highway for the removal of soil and your existing ground floor is suspended timber, you can probably continue living in your home whilst work is under way. If the ground floor has to be removed and rebuilt because it is concrete, and all of the spoil has to be carried through the house, you will almost certainly have to move out.
What Can I Use a Basement Conversion For?
A basement is the ideal location for additional family living space, such as a playroom or home entertainment room. Another good basement conversion idea is to relocate the utility room, boiler and storage, freeing up more valuable above-ground space.
Alternatively, a basement can have its own external entrance and provide a self-contained unit, ideal for use as a home office or annexe. If you want the basement to become an independent separate dwelling (perhaps to sell on), you need express consent.
Do I Need Planning Permission for a Basement Conversion?
Converting an existing cellar beneath a dwelling from a storage area to habitable space does not require planning permission. This will be covered by your home's Permitted Development (unless you are in a Conservation Area or special designated area, or your home is Listed).
Reducing the floor level of a cellar to improve the ceiling height is, however, treated as an extension and so may need planning permission. Under certain circumstances, however, modest extensions and alterations can be undertaken without the need to make a planning application: for more information, visit www.planningportal.gov.uk.
Planning policy on basements varies but it is very difficult for a local authority to find reasonable grounds for refusal, especially if the work does not significantly alter the building's appearance.
What Building Regulations Apply to Basement Conversions?
The creation of a new habitable basement will require Building Regulations approval regardless of whether it involves a change of use of an existing cellar, or the creation of a new or larger basement through excavation. The Building Regulations are statutory minimum construction standards that ensure buildings are safe, hygienic and energy efficient. The renovation of an existing habitable basement, or the repair of a cellar that does not involve a change of use, ie. from storage to storage, is excluded from the Building Regulations.
For guidance on meeting the Building Regulations, get a copy of the Approved Document — Basements for Dwellings, which includes all of the relevant regulations.
It is best to make a Full Plans Application for a cellar conversion, rather than to follow the Building Notice procedure, as this allows all design details to be resolved in advance of the work.
Does the Party Wall Act Apply to Basement Conversions
If the proposed works affect a Party Wall – eg. if beams are to bear onto a Party Wall; the wall is to be extended, altered, underpinned; or if excavations are to be carried out near to a Party Wall – the owners and leaseholders of both the building within which the proposed basement works are to take place and those of adjoining properties must be informed. The relevant legislation is the Party Wall etc. Act 1996. Log on to www.communities.gov.uk for more information.
Specialist basement contractors offering a design and build service will handle planning, Building Regulations approval and any Party Wall agreements as part of their service.
Waterproofing a Basement Conversion
If you are converting an existing space, you will need to make sure it is dry.
Waterproofing below ground level is often referred to as 'tanking' — the application of a layer of waterproof material directly to the structure. This is usually a cementitious waterproof render system on the walls, typically applied in several layers, linked to a waterproof screed on the floor. Tanking can also involve a sheet membrane, asphalt or other liquid-applied waterproofing material.
Tanking and making a cellar dry is also required to withstand the external water pressure around the cellar (hydrostatic pressure). The pressure from the water table around a basement can be enormous and unless the tanking is very securely fixed to the substrate, it can fail. Hydrostatic pressure will force water through the tiniest fault very rapidly and once a leak occurs it can be very difficult to isolate and repair.
Cavity drain membranes are an alternative. The membranes are used to create an inner waterproof structure in the basement or cellar, behind which is a cavity (created by the membranes studded profile) that is fully drained, so any tiny leaks in the outer structure are diverted harmlessly away via a drain. By constantly draining away any small leaks there is never any water pressure against the inner structure. Several reports consider cavity membranes to be the most reliable way to waterproof a basement.
Whatever system you use, remember not to put screws through the waterproofing system when hanging shelves and pictures.
Get the Homebuilding & Renovating Newsletter
Bring your dream home to life with expert advice, how-to guides and design inspiration, direct to your inbox.
Michael is Homebuilding & Renovating's Director of Content, Vice Chair of the self build industry body, the National Custom and Self Build Association (NaCSBA), presenter of multiple property TV shows and author of Renovating for Profit (Ebury). He also runs an architectural and interior design practice, offering design and project management services. He is one of the country's leading property experts and has undertaken over 30 building projects including two self-builds and the renovation of a Grade-II listed farmhouse.
Michael has presented over 150 property shows for BBC, ITV1, Channel 5, UK TV Style, and Discovery RealTime, including I Own Britain's Best Home; Don't Move Improve; Trading Up; Good Bid, Good Buy; Build, Buy or Restore?; How to Build A House; and Hard Sell.
Michael is also a regular expert at the Homebuilding & Renovating Shows. He has written for leading British newspapers, including The Daily Telegraph, Sunday Times, Daily Express and The Independent and has appeared on news programmes such as BBC Breakfast.