Creating a Garden Room or Outbuilding
Whether you need extra space for a study, games room or storage, or want something as impressive as a pool house, an outbuilding could be the perfect solution to gaining additional space outdoors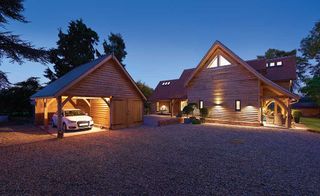 (Image credit: c/o Oakwrights)
An outbuilding or garden room is a non-habitable building in the grounds of your home which serves the main house (unlike an annexe, which is designed as separate sleeping accommodation). They can serve all manner of functions, from a handy study space to a place the kids can escape to play games and hang out with friends (and leaving the main house clutter/toy free).
Outbuildings usually fall under Permitted Development, and should therefore not need planning permission providing they comply with the requirements.
Popular Uses For Outbuildings
A room in your garden is a great way to create space for activities that you may not be able to accommodate in the main home. Many people find that for practical (and financial) reasons they cannot extend their property, but have plenty of room in the garden to create the added space they need.
Some of the most popular purposes for an outbuilding include:
Office
Sauna cabin
Pool house
Storage
Plant room
Kennel
Games room
Studio
Most of these uses will mean having a connection to an electricity source is a must. And, if you plan to spend any length of time in the room then insulation will also be essential — especially if you plan to use the room in winter.
Where to Position Your Garden Room
Where you choose to situate your outbuilding will partly be dictated by what space is available in your garden. If you need to link it to utilities then placing it fairly near the house is best, or it will cost more to connect it up (unless you can use off-grid sources of power, heat and water).
If you are using the outbuilding as a plant room, this will need to sit as close to the house as possible. If it is to also act as a garage, location will be dictated by where access to the site is.
However, if you plan to use the room for relaxation – or as a den for the kids where you don't have to worry about how much noise they make – then you may want it to be a bit further away from your home, and the neighbours' homes too.
Do I Need Planning Permission for an Outbuilding?
An outbuilding must serve the main house and not be independent from it, meaning you can't use it as self-contained accommodation, or as a bedroom, bathroom or kitchen. Therefore, without planning permission, an outbuilding could not be an annexe to house an elderly relative or teenager, and using it as a holiday let is certainly out of the question.
However, if the outbuilding is ancillary to the main dwelling and not used as a residence, if built within size limitations, it will be covered under your Permitted Development rights (alterations you can make without planning permission).
Outbuildings are not covered by Permitted Development in the grounds of a listed home, so you will have to apply for planning. If your home is in an Area of Outstanding Natural Beauty, National Park, Conservation Area or other type of specially designated land, then you will not be able to build an outbuilding to the side of the property. For it to be covered by PD it must also be at least 20m away from the property and be 10m² or less.
On all other homes, outbuildings may not be built forward of the principal elevation without planning permission.
How Big Can a Garden Room Be?
To be covered in your Permitted Development rights, outbuilding must be:
single storey
have a maximum eaves height of 2.5m
have a maximum overall height of 3m (or 4m on a dual pitched roof to the highest point);
have no verandas, balconies or raised platforms
You can also not cover more than 50% of your garden with buildings (this includes sheds and extensions)
It is best practice to check with your local planning department before building a garden room, and apply for a Lawful Development Certificate, to prove the work was allowed — if you decide to sell your property in the future, you will need to show proof.
Designing a Garden Room
If you are building near a boundary then your outbuilding can't exceed 2.5m in height. Therefore, it may be best to opt for a flat roof and a contemporary design that complements this.
In cases where you are not restricted to 2.5m (or will be applying for planning permission so you can build something different), building in the same style as your home would make sense.
However, be aware that unless you can get an exact material match, it may look better if you opt for a similar form, but different materials. Timber-clad barn style designs, for instance, work well with both contemporary and traditional homes.
Choosing Windows and Doors for an Outbuilding
Windows and doors also need to be considered carefully. Place the door so that it optimises the space inside, but is easily accessible from outside too. This will mean thinking about paths and potentially obtrusive plants in the surrounding area.
Studio rooms, pool houses and offices will all benefit from large windows, allowing in plenty of natural light. However, you need to ensure that these will allow for glare-free spots if you are using a computer within the room. Also consider security — don't make it like a shop window, exhibiting all of your possessions inside to passing gazes.
Get the Homebuilding & Renovating Newsletter
Bring your dream home to life with expert advice, how-to guides and design inspiration, direct to your inbox.
Pete is an award-winning architectural designer. He began his career as an architectural technician with self build specialist Potton in 1984. He went on to set up his own practice, PJT Design Ltd, in 2003 and has been designing self build homes and extension schemes for over three decades. He is also a specialist in designing oak frame homes, partnering with oak frame specialist Oakwrights.
In 2015, Pete co-founded PJT Custom Build Ltd, a bespoke project management company, which delivers custom-built homes from conception to completion.
He has recently completed his own contemporary self build project.