15 Great Glazing Ideas
By Daisy Jeffery published
They say that windows are the eyes of a home, and with glazing taking up a large chunk of the budget, you want to get it right — but just what options are there for introducing glass?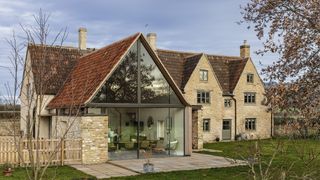 (Image credit: Simon Maxwell)
Using glazing to introduce natural light into the home, whether you're building from scratch or adding an extension, is a top priority for homeowners wanting to do away with dark spaces in the centre of the floorplan or feel claustrophobic by small, pokey rooms.
Whether you go for swathes of full-height, ultra-wide sliding glass, add rooflights or even get creative with glass floors/ceilings and even staircases, there are plenty of ways of introducing glazing into your home to inject daylight — and borrowed light from other spaces too. Here, we list some great glazing ideas to provide inspiration for your project.
There are many ways of injecting daylight into the home. Whether you're unable to introduce a 'standard' window opening, or you simply want to wash your interiors with light, you can brighten spaces by introducing light from above (a rooflight, for instance, introduces almost twice the amount of light as a vertical window of a similar size).
Rooflights, roof lanterns and structural glazing (opens in new tab) are all good choices, and can look just as great above the dining table as they can above the kitchen, or even bath, for those looking to view the stars from the tub!
Now seen as a 'must-have', providing access to the garden and essential to creating that indoor/outdoor look, bifold and sliding doors are almost a prerequisite to any self build or home improvement project. While there is very much still a market for French doors – particularly in traditional settings – bifold and sliding doors allow a large section of the room to be opened to the garden beyond.
Both your budget and aesthetics will dictate your decision. Bifolds, for example, can sometimes come in slightly cheaper as sliding doors usually require much larger spans of glass to be used in a single frame and achieve much thinner profiles; they can provide that much sought-after unobstructed view.
If you specify bifold or sliding doors with the aim of achieving that indoor/outdoor lifestyle with a level threshold to the outdoor patio, you will need to pay careful attention to drainage and water runoff to ensure rainwater drains away from your home — and not into the interiors.
Clerestory windows can provide plenty of natural daylight while maintaining a degree of privacy. The beauty of these high-level windows is that they can be introduced in both traditional and contemporary homes and can be used as a design device, providing the illusion of a floating roof as well as pulling more daylight into the home (as below). They can also be used internally between rooms within the home as a means of borrowing light between spaces.
Editor's Note: If you're looking for a quote for your windows and doors, simply tell us a bit about your project in the questionnaire below and we'll match your requirements with the services and prices that our partners offer. And don't worry, only partners that match your needs will reach out to you.
4. Don't Forget Traditional Windows
With all the hype surrounding frameless glazing and ultra-wide sliding doors, it can be easy to forget more traditional windows. From period-style sash windows to casements, specifying windows for your project shouldn't be overlooked, as the cost can take up a large chunk of your budget.
Whether you opt for timber, composite, powder-coated aluminium, PVCu or steel, the material will have a big impact on the overall look and feel of your house both inside and out, as will the colour you specify. It's worth shopping around to find the right frame to suit your house style. You'll also need to decide how narrow or chunky the frame should be and the thermal performance.
Creating a 'through-view' with internal glazing can provide glimpses into different spaces. Whether you opt for full-height shards of glass, clerestory glazing between rooms, or even opt for internal window reveals internal glazing can create interesting views from within the home and also allow other rooms to 'borrow' light.
6. Capture the Vista Picture Windows
Whether you're designing a new home or adding an extension, and looking to capture a particular vista, introducing a picture window is the perfect way to lead the eye out to your desired view.
Wide, tall, narrow or square, a picture window lends itself to a contemporary project where the views do the talking — this example is case in point. Where you're introducing a hefty amount of glass however, give thought to its handling on site (have you planned for a crane for example?).
A structural engineer will need to advise on the intricacies of its specification, weight, thickness of the pane, how the glazing will be positioned within the structure of the building, and so on.
7. Install Light Tunnels
Spaces at the centre of your home and basement rooms can suffer from a lack of natural light. One clever solution which can offer natural daylight to those hard to reach areas is a light tunnel (or 'sun pipe').
When positioned on a south-facing roof, where the light intensity is at its greatest, the glazed dome with flexible tube allows natural light to travel down into a room.
8. Go for Glass Balustrades
Glazing needn't just be the reserve of windows. Where you have a terrace or balcony, selecting glass balustrades will allow you to benefit from uninterrupted views, particularly when viewed out through full-height glass doors.
9. Specify Sidelights
Perfect for injecting light into the hallway – a room which can often be dark and cramped – specifying a front door with sidelights can wash your interiors with natural daylight. For those looking to maintain a sense of privacy, selecting opaque glazing can prevent passersby from seeing into your home.
10. Consider Glass Floors and Ceilings
Internal glazing is a great way of allowing light to travel from room to room and can create a talking point — none more so than the glass floor/ceiling. Built using structural glazing, glazed panels can offer views from above and below and inject a sense of fun, too.
11. Choose Glazed Links
A perfect way of joining an existing building with a new extension, the glazed link offers a visual transition between old and new, and also helps to bring natural light into the home.
12. Think about Corner Windows
Introducing a corner window is a great way of maximising on daylight and allowing both the exteriors and interiors to connect with the landscape. They also benefit from a 180° vista, and ability to follow the sun's path throughout the day. Corner windows allow you to include other design features such as window seats, too.
One factor to be aware of with the corner window is cantilevering the structure so that the weight is not loadbearing on the glass. Here, it is important to liaise with your structural engineer to ensure the steel beams support the glass if you are to create a corner window without a corner post.
Move aside bifold and sliding doors: the latest glazed patio doors do not fold or slide back, but delicately pivot — providing a large expanse of glass coupled with minimal frames as a further benefit.
14. Dream Big with Unique Glazing Solutions
Here, toughened glass treads form a gravity-defying way of travelling between floors. Glass balustrading almost appears invisible too — and allows more light to filter down.
15. Window Dressings for Privacy
Half of the battle with large windows and doors in modern homes is how to dress them: blinds, curtains, or nothing at all? While it might be best to leave your glazing well alone for a streamlined look, this can impact on privacy at night when the lights are on, and can leave homeowners feeling as if they live in a goldfish bowl.
Daisy was Features Editor on Homebuilding & Renovating for more than five years and had a passion for all things design. She has since moved on to pastures new.
Homebuilding & Renovating Newsletter
Get the latest news, reviews and product advice straight to your inbox.
Thank you for signing up to Homebuilding. You will receive a verification email shortly.
There was a problem. Please refresh the page and try again.