Get a Tailored Quote for Your Oak Frame Project
By Sarah Handley published
Get matched with a partner who can help you make the right choice of oak frame for your project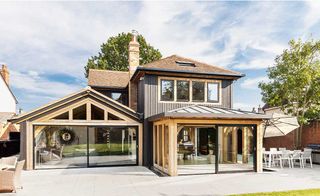 (Image credit: Simon Maxwell)
Whether you are looking to self build or extend using oak frame, finding the right oak frame supplier is essential to the success of your project. And, as always, we're here to help.
Homebuilding.co.uk partners with the UK's best oak frame suppliers to match your requirements with their products and services. Simply answer a few questions about your project and we'll put you in touch with the most relevant partner.
How It Works
1. Enter your details below. Tell us a bit about your project and what you are looking for, and leave some contact details.
2. We search our database. We'll match your requirements with the products and services that our partners offer.
3. Partners will contact you. Don't worry about being bombarded - only the suppliers that match your requirements will contact you.
Sarah is Web Editor of homebuilding.co.uk. She began her career more than a decade ago, working on the editorial team of Public Sector Building magazine, before joining the wider Homebuilding & Renovating team as Social Media Editor in 2012. Since purchasing her first house in 2015, Sarah has been adding to the ever-increasing list of home improvements she needs to make; including extending over the garage, resurfacing the driveway, replacing existing flooring and revamping the kitchen. Fortunately, in her eight years on Team Homebuilding, including three as web editor, she is not short on design inspiration or top tips to tackle or project manage these tasks herself.
Homebuilding & Renovating Newsletter
Get the latest news, reviews and product advice straight to your inbox.
Thank you for signing up to Homebuilding. You will receive a verification email shortly.
There was a problem. Please refresh the page and try again.