Building Regulations Part F: What You Need to Know About Ventilation
By David Hilton published
Covered under Building Regulations Part F, ventilation is crucial for a warm, airtight home, but is often the forgotten part of the energy efficiency equation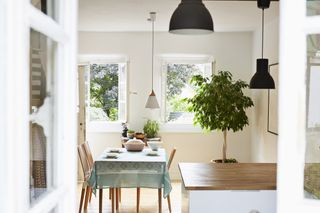 (Image credit: getty images)
Building Regulations Part F covers a topic that's relatively overlooked in our home's energy efficiency make-up: ventilation. Up until very recently, we all concentrated on insulation to increase the efficiency of our homes but airtightness in new properties is now something that is imperative if an energy efficient result is required.
Insulation is great, and more is better, but even a highly insulated wind tunnel will not hold heat. If your house isn't airtight then the insulation applied cannot work properly, as the heat is simply lost in the air.
As you make your home more airtight the insulation will be working properly but you will also get increased condensation due to the lack of air movement. You have to move the vapour out of an airtight building and this has to be done in a controlled manner.
Ventilation has been enshrined as part of Building Regulations in Approved Document F. Here's what you need to know about the regulations and how they'll apply to your self build or renovation.
What is Building Regulations Part F?
Building Regulation Part F covers ventilation in properties in England and most of the details can be found in the Domestic Ventilation Compliance Guide. This document has been designed to ensure that ventilation not only delivers the required airflow, but also does it efficiently and quietly.
There are effectively four different ventilation 'systems' that are described in Part F and any new build needs to comply with one of them to be passed by building control. Each of the systems has an implication on cost, disruption and overall energy efficiency of the property, so this is certainly something that needs to be detailed at the brief stage or you may end up with the system that you didn't choose or one that does not work.
The performance and methodologies for each of the 'system' approaches set out in Part F are the absolute minimum requirements needed to ensure that adequate air quality is provided for the occupants indoors. There are a number of sets of air flow rates that need to be complied with in each 'system' and I will describe these using litres per second (l/s). These details are for guidance and are not targets in themselves.
It is up to the homeowner to work with approved and certified manufacturers and installers to ensure that best system is specified and that design and installation best practice is used to achieve Part F compliance or the occupant's health and wellbeing could be at risk if these ventilation rates are compromised.
(MORE: Building a Healthy Home)
Why is Ventilation Important?
Ventilation is no longer an afterthought. It needs to be defined and designed early on, as it is intrinsic to the health and wellbeing of the occupants and the efficiency of the home and it is very disruptive to add to an existing property.
Old houses tend to be naturally ventilated, so don't require extra ventilation systems, however, high quality new builds tend to have high levels of airtightness. Without ventilation, these homes can become unbearably stuffy. Without ventilation, mould can also grow in your plaster.
You may question why you're paying to make your home airtight then again paying to put holes in it for ventilation. However, you are in fact making the home controllable and then controlling it.
What are the Types of Ventilation Covered by Building Regulations Part F?
1. Background Ventilation and Intermittent Extract Fans
The most common approach to meeting the Building Regulations Part F is intermittent extract fans with background vents (i.e. trickle vents in the windows or air bricks in the walls).
Extract fans are located in all the wet rooms such as the bathroom, ensuite, kitchen and utility room. They must comply with providing the following ventilation airflow rates for minimum intermittent extract and whole building ventilation rate based on number of bedrooms and occupancy levels in the dwelling.
Extract rates are:
Kitchen: 30 l/s adjacent to the hob or 60 l/s elsewhere
Utility room: 30l/s
Bathroom (including shower room or ensuite): 15l/s
Sanitary accommodation: 6 l/s
The whole house ventilation rate will also take into account the uninterruptable free area of any trickle vents and air bricks.
2. Passive Stack Ventilation
Passive stack is a non-mechanical approach to ventilation, which has two main types based on either convection or wind pressure.
The first uses the principle of convection, or air buoyancy, where the warm, rising, air currents allow the movement of air out of the dwelling at high level and fresh air enters through trickle vents and air bricks, or purpose made air inlet ducts. These ducts are located in various locations around the dwelling, or in the passive ventilation unit. The air can be warm due to occupancy, with ducts often installed in chimney stacks, or it can also be designed into a vaulted area with lots of glazing to allow the sun to warm the space, causing the convection.
An alternative passive ventilation system relies on wind pressure. Prevailing wind creates a positive pressure on the windward side of the building and a negative pressure is created on the leeward side of the building as the wind moves away from it. The combination of the positive and negative air creates an air flow through the home as it pushes from one side and pulls from the other. In leaky homes this effect takes away the warmth in the home very rapidly, but if designed properly it can provide a very good ventilation solution.
Many of the better systems also have dampers on the ducts to limit the air flow in strong winds. This does add a bit of 'active' control but it also avoids the issue of over ventilation.
Unfortunately many passive stack airflow rates are very much weather- and occupant-dependent with a risk of over or under ventilating. If there is no wind or sun, and the home is not fully occupied, there could be a lower ventilation rate than what is required.
3. Mechanical Extract Ventilation
What is Purge Ventilation?
Purge ventilation needs to be present in each room and capable of extracting a minimum of four air changes per hour per room. A window or mechanical system would count as purge ventilation.
Mechanical extract ventilation (MEV) is a continuous ventilation system. This can be either a whole house centralised MEV system, or localised decentralised dMEV fans.
The centralised MEV system is typically located in a loft space or hallway cupboard. Multiple ducts run from the kitchen, bathroom, ensuite and other wet rooms of a property to the MEV unit to simultaneously draw moisture-laden air from these wet rooms to control humidity levels. The ducts are balanced on commissioning by the installation engineer to ensure the right air flow is achieved in each area. As the air is extracted, fresh air enters the home via trickle vents and air bricks in the fabric of the building.
Decentralised MEV (dMEV) are individual room fans which operate continuously to draw moisture from either the bathroom, kitchen, utility room or other wet room.
Continuous mechanical systems should include either manual or automatic controls (i.e. humidity sensors) to switch operate between trickle and boost modes depending on air quality.
There are versions of MEV systems that have automatically variable air vents, air quality sensors and controllable fan units. This is referred to as 'on demand' ventilation. The sensors control the fan unit according to air quality and the trickle vents also open and close according to humidity levels in that room, resulting in ventilation only operating when required. These systems make a lot of sense but there may also be pollutants, such as aerosols or drying paint, that are not triggered by the sensors. Always ensure that the system is fit for purpose.
There are also MEV systems built into exhaust air heat pumps that are built into the hot water cylinder. As the air is extracted from the home the heat is taken out by a very small heat pump and used to create the hot water in the cylinder. By using this method the heat in the home is not wasted to atmosphere unless there is no hot water requirement.
4. Mechanical Extract Ventilation with Heat Recovery
Mechanical Ventilation with Heat Recovery (MVHR) is covered under System 4 of the Building Regulations, Part F. Heat Recovery ventilation provides fresh, filtered air, energy efficiency and a comfortable all year round climate.
Stale, moist air is extracted out of the wet rooms, including the kitchen, bathrooms, utility and ensuite rooms and fresh air is brought back in to the living areas such as the bedrooms, lounge and dining room. The warm stale air and the incoming cold air pass through a heat exchanger and the heat is transferred from the stale air to the fresh air indirectly and a large percentage of the heat is thus recovered and not lost to atmosphere.
MVHR systems should always provide the minimum whole building ventilation rate as well as the minimum extract rates required in the wet rooms. The Domestic Ventilation Compliance Guide describes the whole house ventilation rate for homes as follows: 1 bed homes: 13 l/s, 2 bed homes: 17 l/s, 3 bed homes: 21 l/s, 4 bed homes: 25l/s, 5 bed homes: 29l/s but a minimum ventilation rate of 0.3l/s per m2 of floor area (including all floors) must also be maintained. These figures assume that only one bedroom has double occupancy and if there is a higher occupancy then we add 4l/s per occupant.
(MORE: What's it Like Living with Mechanical Ventilation with Heat Recovery)
These four systems allow for a lot of variation but if you want to avoid air vents in your windows and walls then system 4 is the only real option. It is also worth noting that if you are also building in accordance with other aspirational standards such as Passivhaus, then these air flows can sometimes clash with those, depending on the size of the home, number of bathrooms and the occupancy.
David is a renewables and ventilation installer, with over 35 years experience, and is a long-standing contributor to Homebuilding and Renovating magazine. He is a member of the Gas Safe Register, has a Masters degree in Sustainable Architecture, and is an authority in sustainable building and energy efficiency, with extensive knowledge in building fabrics, heat recovery ventilation, renewables, and also conventional heating systems. He is also a speaker at the Homebuilding & Renovating Show.
Passionate about healthy, efficient homes, he is director of Heat and Energy Ltd. He works with architects, builders, self builders and renovators, and designs and project manages the installation of ventilation and heating systems to achieve the most energy efficient and cost effective outcome for every home.
Homebuilding & Renovating Newsletter
Get the latest news, reviews and product advice straight to your inbox.
Thank you for signing up to Homebuilding. You will receive a verification email shortly.
There was a problem. Please refresh the page and try again.