Insulating Suspended Floors: How to Make Your Floors Warmer
By Tim Pullen published
Insulating suspended floors can help eliminate draughts, reduce energy loss and prevent damp and dry rot. Find out what you need to know with our expert guide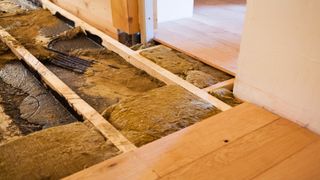 (Image credit: Getty Images)
Insulating suspended floors has emerged as a modern solution that addresses recurring problems for homeowners of older properties: namely, preventing draughts, helping to keep a home warmer and prevent energy loss, and maintaining the integrity of timber suspended floors.
When it comes to insulating floors, we know this can prove difficult in some instances. However, as well as helping draughtproof your home, it will also limit the likelihood of there being any rot or damp-related problems with the flooring, which if left unchecked could lead to disaster.
Our guide highlights the importance of insulating suspended floors and explains the steps you can take to keep your timbers in tip-top condition.
Why Is Insulating Suspended Floors a Good Idea?
Suspended timber floors were first introduced in the early 18th century. Prior to then, it was common practice to place joists and boards directly on the ground. This eventually led to floors becoming prone to damp and dry rot.
When people finally realised what was causing the problem, their solution was to raise the floors up off the ground, thereby allowing the free movement of air and much better ventilation, which helped protect the timbers.
This was a great idea, so far as it went, but the ventilation below the floor soon began to leak through the boards, causing draughts in the room above. At that time, though, most houses were heated with coal fires, which require a lot of air for good combustion, so draughts were considered a small price to pay.
At the time, insulation was also largely unheard of, and almost as much heat escaped through the floor as through the walls.
Nowadays, we all know how important it is to insulate our walls, but it is an equally good idea to insulate, and draughtproof, the floors, too.
Is It Worth Insulating Suspended Floors?
The average UK household is said to need about 9,000kWh of space-heating energy per year. In a house with 150m2 floor area that has had some work done on it, upgrading the insulation (generally insulating the floor with 100mm quilt insulation) will save about 1,500kWh per year.
This is not a massive amount, but it's not nothing either. In fact, in financial terms, it may now equate to around £100 per year, which does go a long way given the current energy climate.
How much insulating suspended floors will save you in five years to a decade is anyone's guess, given current energy prices. But perhaps the answer is that if you consider insulating a wall worthwhile, then you should also insulate the floor.
What Are the Options for Insulating Suspended Floors?
Essentially, there are only two main options: to insulate on top of the existing floorboards, or underneath them.
Insulating Suspended Floors From Above
If the cost and disruption of taking up floorboards cannot be endured, and there is no access to the space below the floor, then insulation must be done on top.
The insulation must be thin to avoid affecting door opening height. There are a number of thin insulators, like Sempafloor, warmup boards, or wood fibre boards, that could work in this instance. Rigid foam insulation boards can work as well but are less forgiving of foot traffic.
The aforementioned insulators start at 6mm thick; the actual insulation value will be limited, so the real benefit is more about draught proofing. These materials are all best simply glued to the floorboards, pushed up tight to the skirting boards and each other, and the joints sealed with an airtight tape. Carpet or another floor finish can then be laid directly on top.
Insulating Suspended Floors From Underneath
If the floorboards can be lifted, then this provides the best opportunity to insulate and draught proof. Insulation should be inserted with a snug fit between the joists. Ideally, this will be a breathable insulation (sheep wool, wood fibre, hemp, etc.).
What we mean by 'breathable' is a material that is able to absorb and release moisture. The area under a floor can often be damp, and breathable material will protect the floor timbers from moisture.
A non-breathable material (mineral wool, phenolic foam, EPS, etc.) will absorb moisture and retain it which, over time, tends to encourage dry rot in the timbers. These materials can also shrink after a while, leaving gaps that negate the draught proofing benefit.
A breathable quilt or semi-rigid material can be cut slightly oversized and squeezed in between the joist, ensuring that the possibility of draughts is eliminated. Do remember though that the joists will most likely not be perfectly straight or perfectly regular, making it difficult to fit any rigid foam insulation snugly, and gaps will need to be sealed with airtight tape.
How to Insulate Suspended Floors: The Methods Explained
Again, there are two ways of going about this: as before, from above or from below.
Insulating Suspended Floors by Lifting the Boards
If the floorboards are lifted and can be worked from above, then the process is to lay a vapour control layer (VCL) or similar breathable membrane, transverse across the joist, so that it falls to the bottom of the joist.
Fix the VCL in place with (preferably galvanised) staples, keeping it reasonably taught. Then, insert insulation between each joist, ensuring a snug fit on all joints.
If you are aiming for extreme airtightness – to EnerPHit standard, for instance – then it will be necessary to lay an airtight membrane on top of the insulation — Tyvek AirGuard, Pro Clima DA, or similar.
If you are not aiming for that level of airtightness, then a second membrane will not be needed. Finish by reinstalling the floorboards.
Insulating Suspended Floors by Working Underneath the Boards
If the floorboards have not been lifted and you are working from below (the cheaper but far more uncomfortable option), then the process is largely the same, but in reverse order.
It is advisable that a batten be fixed to the side of the floor joist, flush with its underside, to support the insulation. Push the insulation in between the joists, again ensuring a snug fit. The batten and snug fit will then hold the insulation in place while the VCL is fixed across the battens.
Note on VCL: Although the use of a VCL is recommended, there is an argument that it is not necessary where breathable insulation is being used. If the floor timbers have survived since the house was first built, then the ventilation under the floor is working and a VCL is not bringing anything to the party.
How Does Insulating Suspended Floors Affect Ventilation?
The whole point of a suspended timber floor is to provide sufficient home ventilation to protect against dry rot and separate the timber from the source of moisture.
Whatever is done in terms of insulation, it is essential that effective ventilation is maintained. Typically, it is provided by air bricks, and they must not be covered by the insulation or obscured by other materials, as this will impede free air movement.
Tim is an expert in sustainable building methods and energy efficiency in residential homes.
Homebuilding & Renovating Newsletter
Get the latest news, reviews and product advice straight to your inbox.
Thank you for signing up to Homebuilding. You will receive a verification email shortly.
There was a problem. Please refresh the page and try again.