What are Planning Conditions?
By David Snell
In the euphoria of gaining planning approval, don't overlook the conditions attached. Failure to discharge conditions can invalidate planning permission for your build — ignore them at your peril!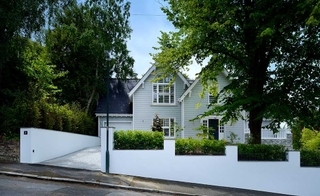 (Image credit: Nigel Ridgen)
All planning permission is granted with conditions attached. 
Failure to 'discharge' these conditions with the local planning authority can render that permission, and subsequently any work carried out on site, void.
When you're buying a building plot with planning permission already in place, it is essential that you read and understand those conditions — and to make sure that they are capable of being satisfied or discharged within your remit.
Conditions typically focus on prior approval of external materials, landscaping and boundary schemes and other aspects of a project too detailed to be included in the planning application.
Common Conditions for Planning Permission
Conditions to planning permission cover a whole range of works and come in different shapes and sizes. Some of the most common include:
A planning permission will normally include a condition stating that development must commence within three years of the date it was granted.
Most local authorities will impose a condition requiring the agreement of some or all external materials.
Some local planning authorities ask for details, while others ask for samples of your proposed bricks and roof tiles for instance.
There is often a condition relating to the provision and the surfacing of any parking or driveways. The layout will be noted on the plans but the choice of material for the surfaces may have to be agreed.
It's also quite common to see a planning condition that requires the submission details of the proposed access to a site that will demonstrate minimum visibility splays in each direction to ensure that people entering and leaving can do so safely.
This is one of the most important and risky conditions because you may assume that because planning permission has been granted the site access arrangements are satisfactory. But failure to prove that you control the land necessary to deliver the necessary visibility could prevent the planning permission being implemented.
Many consents will have a condition requiring the protection of certain trees, while others will require a tree planting and landscaping scheme to be approved prior to commencement of work.
The good news for self builders is that putting a detailed landscaping scheme on the planning application means that you can reclaim the VAT on most of the materials (e.g. trees, turf and plants) as part of your overall reclaim.
All planning applications have to detail the method of disposal of both surface and foul drainage and this should be reflected in the plans.
Nevertheless, most local authorities will require subsequent detailed drawings and proposals showing the precise arrangements to be employed, prior to commencement of work starting on site.
An important consideration in any planning consent is whether or not Permitted Development rights (the work you can carry out to a property, such as small extensions, without needing planning consent) have been extinguished or curtailed as a condition of the consent. They often are, particularly on approvals given on sensitive or controversial sites.
Any limitation may mean that any extensions in the future or, in extreme cases, the erection of something as innocuous as a garden shed may need express planning permission.
How to Discharge Planning Conditions
A form entitled 'Application for approval of details reserved by condition' will need to be filled out. You will need to include the permission reference, the condition number and submit whatever has been requested.
The local planning authority then (in theory) has eight weeks to agree or refuse the submitted details. In practice, the length of time a local planning authority will take can vary depending on the scale and complexity of the condition.
The Cost of Discharging Planning Conditions
The fee for the approval of conditions attached to a householder application (for example, an extension project) is £34. For a new single dwelling the fee is £116 in England.
If you had 10 planning conditions, for instance, you could soon be paying over £1,000 to discharge all of them separately. So, it makes sense to gather all of your material and make just one application to discharge all of the conditions at the same time.
Can I Appeal Against a Planning Condition?
An appeal can be made against a condition contained within a planning permission on the grounds that it is unfair, unreasonable or unlawful.
This will is dealt with in the same way as a normal planning appeal and could take six months to resolve, but there is no guarantee of success.
Homebuilding & Renovating Newsletter
Get the latest news, expert advice and product inspiration straight to your inbox.
Thank you for signing up to Homebuilding. You will receive a verification email shortly.
There was a problem. Please refresh the page and try again.