Planning Conditions: The Ultimate Guide
By David Snell , Ken Dijksman , Mark Stevenson published
Don't overlook the attached planning conditions in the euphoria of gaining planning approval. Failure to discharge conditions can invalidate the permission for your build — ignore them at your peril!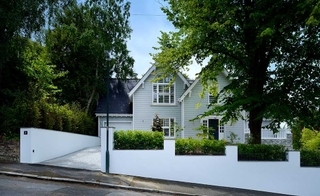 (Image credit: Nigel Ridgen)
The whole world of planning is seriously misunderstood, and nowhere is this more obvious than when people talk about 'having planning permission'. Yes, you now have the right to build a house or extension, and if you have a detailed planning permission, its design and siting are all agreed.
But planning permission is granted with conditions attached.
Failure to 'discharge' these conditions with the local planning authority can render that permission, and subsequently any work carried out on site, void.
When you're buying a building plot with planning permission already in place, it is essential that you read and understand those conditions — and to make sure that they are capable of being satisfied or discharged within your remit.
As a self-builder with only one plot, or as an extender, these additional details should (ideally) be agreed within a couple of months.
While other conditions must be dealt with prior to the occupation of the house, some are there to place restrictions on what you can do in the future.
What are Planning Conditions?
Top Tip
Before agreeing to buy a site, or completing on the purchase, it is essential that you are satisfied that the various planning conditions can be complied with.
This is the key point to understand about planning conditions: you have a planning permission, but it is subject to the requirements of all the conditions attached to it and failure to discharge them can render that permission void.
One of the big criticisms of planning conditions is that they involve delay. This is especially true where extra details are sought regarding ecology, and where ecological surveys, arboricultural assessments and tree protection plans may be required.
Planning conditions can also be very expensive — a brief condition requiring the submission of an archaeological assessment and programme for excavation could cost tens of thousands.
Some conditions, on the other hand, are very straightforward and are there to help protect neighbouring homes.
Planning conditions are the small print that allow a consent to be issued and the finer detail resolved later. The inclusion of planning conditions within a consent can be a double-edged sword. They are undoubtedly helpful in enabling a consent to be issued but can be frustrating as sorting them out adds time to the planning process. Some may even require resolution before any work can commence.
It's vitally important to make sure the planning conditions are capable of being satisfied, as failure to do so will prevent the build from starting, may even invalidate the consent and could render the plot worthless.
(MORE: Secrets to Planning Success)
Common Planning Conditions
Planning conditions cover a whole range of works and come in different shapes and sizes. Common conditions include:
Commencement date
A planning permission will normally include a condition stating that development must commence within three years of the date it was granted.
Building position
The position of the building will usually be resolved as part of the detailed design and approval process, but the finished floor level may be conditioned for later approval. The planning authority will be particularly concerned about the position and height of the proposed building to ensure it doesn't unduly impact on its neighbours and fits sympathetically into the street scene. There will be more emphasis on finished floor levels if the local area is subject to flooding.
External materials
Notwithstanding what has been specified, most planning departments will impose a condition requiring approval of external materials. Typical materials include:
External cladding
Brickwork
Render
Windows and doors
Roof tiling
Finishes/colours to external joinery.
For first-time self-builders, choosing how their home will be dressed is very exciting but can prove frustrating as the planning department may not agree with your proposals.
Choose materials carefully, listen to the guidance offered by professionals and the planning department, and always make sure that what is proposed can be supplied in good time. It's also quite common to find materials such as bricks are on long delivery and so could delay the start of the build if approved. Some local planning authorities ask for details, while others ask for samples of your proposed bricks and roof tiles for instance.
Flood risk
It is usual practice for the Environment Agency to comment or object to an application during the consultation period.
An objection will require a flood risk assessment to address their concerns and a condition may be imposed to comply with the conclusion of that flood risk assessment.
The good news here is that flood risk is resolved during the planning process, and as such, related conditions are usually restricted to ensuring compliance and so they shouldn't prevent work starting.
Highway requirements and provision of safe access
Before buying a plot, access and any highway restrictions imposed by the planning consent should first be checked. The conditioning of visibility splays to provide safe access are commonplace but unfortunately, forming them on site isn't always straightforward or even possible. Make sure the land required to satisfy a highway condition is within your ownership or, at the very least, you have a legal agreement to form a visibility splay over someone else's land.
In terms of preparing your plot to start work, establish safe access onto the site early, ideally before the build starts to get underway.
There is often a condition relating to the provision and the surfacing of any parking or driveways. The layout will be noted on the plans but the choice of material for the surfaces may have to be agreed.
Noteworthy
Not all ecology is protected. Some plants are invasive, such as Japanese Knotweed, and treatments over numerous growing seasons may be required to eradicate them to allow construction work to begin.
Trees and ecology
Plots with ecology issues will probably have undergone an extended planning process involving various surveys and studies. Ecology reports will make recommendations about how protected species and plants should be managed and what should be done before construction work can commence.
While managing ecology can be complex, it's not usually expensive but can be time-consuming depending upon the time of year you want to start building and when species can be managed or migrated.
Trees, especially those adjacent to the proposed building, are also likely to feature as a planning condition. Unless already identified on the site plan, protection measures will need to be approved to ensure the trees concerned are protected for the duration of the building work.
Archaeology
Sites of historical interest may be conditioned to have an archaeological study to establish the extent of archaeological deposits. Where the archaeology is not fully understood a watching brief may be required while excavations are taking place.
The bad news is that the cost of archaeology must be borne by the selfbuilder, so the hope is that findings are limited otherwise significant time and money can be incurred. Fortunately, self-build projects are of limited scale and so aren't usually subject to Time Team-style investigations.
Landscaping design and boundary treatments
Most, if not all, planning consents will require a landscaping scheme to be approved before building work starts. While this seems very early, it's actually useful as it helps to plan out what landscaping needs to be retained on site. It also means that the VAT associated with implementing an approved scheme can be recovered for most of the materials used.
Disposal of surface and foul drainage
All planning applications have to detail the method of disposal of both surface and foul drainage and this should be reflected in the plans.
Nevertheless, most local authorities will require subsequent detailed drawings and proposals showing the precise arrangements to be employed, prior to commencement of work starting on site.
Limitations on or removal of Permitted Development Rights
An important consideration in any planning consent is whether or not Permitted Development rights (the work you can carry out to a property, such as small extensions, without needing planning consent) have been extinguished or curtailed as a condition of the consent. They often are, particularly on approvals given on sensitive or controversial sites.
Any limitation may mean that any extensions in the future or, in extreme cases, the erection of something as innocuous as a garden shed may need express planning permission.
How to Discharge Planning Conditions
Discharging planning conditions isn't difficult but it does require the right proposal to secure approval.
It's therefore advisable that a planning professional is involved, otherwise the process can become quite protracted while you figure out what the planning department is looking for.
It's worth noting that some planning conditions need discharging prior to the build, while others during or at the end.
A form entitled Application for approval of details reserved by condition will need to be filled out. Make sure:
you quote your permission reference
the condition number
and submit whatever it is they have asked for.
Discharging planning conditions should take no more than six to eight weeks to complete, provided your proposal is acceptable.
Planners are busy people, so approvals can sometimes take longer to be confirmed which can prevent work starting on site.
In practice, the length of time a local planning authority will take can vary dramatically depending on the scale and complexity of the permission and the attitude of the planning officers. For an extension or self build plot, eight weeks should be the maximum time they need to work with you to agree whatever is necessary.
If a response isn't forthcoming an applicant can serve the council with a "deemed discharge notice" six weeks after applying. This gives the council two weeks' notice that unless a response is received the proposal will be deemed to be approved.
How Much Does it Cost to Discharge Planning Conditions?
A fee is payable for every application to approve the details. The fee for the approval of conditions attached to a householder application (for example, extensions) is £34; for a new single dwelling it's £116.
It's a very good idea to submit details in relation to all the planning conditions at the same time, as you'll then only pay one fee. If you submit them separately you pay a fee to clear each condition — costs could soon mount up!
Can I Appeal Against a Planning Condition?
An appeal can be made against a condition contained within a planning permission on the grounds that it is unfair, unreasonable or unlawful.
For example, they might not agree the materials you want to use. In this case you can either try and negotiate an alternative, or you can lodge an appeal, which is dealt with in the same way as a normal planning appeal and could take six months to resolve, with no guarantee of success.
As such, my advice is that you should attempt to reduce the number of conditions attached to your permission to the bare minimum in the first instance.
To take an easy example: if during the application process you talk to the planning officer about the materials you want to use and they agree them, this can be used to avoid the need to impose a condition on requesting samples. A condition can be drafted to require that you use those materials. This does require a helpful and positive planning officer — and contrary to popular belief they do exist!
This approach can also work with issues like tree protection plans, access and highway details and landscape drawings. If you provide as much detail as possible during the consideration of the application this can avoid the need for the council to impose conditions to request those details on the permission.
Another technique is to ask to see the draft permission notice before it's issued, and you can then request that, where possible, the conditions require approvals following commencement of development above slab level. This means you can progress with the foundation works, and the discharge of conditions should not hold up the build.
If you buy a plot of land with planning permission that is already subject to conditions, my advice is to look at the conditions very carefully and decide whether you can live with them. It is possible to make a planning application to modify or remove the conditions. Obviously you must have a good reason and it has to be acceptable in planning terms. A typical example would be an occupation restriction limiting the use of the house to agricultural workers.
You can apply to have this removed and it can be successful if you can prove that there is no demand for this accommodation in that area; this is a complex business, but the point is that conditions, like planning permissions, can often be modified.
The 10-year Rule
Also remember that conditions are subject to enforcement time limits. This means that if you buy a house with an old planning permission and someone has breached one of the conditions continuously for more than 10 years, then it is likely to be immune from enforcement action. This is known as the '10 year rule'. It's another example of the flexibility in the system when you know how it works.
In a nutshell, dealing with planning conditions is more bureaucracy and it could delay your build programme, but if you know this in advance, you can take it all into account.
Seek Professional Support
Now you understand the planning consent for your proposed home and its implications to your project, it becomes clear that there are many facets of permission that require professional support to avoid falling into inadvertent bear traps. And, it should also be apparent that the dialogue with the planners does not end when your new home has been granted planning permission.
To be able to start your project properly you will therefore need to appoint a team of professionals to complete the design, finalise the permission, secure the necessary approvals and help you get the build started.
(MORE: Planning Consultants)
Continue reading this article
One-off payment: £4.99 for six months full access to The Planning Hub
The Planning Hub offers in-depth guides to planning permission in England, brought to you by Homebuilding's planning experts
Instant access to planning permission information, vital to the success of your project

Independant advice from leading Homebuilding & Renovating planning experts

Discover what you need to know to get your plans approved with minimum hassle

Get to grips with complex planning rules with our easy-to-read guidance
Continue reading this article
One-off payment: £4.99 for six months full access to The Planning Hub
The author of Building Your Own Home, David is a serial self builder and has been building homes for 50 years. He has just finished his fourteenth self build project.
Homebuilding & Renovating Newsletter
Get the latest news, reviews and product advice straight to your inbox.
Thank you for signing up to Homebuilding. You will receive a verification email shortly.
There was a problem. Please refresh the page and try again.