Fire Safety Building Regulations: Part B
By Paul Hymers published
Understanding the fire regulations need not be complicated when building your own home or converting your loft. We explain the key facts and concerns that a building inspector will be looking out for when it comes to fire safety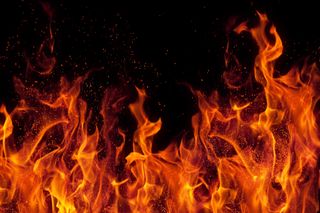 (Image credit: getty images)
Fire safety regulations might cause some anguish for those building their own homes, but it is understandably crucial to make sure your home is compliant. Compliance often involves a combination of methods, from fire doors and egress windows, through to smoke alarms and sprinkler systems.
Here we explain what the Building Regulations stipulate when it comes to fire safety (we will focus on the rules for detached houses here. Regulations are tighter for attached houses or flats).
Fire Safety and the Building Regulations
Fire safety in any new home is not achieved by one single measure. Instead, it is compiled from a collection of several different precautions — outlined in Part B of Building Regulations (in England and Wales). Together, these precautions aim to protect life by:
Providing escape routes from the home
Restricting or preventing the spread of fire to or from neighbouring homes
Restricting or preventing the spread of fire inside the home
And by providing essential access for the fire brigade.
Visit the Homebuilding & Renovating Show
The Building Regulations on fire safety in England and Wales are divided into two volumes. The first volume deals exclusively with homes (excluding flats). They are much the same in all parts of the UK, but here we focus on the rules in England and Wales
In Scotland, the requirements are covered by the Domestic Technical Handbook (Section 2 – Fire).
Where Should Smoke Alarms be Fitted?
For new homes and extensions, at least one mains-powered smoke alarm system with detector/alarms interlinked should be fitted on each floor. (Mains-operated smoke alarms should be fitted with batteries as a back-up.) They should be positioned within 7.5m of bedroom doors and located in landings and hallways. Smoke detectors should also be positioned at least 300mm away from pendant lights and from the interface between the ceilings and walls.
Open plan areas which feature kitchens create an added risk. As such, they require the addition of a heat detector/alarm interlinked to the smoke alarm system. Again, these should be positioned at least 300mm away from pendant lights and from the interface between the ceilings and walls.
Building Regulations for Fire Escape Windows
If the first floor of your home is no higher than 4.5m above the exterior ground level, then you will need to be able to escape the house from the first floor via egress windows to all habitable rooms (i.e. to bedrooms but not bathrooms). Smoke alarms and an egress window are all that are required for fire safety for any habitable room up to 4.5m above ground.
Egress windows should be:
no higher than 1.1m from the finished floor level
and at least 450 x 450mm and a third of m2 in area
They should be positioned so as to allow rescue by ladder. As such, they can't be located above features like polycarbonate conservatory roofs
The windows should be positioned to allow the occupants to move away from the building and not, for example, into a small enclosed courtyard beneath.
You may also need ground floor egress windows to serve 'inner' rooms. Inner rooms occur when you have to pass through another (access) room to reach the hall, stairway or external door. Therefore, a fire in the access room means escape is necessary through an egress window or an alternative door route.
Be wary of inadvertently creating inner rooms when extending or when creating open plan layouts on the ground floor by removing walls to hallways. This could mean having to replace windows, but it is usually possible to change standard scissor hinges for egress hinges on existing windows that do not open wide enough.
The notable exceptions are kitchens, utility rooms, bathrooms and dressing rooms which as inner rooms do not require egress windows.
Fire Escape Routes in Three or Four-Storey Homes
For homes of three or more storeys where floors occur 4.5m or more above the outside ground level, egress windows are not an option for fire safety.
In new build three or four storey homes (with a top floor which does not 7.5m above ground level), a protected stairway must be created that is continuous to an external door at ground level. The stairway enclosure throughout should be constructed to be fire resistant for at least 30 minutes, with FD20-rated fire doors (which are resistant for at least 20 minutes) to all habitable rooms along it. Self-closers on these fire doors are no longer a requirement.
Homes with top floors above 7.5m require a second escape staircase or some added protection to compensate, such as a sprinkler system.
Loft Conversion Fire Regulations
Loft conversions to two-storey houses invoke the same fire-protected route requirements, but they have some concessions. They still need a protected route through the stairway without passing through any rooms. (The latter means that staircases that land in open plan ground floor areas are not acceptable — unless alternative measures, such as the introduction of a sprinkler system, are taken.)
If you're existing staircase climbs from the middle of the house, it should be either:
Enclosed to an external door within a corridor built to provide 30-minutes' fire resistance
Or, within a lobby of the same standard with two fire doors that create a choice of protected escape routes via front or back rooms
Alternatively, it might be possible to separate the first floor by a fire door and use an egress window from this level.
Loft converters are often surprised that they are also required to upgrade the fireproofing on ceilings below the new rooms, too.
Do I Need a Sprinkler System?
In Wales, fitting sprinkler systems to new homes became mandatory in 2016.
In England, regulations make no requirements to use sprinklers. However, they are sometimes accepted as an alternative method of compliance by building inspectors where it is difficult to provide adequate means of escape — for example, when compensating for open plan ground floor layouts.
Preventing the Spread of Fire to or from Neighbouring Homes
Another area that can cause problems when it comes to fire safety is using combustible materials, such as plastic or timber cladding, close to a boundary, even when it is covering masonry walls. In addition to cladding, if the walls themselves consist of non-fire resistant elements (such as windows) they must be at least 6m from the boundary to avoid size restrictions.
However, this is not to say that some combustible materials can't be used closer to boundaries. For most homes, up to 24m length and no more than three-storeys high, the Building Regs' provide a simple diagram which aids in this situation (below).
A certain area of non-fire resistant construction (e.g. windows) can be introduced, depending on the proximity of the building from the boundary — these are known as unprotected areas (UPA).
Walls that are up to 1m from a boundary are restricted to 1m2 of UPA. This extrapolates out with greater distance from the boundary to over 6m, at which point there is no limit to the allowable UPA.
Where the site boundary is a road, river, railway line or canal — the centre line can be taken of that feature as the relevant notional boundary.
Again, in England, installing sprinklers throughout the home will allow you to halve the distance to the boundary (or double the UPA), so long as you are over 1m to the boundary.
Fire-Resistant Internal Finishes
For all structural elements, such as floors, walls and beams, fire resistance of at least 30 minutes is required. This is usually achieved by using fire-rated plasterboard and plaster finishes at least 12.5mm thick, or two layers of standard plasterboard at least 9.5mm thick and a plaster set finish.
If you prefer to expose steel beams rather than clad them, intumescent paints are available. Usually they comprise a two-layer system with an intumescent first coat and a flame spread resistant top coat.
For the internal wall and ceilings finishes, materials need to be Class 1-rated to prevent fire spread. Thus, finishes such as plywood or interior timber cladding will need to be protected. Paint-on coatings are available that will protect timber to Class 1.
Small rooms of up to 4m2 floor area and domestic garages up to 40m2 can be lined with Class 3 (D-s3 d2) materials.
Integral Garages and Fire Safety
Internal doors to integral garages should be FD30 fire doors, and include smoke seals and self-closing devices. (These are the only doors inside a dwelling that require self-closing doors.)
Garage floors should also be sloping outwards or at least 100mm lower at these doors to prevent fuel spillage leaking in to the home.
Creating Access for Fire Engines
When a fire occurs and the alarm is raised, we expect the fire service to respond and arrive quickly. The emergency services need three main conditions to be satisfied to successfully deal with a fire in a house:
Fire engines must be able to get close to the building
Firefighters and their equipment must be able to reach the fire's location in the building
An adequate supply of water, maintained at sufficient pressure, must be available to fight the fire.
As houses are usually classed as small buildings (that is, up to 2,000m2 floor area with a top storey less than 11m high), only access to within 45m of every point of the building, or to 15% of its perimeter, is needed.
A wide range of fire engines are in use throughout the UK. They vary in height, length and weight and, as such, require varying degrees of access. To ensure that these requirements are met, building control bodies and local fire safety authorities should be consulted early on when designing a new home to check that there are no restrictions to access.
Long, narrow access tracks or drives in rural areas can often be a problem. Access roads usually need:
To be at least 3.7m wide
Surfaced and capable of carrying 12.5 tonnes
With gates at least 3.1m wide
With passing areas or turning points every 20m. A hammerhead or a turning circular With 16.8m turning circle diameter is required if the drive or track is over 20m in length.
If this is not possible, some alternative considerations may be agreed to compensate.
Remote self bu­­­ild projects could include their own fire hydrant. Extended from the water mains, they would provide a means by which fire fighters could connect hoses to a standpipe. Private hydrants should be positioned not more than 90m (hose length) from the external door.
External hydrants are usually 'wet' (permanently filled with water) rather than 'dry' (kept empty and filled by the fire brigade when they attend an incident).
A more common solution is to fit a domestic sprinkler system.
Paul is a building control officer and has written eight books on home improvements and building homes.
Homebuilding & Renovating Newsletter
Get the latest news, reviews and product advice straight to your inbox.
Thank you for signing up to Homebuilding. You will receive a verification email shortly.
There was a problem. Please refresh the page and try again.