Best Patio Heaters: 5 of the Best Gas and Electric Heaters for Entertaining Outdoors
The best patio heaters will keep you warm all-year round while blending in seamlessly with your outdoor space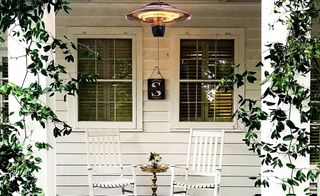 (Image credit: Amazon)
The best patio heaters will keep you toasty all-year round, be easy to use, and easily blend in with your current outdoor set-up
Whether you're relaxing in your garden or entertaining friends and family, a patio heater is a valuable addition, especially given the unpredictability of British weather as some nights continue to be chilly. 
Before you buy though, knowing what to look for is important. Electric heaters tend to be cheaper but need to be plugged in, while gas heaters are portable but require more effort to set up. 
You'll also need to consider how the size and design of your patio heater will impact the aesthetic of your outdoor space, such as blending in with your outdoor wall lights. 
To ensure your new model doesn't leave you hot and bothered, we've rounded up the best patio heaters worth investing in. 
Quick Links to Best Patio Heaters
Which is the Best Patio Heater?
1. La Hacienda Electric Patio Heater
The best overhead patio heater
Fuel: Electricity | Power: 2000W | Dimensions: 180 x 50cm | Materials: Aluminium and stainless steel
Three heat settings
Energy efficient
Great design
Not the best heater for larger groups
The La Hacienda Electric Patio Heater is a fantastic choice for most gardens, providing versatility, flexibility and a powerful heating system. 
Freestanding with a discreet overhead design, it can be adjusted to run at three different heat settings up to 2000W, meaning it can left running in the background. Plus, it has an adjustable head. 
You needn't worry about its stability - it comes with a sturdy base to ensure it won't fall in the event someone accidentally kicks or trips into it. And it can be easily be packed away and stored during the winter months. 
It's remarkably energy efficient too: it costs just 29p per hour to run and has a bulb life of 3,000 hours. And no noise or fumes are given off either. 
The only slight criticism is that bigger groups may feel the warmth less than others (the heater doesn't offer any rotating features), but for smaller groups this is as good as it gets. 
Buy the La Hacienda Electric Patio Heater now
---
2. Swan Al Fresco SH16340N Wall Mounted Patio Heater
The best wall or ceiling mounted patio heater
Fuel: Electricity | Power: 1800W | Dimensions: 79.4 x 47.2 x 32.2cm | Material: Aluminium, carbon fibre
Weatherproof
Safety switch
Great for smaller patios
No instruction manual
This wall mounted patio heater from Swan provides a clever space-saving solution for small patios, decks or balconies.
You can select between two heat settings up to 1800W, and the 1.8 metre power lead means it can be placed a good distance from your living space, depending on how warm you want it to be. It comes with a remote control too for added convenience.
Given the unpredictably of UK weather, that it's weatherproof is extremely handy. Another great feature is the 360° tip over safety switch, which will switch the heater off automatically should it fall. 
It's not the largest heater, but once it's installed you can leave it up all-year round without worry - and due to its carbon fibre material it's very durable. 
Buy the Swan Al Fresco SH16340N Wall Mounted Patio Heater now
---
3. Donyer Power Electrical Patio Heater
The best hanging patio heater
Fuel: Electricity | Power: 2000W | Dimensions: 42 x 42 x 24cm | Material: Iron
Indoor and outdoor use
360° heating
1m chain is quite small
This hanging patio heater is great if you own a canopy or patio umbrella: you can hook it up easily and it will keep you warm throughout the night. 
We really like the 360° heating in all directions, ensuring the heater covers every guest in your group. And the two halogen heating pipes are brilliantly efficient at increasing temperature quickly.
Another benefit is that it's luminous, so it will provide extra light on slightly darker nights. It can be used indoors too, providing you have somewhere to hang it up. 
The 1m chain is a little on the smaller side, so you'll need to make sure you place it near to a plug point when using it outdoors. 
Buy the Donyer Power Electrical Patio Heater now.
---
4. Maisons du Monde Metal Patio Heater
The best gas patio heater
Fuel: Gas | Power: N/A | Dimensions: 223 x 81cm | Material: Metal
Portable
Easy to use
Includes shut-off tilt valve
Small heat radius
The simple, stylish design of this portable heater extends to how it works: it can be lit at the push of a button. 
This is the first of two gas heaters in this list, and to make it work you'll need to buy gas cylinders separately. Luckily though, this Maisons du Monde Metal patio heater has a built-in storage space for your gas tank. 
If you don't mind doing that, the benefits to be had are vast. It's portable, features a choice of different heating settings, and includes a shut-off tilt value that turns it off should it tip over. 
You can also use the base reservoir design of the heater to fill it with sand or water, which will create weight low down. 
Buy the Maisons du Monde Metal Patio Heater now.
---
5. Swan Al Fresco SH16330N Patio Heater
The best tabletop patio heater
Fuel: Electricity | Power: 1200W | Dimensions: 68.2 x 35.7 x 29.6cm | Material: Aluminium, carbon fibre
360° heating
Lightweight with built-in handle
1.8m power lead
Not the most powerful
This lightweight Swan model is suitable for placement on tables or under them, and it comes with a built-in handle to make it easy to move. 
It also has 360° heating, with an aluminium reflector in place to heat in all directions, while its carbon heating element is designed to cut down on energy use.
The heater does need to be plugged in, despite its label as a 'portable' heater, but a massive tick in the plus column is the generous 1.8m power lead, so you don't need to have a plug socket immediately nearby. 
Buy the Swan Al Fresco SH16330N Patio Heater now.
How to Buy The Best Patio Heater
Before you buy your patio heater, it's worth being aware of some considerations to ensure you purchase the right model for you. 
Which fuel should you choose?
There are pros and cons to electric heaters and gas heaters. Many prefer electric patio heaters because they're more energy efficient and environmentally-friendly, but they need to be plugged in. Gas heaters are portable, but to use them you'll need to buy and operate gas cylinders, and they are generally more expensive. 
How much space do you have?
The best patio heater for you will depend on the space you're working with. For smaller patios, a discreet wall-mounted patio heater or tabletop design can work well, while overhead and floor-standing designs can be fantastic outdoor features in larger living spaces. 
Jack is News Editor of Homebuilding & Renovating and strives to break the most relevant and beneficial stories for self builders and renovators. Having bought his first home in 2013, he and his wife have renovated almost every room and recently finished a garden renovation. Jack reports on all of the latest news that could affect your project.
Homebuilding & Renovating Newsletter
Get the latest news, reviews and product advice straight to your inbox.
Thank you for signing up to Homebuilding. You will receive a verification email shortly.
There was a problem. Please refresh the page and try again.