Best Pressure Washers: 6 Efficient Machines For Easy Outdoors Cleaning
By Jack Woodfield published
The best pressure washers will easily clean patios, mountain bikes and garden furniture — with immaculate results
Included in this guide:
1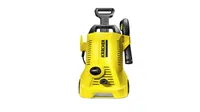 Kärcher
K2 Full Control Pressure Washer
2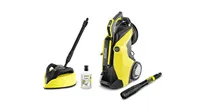 Kärcher
K7 Premium Smart Control Pressure Washer
3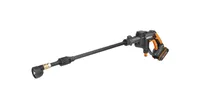 Worx
WG629E.1 Cordless Hydroshot
4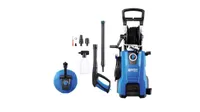 Nilfisk
D-PG 140.4-9 XTRA 140
5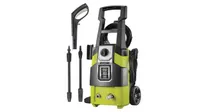 Ryobi
RPW120B Pressure Washer
6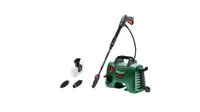 Bosch
EasyAquatak 110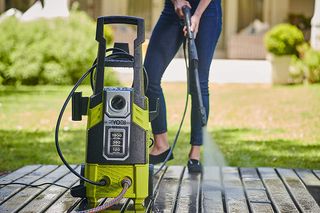 (Image credit: Amazon)
Buying one of the best pressure washers available is the time-saving alternative to manually scrubbing your patios, driveways and garden furniture.
The best pressure washers will make light work of the grime and moss that's built up, and unlike using a hose, pressure washers provide immaculate results far easier and far quicker, and utilise more power. They can also be effective at cleaning your car (which is convenient if you own multiple vehicles) as well as bikes, decking, garage doors and gutters.
Pressure washers come in a range of sizes, prices and power options, and if they come with accessories then that's a bonus to be looking out for. For example, if you specifically want a pressure washer for patio cleaning then make sure you purchase a model that comes with a patio cleaner.
Not sure where to start in looking for one? Use this guide to the best pressure washers around to learn which model is best for your home.
(MORE: Explore our Complete Guide to Garden Design)
Best Pressure Washers
1. Kärcher K2 Full Control Pressure Washer
The best pressure washer for first-timers
Specifications
Dimensions:
32.2 x 21.2 x 40cm
Reasons to buy
+

Great for cleaning all areas outside the house
+

Easy to use and control
+

Multiple cleaning settings
If you've never used a pressure washer and you're looking for a simple-to-use, affordable model to get you started, look no further than the Kärcher K2.
(MORE: Browse the Best Kärcher Pressure Washers)
This is a full control system, which means it will handily guide you through which pressure to use depending on your task of choice. It's lightweight too and easy to carry with you while cleaning - but if you don't fancy carrying it, just use its wheels.
It comes with accessories including a high-pressure gun and hose, plus full control lances and a cable, which are great for cleaning large areas of patios and decking, and even cars and bikes.
There are four settings to choose from, and the application of detergent is as effective blasting dirt on patios and driveways as it is cleaning more delicate materials, such as wood.
Once you've finished, simply collapse the telescopic handle down, and use the on-board storage to store your accessories. Easy.
Buy the Kärcher K2 Full Control Pressure Washer now
---
2. Kärcher K7 Premium Smart Control Pressure Washer
The best premium pressure washer
Specifications
Dimensions:
46.3 x 33 x 66.7cm
Reasons to buy
+

Great attachments
+

Powerful
+

User-friendly app
The Kärcher K7 Premium Smart Control Pressure Washer is arguably the best all-rounder thanks to its range of use, power and brilliant accessories.
Its power (courtesy of a 180 bar max pressure, the highest on this list) makes it well-suited for cleaning large patios and driveways. And one of the accessories, a 3-in-1 Multi Jet lance (Vario, dirt blaster and detergent), lets you select the perfect cleaning mode for your application, providing an efficient clean of a range of items including furniture, decking, windows and cars.
Its size is another noteworthy feature, boasting on-board storage for the accessories, which include a telescopic handle, the full control lances, and the T7 T-Racer Surface Cleaner to help you clean large surfaces.
And then there's the app, which guides you through the stages required for your clean, and how to adjust the pressure. It's brilliantly user-friendly and handy if you're not confident about cleaning with the K7 for the first time.
The only reason this doesn't get top spot is because of the price - and while it is certainly value for money, the Kärcher K2 is a more budget-friendly model.
Buy the Kärcher K7 Premium Smart Control Pressure Washer now
---
3. Worx WG629E.1 Cordless Hydroshot
The best cordless pressure washer
Specifications
Dimensions:
60 x 56 x 34 cm
Reasons to buy
+

No need for hoses or power chords
+

Watering and power cleaning options
If you're looking for a cordless pressure washer, this Worx machine has a lot going for it. Because it's cordless, there's no bulky body unit to carry around and you don't need a mains connection or a garden hose attached to a tap.
The Hydroshot's dual design means it can be used for watering and power cleaning, and it can draw fresh water from the included bucket or ponds, bottles or rivers.
It's great for low-power cleaning jobs such as bikes, sports equipment or windows, and it comes with a rotating head with adjustable pressure settings.
The 20V lithium-ion battery takes up to around five hours to charge
Buy the Worx WG629E.1 Cordless Hydroshot now
---
4. Nilfisk D-PG 140.4-9 XTRA 140
The best pressure washer for frequent washes
Specifications
Dimensions:
87.5 x 39.5 x 34.5cm
Reasons to buy
+

Seven pressure levels
+

Eco-friendly PowerGrip
Reasons to avoid
-

Display could be brigher
For frequent washes this model from Nilfisk fits the bill, thanks to seven pressure levels which make it easy to do a variety of cleaning tasks. You can use higher pressure blasts to clean dirt and lower power jobs to clean decorative paving, for example.
The PowerGrip control on the gun handle is an extra benefit, especially for those who are eco-conscious, because it controls the pressure remotely from the trigger, allowing you to save energy and water when you don't need a higher pressure.
You get several accessories for your buck too, including a patio cleaner and a nozzle jet cleaning tool. It also comes with a telescopic handle and hose reel, so it's easy to store away once you've used it.
Buy the Nilfisk D-PG 140.4-9 XTRA 140 now
---
5. Ryobi RPW120B Pressure Washer
Affordable with effective results
Specifications
Dimensions:
50.79 x 39.5 x 36.1 cm
Reasons to buy
+

Easy to use
+

Compact
+

On-demand detergent function
Reasons to avoid
-

Not as effective on larger jobs
This Ryobi model has a lot to offer for its inviting price tag. It features varying power levels meaning you can easily switch between cleaning jobs, and includes a durable and flexible steel-armed hose, which is great for cleaning hard-to-reach areas, such as removing dirt and moss from patios.
Its design is strong too. Compact and upright and with a built-in handle, it is easy to manoeuvre - aided further by the wheels - and it is simple to store.
The kit includes a trigger gun, Vario lance, turbo lance, and a 5m steel-armed hose, and there is on-board storage for the accessories. It also comes with an on-demand detergent function which is easily accessible during use.
It's not as powerful as the Kärcher K7 or as user-friendly as the Kärcher K2, but it is an effective pressure washer that will return good results on a multitude of cleaning jobs.
Buy the Ryobi RPW120B Pressure Washer now
---
6. Bosch EasyAquatak 110
The best for smaller cleaning jobs
Specifications
Dimensions:
40 x 20 x 37.5cm
Reasons to buy
+

Budget-friendly
+

Lightweight, easy to carry
Reasons to avoid
-

Hose is quite short
-

Not the most powerful
One of the best compact pressure washers around, the Bosch EasyAquatak 110 is great for cleaning awkward nooks and crannies and tackling smaller tasks around the garden.
It's easy to work through push-fit connections, and it comes with multiple attachments: a high-pressure gun, a 3m high-pressure hose, a variable fan jet nozzle and rotary nozzle, and a high-pressure detergent nozzle for deeper cleaning.
The high-pressure detergent nozzle is particularly impressive, helping you save time on cleaning through an auto-stop system. This means that it only delivers power when it's needed, which is energy-efficient too.
It is lightweight and easy to move around the garden, but not the most powerful - if you're after something similar but for bigger tasks then check out the Bosch Universal Aquatak 130.
Buy the Bosch EasyAquatak 110 now
---
How to Choose the Best Pressure Washer
Arguably the two biggest considerations when buying the best pressure washer for you are your budget, and how often you will be using it.
Naturally, if you only plan to use it once in a while on small jobs, like cleaning brickwork or bikes, then you can afford to pay less. But if you want a model that will last you a long time, enable you to perform a variety of cleaning tasks and ensure frequent uses, then you will need to pay a bit more.
Additionally, keep an eye out for these factors when perusing for your item.
Pressure
The bigger the pressure, the bigger the jobs your pressure washer can handle.
As a rough guide, smaller models tend to have a 100 bar pressure, which will be sufficient for cleaning bikes, furniture and decking; mid-range models will have a 120 bar pressure, which is more effective for tackling tasks such as guttering; and larger models will have more than a 130 bar pressure which is better for cleaning large patios and driveways.
Hose length
Similarly to having an idea on how much you want to spend and how often you'll use your pressure washer, knowing how long the hose will be (and the lengths of any attachments) is key.
If you want to clean the end of your drive, you'll need to go for a model that can reach (cordless options are available too). But if you just need to clean your bike in the back garden, a longer hose length isn't as essential.
More Best Buys for Regular Gardening Jobs
Jack is News Editor for Homebuilding & Renovating, and strives to break the most relevant and beneficial stories for self builders, extenders and renovators, including the latest news on the construction materials shortage and planning reforms. Having bought his first home in 2013, he and his wife have renovated almost every room and recently finished a garden renovation.
Homebuilding & Renovating Newsletter
Get the latest news, reviews and product advice straight to your inbox.
Thank you for signing up to Homebuilding. You will receive a verification email shortly.
There was a problem. Please refresh the page and try again.