Patio Edging Ideas: 9 Smart Ways to Finish Any Outdoor Space
By Amy Reeves published
Use these patio edging ideas to create a neat, well-considered outdoor area — from walls, to borders, contemporary edging ideas and more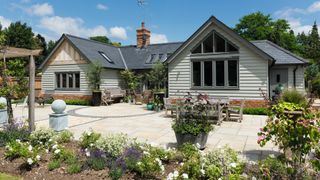 (Image credit: Jeremy Phillips)
Finishing a garden with patio edging ideas will join together all of the different elements required for a well-considered landscape design. Creating a neat border between different spaces will not only help to zone the outdoor space, but also give variety in materials and colour.
Patio ideas involve more than simply plonking a few slabs and seats down; they require forethought to lay the foundations for a relaxed and functional scheme. And edging can be key to adding the finishing touch to a new patio.
So, we've collated a variety of stunning garden projects which create beautiful borders around their patio spaces for inspiration, including brick details, planted beds and much more.
Patio Edging Ideas: Where to Start
Before jumping in and digging up areas of your garden, carefully plan what you want from your patio. Consider the following:
Will your patio be a place to sit and survey your landscaping, or is it an opportunity to create a zoned area away from a noisy road?
Are you happy to spend on an entirely new design, or are will you be reusing an existing patio?
Will dwarf walls or raised beds cause issues with pets or small children?
What level of maintenance are you willing to put up with; will moss and weeds be a menace or do you have time for upkeep?
1. Start by Working Out the Shape of the Border
First-things-first, figure out if you want a soft, curved edge or a neat straight one for your patio edging. This decision can be informed by the general shape of your garden or by how much time and effort you're willing to put into the project (curves can take more time, but arguably result in a more 'natural' appearance).
In a small garden such as this, crisp lines work wonders for creating zones between the patio and turfed area.
Replicating on-trend concrete paving ideas with porcelain tiles to elongate the space and mirror the built-in seating in the corner has created a uniform and stylish finish.
2. Contrast the Main Patio Material
A lovely way to make a patio edging or border more visible and interesting is to create a tonal or material contrast with the main patio area.
As you would with any interior room, start by creating a moodboard of complementary textures, colours and shapes and pairing them with your chosen patio material. Including edging into the design will also help decide a budget and achieve a realistic patio cost.
Here, a dark blue-hue brick lines the large curved patio area, laid with a flagstone slab in mix-and-match sizes and shapes. The key to mimicking this style is to find a sand or cement for between both materials that creates a uniform finish.
3. Use Patio Edging to Continue into a Pathway
Don't let the end of a garden feel disconnected; use the same materials as your patio and edging border to create a slim pathway down to the end of a larger garden.
Garden paving ideas such as this are timeless — and provide a cohesive, professional-looking scheme, even when done on a DIY basis.
Here, while the tall, wilder planting choices surround the patio ensure that the area feels secluded and private, the pathway opens up to the tended lawns with potted plants to create a pseudo entrance for the turf (right of shot).
4. Use Classic Bedding to Line Patio
Define the edges of a patio with carefully planted beds. This gives spaces a natural and traditional look as well as interesting shapes and colours that grey or beige slab styles lack.
Patio planting ideas for edging could include a cottage style, with tall wildflowers and established perennials lining the ground, or a neat and manicured shrub carefully following the length of the patio.
Here, tall lavender plants have been planted alongside the patio and down the side of the house to provide the illusion of a wall, but can be easily stepped over if needed. Lavender is a great option for patio planting, thanks to it's easy growing nature, fragrant smell and delicate lilac colour that would work with different shades of grey paving materials.
5. Edge a Patio with Hardscaping
If you're commissioning a landscape designer to create a complete overhaul of an existing garden, or to envision a brand new one beside a self build, talk with them clearly about how you will use the patio space and if it could be included in the overall hardscaping and landscaping design.
Just like architects, landscape designers will take a good design brief and create something truly special — which is where some DIY designs fall down.
In this modern extension to a period cottage, a small pond/stream runs around the patio, providing good zoning for different uses. The stone paving has not only been used to create a bridge over the water, but also clearly demarcates the entrance to the kitchen, while splitting the dining area from the sunbathing space.
The stone edging has been contrasted with a dark stained decking, but this idea would work just as well with a slab patio or decking.
6. Experiment with Shapes in a Planted Patio Border
This home's patio edging doesn't just run around the edge of the patio — a smaller version of the bedding has also been included around the dining table with low-laying plants.
The result is a concentric design that gets progressively more grand the further from the house you are.
Combined with the pergola with climbers growing, this idea blurs the boundaries from inside to out with perceived different levels of 'outsideness'.
7. Use Gravel as Patio Edging
Gravel can be used as a cost-effective patio edging material as it is easy to lay on a DIY basis and available from most DIY shops for a good price.
It is also a great material for driveway ideas, so if you're planning to create a landscaping scheme front and back (or want to match an existing one), gravel is a good option.
Here, the pathway from the front drive to the back patio has been lined with gravel and creates a seamless transition from front to back.
8. Build a Dwarf Wall to Zone Spaces
While most patio edging ideas are low-level, building a dwarf wall (no more than 1 metre tall) will provide a line to follow with furniture and pots.
Materials for a dwarf wall are most commonly brick, but flint and drystone walling are also visually interesting options that further emphasise a natural appearance.
On sloping sites, a retaining wall may be required, if the patio has been cut into the slope. Which leads us onto…
9. Line a Large Patio with a Retaining Wall
Many self builds have to dig down before they can building foundations and the rest of the structure — so why not turn this into a feature of the garden?
Retaining wall ideas, such as this red brick design, are great for creating tiers to an otherwise flat space and can mirror the materials of the house itself.
Gabion baskets filled with stones are another effective retaining wall idea for edging patios — and work particularly well on coastal plots.
What is the Cheapest Way to Do a Border Edging?
The most cost-effective way to create border edging for a patio is to use gravel. Dig down to create a channel for the border line, fill with around 5cm of compacted stone or hardcore then line with a weed mat or membrane. You might also want to use timber or metal edging to support any turf or ground that it butts up against. Finally add your gravel by using a rake to distribute evenly.
Creating new beds around a patio is also quite cost-effective, depending on the space. The cost rises when soil has to be purchased and established plants will naturally be more pricey. However, growing from seed can reduce this.
Brick is also a fairly cheap option, but the nicer the type the higher the price might be. Plus, to get a good finish a good bricklayer may have to be hired.
Assistant Editor Amy began working for Homebuilding & Renovating in 2018. She has an interest in sustainable building methods and always has her eye on the latest design ideas. Amy has interviewed countless self builders, renovators and extenders about their experiences for Homebuilding & Renovating magazine. She is currently renovating a mid-century home, together with her partner, on a DIY basis, and has recently fitted her own kitchen.
Homebuilding & Renovating Newsletter
Get the latest news, reviews and product advice straight to your inbox.
Thank you for signing up to Homebuilding. You will receive a verification email shortly.
There was a problem. Please refresh the page and try again.