Patio Cover Ideas: Stylish Ways to Shade Your Seating Space
By Natasha Brinsmead published
Great patio cover ideas are essential if you want to get maximum enjoyment out of your outdoor spaces, even when the sun (or rain) is beating down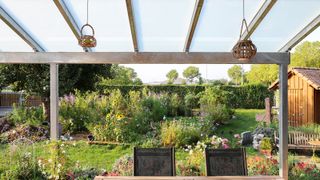 (Image credit: Getty)
Patio cover ideas are crucial — whatever you plan on using your outdoor seating space for. Perhaps you dream of creating an alfresco dining area or maybe you view it as a spot to set up your home office on warmer days. Have visions of lazing back with a good read or enjoying long family weekend breakfasts? No matter what the space will be used for, patio cover ideas should play a huge role.
Without the right shading, your patio ideas could be rendered unusable in the height of summer — your dining space uncomfortable in bright sunshine, your makeshift home office impracticable, and your lazy breakfasts nothing more than a morning spent squinting at a piece of toast.
Our round-up of beautiful patio cover ideas is here to ensure that you new patio is a pleasure to use all day long — from dawn to dusk.
Just What Are Patio Cover Ideas?
Before getting stuck into scrolling through our great ideas, it is important to understand the term patio cover. What we are talking about here are methods of shading and sheltering the space and the route you choose should form an important part of your patio design.
Patio covers can take many forms, from striking contemporary modular structures to sturdy bespoke shelters, as well as those made up of natural materials.
1. Provide Flexible Patio Shade With Awnings
Retractable awnings are perfect for those after a flexible way of shading their patio. They are particularly useful where small patio ideas are the priority as they are available in so many styles, shapes and designs.
At the press of a button or the turn of a handle, the awning can be extended out, easily taken back in again when the sun moves to the other side of the house.
Retractable awning such as this from Thomas Sanderson, should be fitted by experienced installers and comes in a huge range of materials.
2. Go Large By Using a Freestanding Patio Canopy
If you are after something a little more permanent or have a large patio that needs shade, a modular, freestanding canopy is a brilliant idea — although it will see your patio costs rise so factor it in from the start. The great thing about this kind of shelter is that it will also be useful when the heavens open and the sun is nowhere to be seen.
The Maluwi Canopy from Garden House Design is available in various designs and with optional lighting and heating.
3. Locate Your Patio Under Trees For Natural Shade
There is no rule to say that patio covers have to be manmade — some of the most beautiful and effective shade can be found in nature.
If you are approaching your garden design from scratch, aim to create several shady areas by planting taller shrubs and trees in those areas likely to require protection from the sun at various time of day.
Alternatively, if you are building a new patio in an established garden, locate it to take advantage of existing trees — do be aware though that falling leaves will mean the patio needs periodic cleaning so look at the best pressure washers to take the elbow grease out of the job.
4. Create Instant Cover With a Sliding Gazebo
A gazebo, whether a pop-up model or one that is fixed to the wall of your house and patio, as with The Formentera Sliding Roof Gazebo from B&Q shown here, is a quick and inexpensive way of providing cover for your patio.
Some can be stored away during the winter months when you are not using your patio as much, while others are designed to be more permanent. If you decide to opt for one that stays up all year round, pick one with a retractable roof to ensure your interior spaces are not deprived of natural light.
5. Choose a Large Parasol For Targeted Shade
If you are after a patio cover idea that is inexpensive and simple to take up and down then a large, sturdy umbrella-style sun canopy is just the ticket.
Perfect for parties and impromptu dinners outside, choose a model with a heavy base that will stop it being buffeted around on breezy days, but be sure that it is easy to manoeuvre so that you can shift it about as the sun moves.
The Vitino Pendulum Tilt Garden Parasol from Tribu available at Go Modern Furniture features a strong side arm made from anodized aluminium that allows the umbrella to rotate 360 degrees and to tilt.

6. Move With The Sun By Using a Portable Patio Cover
Certain to become the talking point at any party, how about investing in a portable patio cover with a difference?
This fun design is the The Garden Igloo 360 Dome with PVC Weatherproof Cover from Cuckooland. It is actually a really flexible idea that can be used not just as patio shade, but also a stylish greenhouse, play area or storage space.
Pop-up patio covers are ideal for those with smaller spaces who might want to keep the area clear unless shade is needed.
7. Design In An Overhanging Roof For Shade
If you are building from scratch or extending then it makes sense to consider how your roof design could be used to provide patio cover.
Shading such as roof overhangs or brise soleil not only work to shelter outdoor seating areas but can also keep the sun out of your interior space during summer — perfect for anyone wondering how to prevent overheating in homes.
8. Combine a Garden Room With a Sheltered Patio Area
After some new and exciting garden room ideas? Even those with small gardens can benefit from this one as it combines a two brilliant garden features in one — a garden room and a sheltered patio spot.
Many modular garden rooms can be tailored to fulfil specific requirements and asking your supplier for a model that incorporates a covered external seating space is a great way of ensuring you get the very most out of the new structure and can enjoy it in a number of different ways.
9. Keep Your Options Open With a Retractable Roof
Permanent patio covers won't suit everyone. For some, a more flexible approach is required. Perhaps you plan on using your new patio or terrace as a sun trap on which to top up your tan when the weather allows — in which case a fixed shade or cover won't be right for you.
Using a pergola, gazebo or canopy with a retractable roof means you can switch between using your patio as a sunbathing spot and a cool, shady retreat as the mood takes you.
The Pandora Leaf Pergola from Cuckooland is secured to the ground and features textilene panels, that are controlled with a handle, within an aluminium and steel frame.
10. Get Away From It All With a Stand-Alone Canopy
Not all patios lead directly off from the house — some of the most successful designs are actually tucked away elsewhere in the garden, providing something of a hidden oasis.
In this case, a freestanding patio cover or shade is a brilliant garden screening idea as they don't need an existing wall for support. Some modular designs, such as the Rowlinson Florence Outdoor Rectangular Pergola from Naken, shown here, feature roof panels.
If you want something a little more rustic, a timber pergola fitted with a sun sail or planted with vines will play a similar role.
11. Give Your Garden An Opulent Feel With Curtains
Inject an exotic, spa-like feel to your garden by using a patio cover designed to be hung with drapes or curtains.
Timber pergolas are perfect for adorning with all kinds of sun shades, from architectural canvas sails, to climbing plants — but don't overlook the beauty that a billowing set of curtains could add.
Opting for weatherproof materials will mean you don't need to worry about taking them in when the rain starts, but softer fabrics such as linen and voile do look very striking — just ensure you have proper storage to keep them in by investing in the best outdoor storage box you can find.
12. Build a Veranda To Use As a Sheltered Patio
A veranda is basically a porch with a roof and open sides, and is the ideal solution for those after a Colonial-style home. Although they are commonly designed in from the off, they can be added at a later date and are usually partially enclosed by posts or rails.
Although verandas and covered outdoor spaces such as this often extend off the entire front of a house, they can also be used at the rear as a way of creating a covered patio area.
Natasha is Homebuilding & Renovating's Associate Editor and has been a member of the team for over two decades. An experienced journalist and renovation expert, she has written for a number of homes titles. She has renovated a terrace and is at the end of the DIY renovation and extension of her Edwardian cottage. She is now looking for her next project.
Homebuilding & Renovating Newsletter
Get the latest news, reviews and product advice straight to your inbox.
Thank you for signing up to Homebuilding. You will receive a verification email shortly.
There was a problem. Please refresh the page and try again.