Garden Lighting Ideas: 10 Ways to Illuminate Your Outdoor Space
By Hugh Metcalf
Try these garden lighting ideas to highlight your outdoor space's key features and create year round appeal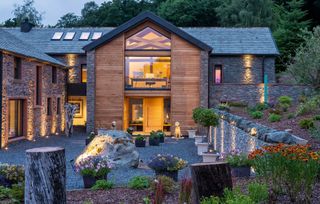 (Image credit: Jeremy Phillips)
As this roundup of garden lighting ideas will go to show, illuminating your landscaping isn't just the preserve of the summer. 
While in the fair weather months you may look to lighting to brighten social gatherings in your outdoor space, garden lighting has an important role to play throughout the year. 
The best examples highlight your garden's character and add a designer flare to your space that ensures it can be enjoyed just as much at night time, even if only from the kitchen window during winter, as you can in the daytime. 
We look at some of the top ways to integrate lighting into your garden successfully, adding to your space's functionality as much as its design. 
  1. Create a Garden Lighting Idea with Levels 
The key to making the most of your garden lighting ideas is to introduce them in levels. From the floor to the walls (and, in some gardens, even overhead), building up layers of lighting helps you to control the atmosphere of your landscaping. 
Where using mains or low voltage lighting, use separate circuits to offer even greater control of how your garden looks during the night.
2. Use Directional Lighting to Highlight Key Features of Your Garden
Directional lighting has a lot to offer a landscaping scheme. Uplighters located at ground level or in raised beds can be used to illuminate trees and planting, creating bursts of light and drawing the eye around the garden at night time. 
The most useful types of spot lights tend to be mains-powered, so may require an electrician to install unless you already have an outdoor plug. 
Spike spotlights can be staked into the ground to ensure they remain fixed in place with the cable run through the plant beds. Recessed spotlights sit directly into the ground, but can be tilted to focus on your garden elements of choice. 
3. Illuminate Your Garden Path With Lighting 
Garden paths can prove hazards in the winter months thanks to dark and slippery conditions. Including lighting in your landscaping design around the path both looks great and makes your garden more usable at night. 
You have a few options to explore design-wise when making your choice. Downlighters can be used sporadically along the path to brighten it up underfoot, while border lights bring a more dramatic look to your garden. 
Garden path lighting only needs a soft glow to mark the outline and illuminate a small section rather than the full floodlight treatment, so solar powered lighting can be an effective choice which requires minimal disruption to install. 
4. Create a Diffused Glow with a Discreet LED Lighting Idea
Built-in benches and banquette seating are both growing trends in garden design, but they also provide another area to get adventurous with lighting. Using LED strip lights brings a soft, diffused glow to your outdoor living space come sundown, yet in the daytime, you won't notice them at all. 
This creates the perfect atmosphere for intimate social gatherings in the garden during spring and summer, as well as highlighting your choice of garden flooring. LED strips can be fitted with remote controls, meaning you can control the warmth of the light to suit the mood, as well as changing colour and dimming. 
5. Add Drama with a Garden Pendant Light 
Gardens are more and more becoming outside living spaces, while the boundaries between indoors and outdoors are also becoming more blurred. This has led to a trend for garden pendant lights. 
Of course, these aren't your everyday pendant lights. They need to be specialist designs that carry the appropriate IP (ingress protection) for use outdoors, which is IP44 or above. 
You'll need to create a structure from which your pendant light can hang in most cases. Your home may have a covered outdoor area which would work perfectly, or you could tie in a pendant light to a structure like a pergola or outbuilding. 
6. Design Lighting for Your Garden's Water Feature 
Adding lighting to a water feature or pond is beneficial for a few reasons. Ponds, in particular, can pose potential safety hazards at the best of times, but especially at night when visibility is reduced. Lighting will help highlight any water in your garden for anyone less familiar with the orientation of your outdoor space. 
Aesthetically, designing your lighting to illuminate running water can add an extra dimension and add a sense of movement to your garden design at night. 
7. Create Ambience with Sociable Lighting
When considering your garden as a social space, think holistically about your garden's lighting requirements. While lighting hardwired into the landscape is effective, consider softer, more ambient lighting from candles, festoon lights and even an outdoor log burner to add to the mix of your lighting scheme. 
Think about the feeling you want to create when choosing the luminosity of your garden lighting too. "Select a warm white tone of light fittings to match the greens in your garden," advises Sian Parsons, Associate Lighting Designer of John Cullen Lighting. "Anything cooler than 3,000 kelvins or higher can make a garden feel ghostly at night. Consider instead warm white 2,700 kelvin fittings for a soft welcoming look."
8. Embellish Your Lighting Scheme With Solar Powered Lights
Not only are solar powered garden lights less expensive, they're less disruptive to install in an existing garden scheme — by and large, you can't run wiring across hard landscapes after they're already in place. 
While solar power lights (or those using rechargeable batteries) won't offer the same power as mains-powered lights, they can be used to add fun and interest, especially when entertaining, with the added benefit that they can be moved to suit your specific needs for any given evening. 
However, there are some things you should consider before investing. Landscape designer Paul Hervey-Brookes cautions: "Novelty lights tend to have very short lifespans and are largely made of plastic. The light levels will dim with time and they tend to wear out from year-round exposure much faster than traditionally wired and mounted light units."
9. Highlight Steps in Your Garden with Lighting
A design using lighting to emphasise garden steps not only looks great, but may help prevent trips and falls during night time excursions into the garden. For an underlit and integrated design, brief your electrician in at the start of your project. 
10. Don't Forget Lighting for Your Front Garden 
Often overlooked, lighting in your front garden will create the best first impression for visitors to your home. "Avoid security lights which are glary and will wash the space with too much harsh light," says Sian. "Instead create a welcoming approach with softly lit features."
Homebuilding & Renovating Newsletter
Get the latest news, reviews and product advice straight to your inbox.
Thank you for signing up to Homebuilding. You will receive a verification email shortly.
There was a problem. Please refresh the page and try again.