Narrow Kitchen Ideas: 10 Ways to Maximise Space and Storage
By Rob Keal published
Great narrow kitchen ideas can help add style and practicality to any area where space is at a premium. Improve your kitchen's appeal with these 10 design tips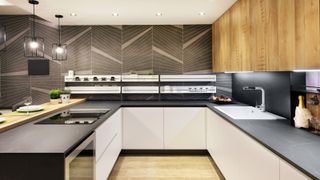 (Image credit: Getty Images)
Narrow kitchen ideas are a great way to ensure that the room you have is fully utilised, while also looking great and still being practical.
As far as kitchen design is concerned, narrow layouts are becoming more and more common, especially in modern homes. But just because space is limited does not mean you have to choose between style and functionality; you can have both.
Transform your kitchen into a revamped culinary zone that maximises all available space with these 10 narrow kitchen ideas.
Narrow Kitchen Ideas: What to Consider
Perhaps the most important thing to consider when brainstorming narrow kitchen ideas is your available space. All kitchen layout ideas require careful planning and meticulous measurements, and if your kitchen is narrow, every millimetre counts.
Natasha Brinsmead, Associate Editor at Homebuilding & Renovating, explains: "Galley kitchens are long, narrow spaces, so in order to make the most of them, you want to think vertically — use the walls and really maximise the ceiling space.
"Not only will this keep the worktops free from clutter, but it will also draw the eye upwards and away from the squeezed proportions of the space. Shelving and open-fronted cupboards as well as hanging racks tend to feel less oppressive than traditional wall units, which can encroach on the space.
"Think about flexibility, too — items such as fold-out shelves and butcher's blocks on wheels can make great spots to perch for a quick bite to eat, or act as an extra food prep space, but can be tucked away when not needed."
1. Don't Overdo Kitchen Wall Units
Extra cupboards, racks and the like are very tempting if you have a narrow kitchen, but in fact they often make the area look more cluttered and potentially restrict movements when reaching for different items.
Think vertically as well as horizontally to come up with a kitchen renovation that gets the job done while maximising the amount of space available.
Gary Griffin, sales manager at Rational UK, explains: "There are two main design styles when creating a galley kitchen: symmetrically, where the placement of units mirrors each other, or asymmetrically, where one wall features a bank of tall cabinets and the other houses base units and appliances.
"Tall units make the most of available storage space, but can be overpowering if too many are used in a small space so their use needs to be considered."
2. Eliminate Handles Wherever Possible
Once an essential ingredient of most kitchens, handles are rapidly becoming a thing of the past in this part of the home. Handles can hinder a space rather than improve it in a narrow kitchen; their presence lessens the amount of available room, and they can cause obstructions when moving about.
If you're renovating and want a more contemporary look for your kitchen, handleless kitchens are a great option. The standard push and rail mechanisms fit neatly into most drawers and cupboards, as well, making them relatively easy to install.
3. Pull Natural Light Into a Narrow Kitchen
The success of your kitchen lighting ideas will depend on how well-lit every area is, regardless of the time of day. First and foremost, you should think about using natural lighting where possible.
Griffin explains: "Natural light is a specific consideration when creating a galley kitchen, so keep window dressings to a minimum and ensure you select a mix of task and ambient lighting. If budgets and design allow you may consider the installation of a roof light."
Layering light is key to success in evenings — task, ambient and accent lighting are all important when considering how to light a kitchen.
Moore explains: "The best lighting schemes involve light from a variety of sources. However in a smaller, narrower kitchen you won't want to have large, chunky pendant lights overwhelming the space. A combination of ceiling spots, wall lights and under-cupboard lighting allows you to change the mood and feel of the space.
"When used correctly, lighting can also help to create the illusion of great space."
4. Include a Mix of Storage Solutions in Your Narrow Kitchen
Just because your kitchen is compact doesn't mean you have to settle for sub-standard storage. In fact, kitchen storage ideas are integral to creating a practical space, especially if the kitchen area itself is narrow.
A full wall of units – including tall larder units, base units, drawers and cupboards – is possible in a narrow kitchen, as this design demonstrates.
5. Choose Built-In Appliances Over Freestanding
For narrow kitchen ideas, it is sensible to pick built-in appliances over freestanding models when fitting a kitchen — the former tend to sit flush with units rather than protruding out. They also look more streamline (particularly if integrated behind a unit door) and thus help in providing an illusion of space.
6. Remember the Working Triangle
Devised at the beginning of the 19th century, the kitchen triangle is still adhered to in many modern-day kitchens. A kitchen's working triangle basically means that the sink, hob and fridge are spaced evenly apart, ensuring that they are all used efficiently during day-to-day tasks.
It's also particularly functional in a narrow kitchen, where space is often limited.
Richard Moore, design director at Martin Moore, explains: "The working triangle is a helpful concept when designing and planning kitchens, as it ensures that the prep, wash and cooking areas are all within easy distance of one another, keeping unnecessary traffic around the room to a minimum.
"We always design our kitchens so that the cook has easy, uninterrupted access to the fridge, sink and island (prepping zone)."
7. Think About Your Kitchen Seating
Kitchen seating can be tricky, especially when trying to find suitable options for a narrow area. These should be comfortable, stylish and not take up too much space.
If you're planning a kitchen, narrow layouts benefit from high-backed chairs and/or stools. These are tall enough to seat people comfortably, and easily tucked away under a kitchen bar or peninsula when not in use.
8. Fit Gloss Worktops and Splashbacks
Gloss surfaces will lift an entire kitchen; a gloss finish can make your kitchen worktop ideas look more spacious and bounce light around a narrow space.
Griffin explains: "Colour plays a part in any small space, so consider mixing materials. Gloss finishes help reflect the light, or choose two complementing colours/shades of the same colour using the darker on the base units and lighter on wall and tall units.
"Incorporating a glass splashback in a kitchen will also help to reflect light and make the room feel more spacious," he adds.
9. Install a Kitchen Nook or Breakfast Bar
Kitchen nooks and breakfast bars can work for narrow or galley kitchen ideas, as long as careful thought has gone into their spacing.
Moore explains: "Ideally the central island would incorporate a breakfast bar or adjoining breakfast table. This is a useful way to separate the working and social zones of the kitchen, keeping friends and family close but not underfoot when cooking.
"Including a breakfast bar with even a few stools will help transform a narrow kitchen — instead of placing them directly opposite the cooking area, they could be placed at the end and corner of the island."
10. Forego One Wall of Storage for a Kitchen Island
A kitchen ideally needs to be 4-4.5m wide to accommodate a kitchen island, but by foregoing one wall of storage, you can still incorporate this feature into your narrow kitchen ideas.
When designing a kitchen island for a narrow kitchen, the fit must be seamless, especially in an open-plan space. Think about functionality, how many people are using the island, and how easy navigation will be after the installation.
Can Narrow Kitchen Ideas Work for Families?
The long, thin shape characteristic of most narrow kitchens does not normally cater for large groups of people. However, by removing any surplus furniture, fittings and the like, you can free up space for the whole family to use.
Griffin explains: "With careful planning, narrow kitchens can work for families. Safety is a major consideration, especially if the kitchen acts as a thoroughfare leading to another room. Siting your kitchen appliances and sink on the same side will help reduce risk."
Rob Keal is the Content Editor at Homebuilding & Renovating. With a background in content marketing, he began his career back in 2016 as a freelancer, before honing his craft at various digital marketing agencies. Looking to specialise in DIY and homes, he joined the team in February 2022.
Renovation has been part of his life since he was nine years old, when his parents bought a medieval cottage and completely revived it, introducing him to kitchen remodels, loft conversions, landscape gardening, and much more besides along the way. A bedroom extension and patio refurbishment are among his next planned projects. He is also passionate about interior design and landscape gardening.
Homebuilding & Renovating Newsletter
Get the latest news, reviews and product advice straight to your inbox.
Thank you for signing up to Homebuilding. You will receive a verification email shortly.
There was a problem. Please refresh the page and try again.