12 Conservatory Blind Ideas for Optimal Insulation and Shade
By Rob Keal published
Conservatory blind ideas can help ensure year-round comfort, while also maintaining privacy. Discover our 12 design suggestions to complement your conservatory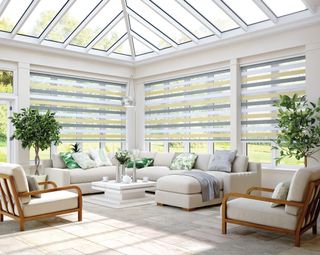 (Image credit: English Blinds)
Conservatory blind ideas not only help elevate your conservatory's interiors, but can also help to insulate this space in colder months, and lend shade in the summer, making this indoor-outdoor space feel more comfortable.
What's more, they can lend privacy to this heavily glazed space. Whatever your conservatory ideas, with the warmer months fast approaching, now is the time to think about installing the right blinds for your needs.
We round up 12 of the best conservatory blind ideas to help you get this area ready for use all year round.
Conservatory Blind Ideas: What to Consider First
Most homeowners have a conservatory fitted for one of two reasons: the extra space, or to enjoy the views they offer and the connection with the garden. Either way, furnishing your conservatory correctly can help ensure that the room is suitable for use during any season, and blinds play a big part in this.
Yvonne Keal, Product Manager at Hillarys, explains: "Glass extension designs and conservatories make beautiful additions to our homes. They create extra space and flood our rooms with natural light.
"But come summer, these spaces are at risk of overheating if the windows aren't dressed correctly. Choosing the right coverings is key to creating a comfortable temperature all year round."
There are many different types of conservatory blind ideas available on today's market, meaning your decisions must take into account practicality, as well as stylishness.
Keal elaborates: "We all love that feeling of pulling back the curtains on a bright and sunny morning, it can boost our mood and set us up for a positive day ahead.
"Fuss-free blinds like roller blinds roll right back to the top of your window when they're not in use, leaving you to enjoy the sun's rays and soak in the view.
"Venetian blinds, pleated blinds, wooden blinds or faux wooden blinds also tuck away neatly at the top of the window so are perfect for keeping windows simple and streamlined as part of stunning conservatory interior ideas."
1. Keep Things Classic With Venetian Blinds
Simple yet elegant, the Venetian blind adds sophistication to any conservatory. Raised easily via a chord mechanism, the slats of Venetian blinds can also be adjusted by that same system, so you have full control over how much light enters the room.
They're great for providing shade and preventing glare, too, meaning your comfort is all but guaranteed no matter what the time of day.
The team at Appeal Shading explain: "Venetian blinds are a practical and stylish way of regulating the amount of light and heat coming into any room in your home. They're simple yet striking, and give you effortless and responsive control over glare, shade and ambience.
"All you have to do is angle the slats of the blind to regulate just how much or how little sunlight enters the room."
Available in a variety of materials, such as metal, wood or plastic, Venetian blinds are also usually highly customisable, allowing the colour and finish to be adapted specifically for your extension or conservatory.
In this example, white Venetian blinds complement the neutral interior scheme, and help enhance the feeling of space and light.
2. Consider Pleated Blinds for a Rustic Effect
Pleated blinds cleverly mix material and manufacturing techniques to create a year-round comfort solution for your conservatory.
Most pleated blinds come with two important coatings as standard: the first is made of aluminium, which helps repel heat in spring/summer while at the same time keeping your home warm in the winter, and the second is reflective, stopping UV rays from entering the room and damaging conservatory flooring ideas.
Appeal Shading explain: "For conservatories and garden rooms, pleated blinds are an incredibly practical investment, providing the homeowner with temperature control and privacy.
"Appeal Home Shading's range of Alu-Pleat® blinds, for instance, are manufactured with an aluminium backing that reflects up to 74% of external heat on hot summer days and insulates your conservatory during the colder weather."
Pleated blinds are usually designed in a way to maintain the naturally bright, airy setting of a conservatory. There a darker colours and light blocking blinds available too, if you prefer (the Ikea Schottis in Dark grey is a cost-effective example).
However, much of the time, pleated blinds work best in more natural tones that add a rural feel to your conservatory, emphasising the beauty of its outdoor views.
3. Select Roman Blinds to Accent Any Conservatory
For something clean and traditional, you can't go wrong with Roman conservatory blind ideas. Roman blinds have seen an increase in popularity over recent years, given how well they pair with all types of windows — large and small.
While they will block out some of the light when open, their neat sitting and easy folding makes them aesthetically pleasing, and their tactile fabric can bring texture to the room. They're also a good option for those who hope to use their conservatory in the evening; good conservatory lighting ideas are a must in this instance, too.
White and cream Roman blinds perfectly complement a more neutral, pared back conservatory, especially with bare brick present, but you will almost certainly be able to find livelier fabrics and patterns if you're aiming for colourful vibrancy.
4. Choose Earth Tones to Create a Natural Feel
No matter what kind of conservatory blind ideas you have, it's important to remember that your vision must match the room's existing palette. And given that most conservatories typically have more neutral colours, earth tones are a good idea.
Earth toned blinds in your conservatory will help to create a cosy feel. Oak frame conservatories will benefit further from these shades, as they highlight the natural wood used in the conservatory structure.
Consider adding furniture and some extra furnishings that accentuate this aesthetic, too, such as wicker pouffes or baskets. In doing so, you will help bring the room together and create a more inviting, liveable space.
5. Achieve Seamless Installation With Perfect Fit Blinds
If you are looking for a quick and easy way to bring your conservatory blind ideas to life, perfect fit blinds are a great solution. As well as adding a decorative touch to your conservatory or sunroom ideas, perfect fit blinds are fairly easy to install on a DIY basis.
Because perfect fit blinds sit in a frame and attach directly to the window, no tools or drilling are necessary, nor will you need any extra fittings. Another reason they are called perfect fit blinds is because you can order them made to measure, ensuring coverage for windows for all shapes and sizes (as shown above).
Simply insert the bracket into the gap between the rubber glazing strip and glass on your conservatory window or door, then attach the blinds to this for a straightforward installation.
6. Introduce Warmth and Texture With Wooden Blinds
Strengthen your conservatory blind ideas by opting for wood blinds throughout the room. Normally thicker than plastic or metal varieties, wood blinds have a high degree of functionality, helping to provide increased shading.
Incorporating wood blinds into your conservatory is a great way to add visual warmth and texture to a room too, and can help create a sense of cosiness during in evening as well.
You may wish to use real or faux wood blinds in your conservatory (there is little difference between the two in terms of quality). However, it is worth bearing in mind that condensation in conservatories can affect real wood blinds. Remember to treat your blinds regularly and thoroughly to maintain their condition.
7. Think About the Benefits of Thermal Blinds
Thermal conservatory blinds are a big help in regulating the often fluctuating temperatures in these heavily glazed rooms. They can help both insulate the space, keeping it comfortable during winter, while at the same time blocking out any unwanted sunlight, making them ideal for summer too.
You can install thermal blinds at any point in your conservatory, including high up, which make them the go-to finishing touch for a conservatory roof replacement.
However, no two conservatories are the same. An experienced fitter can provide advice if you want specific thermal blinds installed for maximum effect and the best appearance.
8. Go Vertical in Your Conservatory Blind Ideas
Hanging like decorative curtains, vertical blinds help dress conservatory windows in a neat way. For a low-maintenance option, choose uPVC blinds, but it is possible to also buy wood, metal or plastic variations.
Most vertical blinds also have louvres in a wide range of widths, so you can ensure privacy regardless of the size of your conservatory windows. Easy to maintain with a wipe, damp cloth or duster, you will find uPVC blinds easier to clean than some of their fabric counterparts.
Of course, if you do decide to get fabric-based vertical blinds for your conservatory, take comfort in the fact that each louvre should be able to be removed independently of the tracking system — making them handy for washing and, if necessary, replacement.
9. Fit Roller Blinds for a Sleek Finish
Roller blinds are designed to blend seamlessly with the existing décor. They're fairly easy to operate, using either a chain-pull mechanism or motorised control. Keep in mind that the latter is likely to be more expensive but offer enhanced control over your conservatory's light and privacy levels.
Appeal Shading explain: "Roller blinds are incredibly versatile and can offer practical shading to windows, roofs and sliding or bifold doors in a multitude of elegant designs and colours.
"Appeal Home Shading offer manual roller blinds with child-safe operation, or wire-free ULTRA® Smart blinds and PowerDrive which can be easily retracted with the press of a button via hand-held remote control, wall mounted switch, or even via smartphone app or voice command with the ULTRA® PLUS system."
If you're calculating how much a conservatory costs in total, basic roller blinds themselves can be purchased for less than £10 at some retailers. However, it is worth noting that more stylish, textured variations will cost more, so be prepared to adjust your budget accordingly.
Another option that could prove effective is the inclusion of double roller blinds. These have two layers (one that typically works as a blackout blind and another that is more translucent for day use), so you can maintain comfort in your conservatory right the way through from morning to night.
10. Cater for Your Bifolding Conservatory Doors
No matter what your bifold doors, finding the right blinds to complement them is key to a successful conservatory space. Despite the space-saving practicality of bifold doors, it can be difficult to mount blinds on them, given their shape and the risk of the blinds themselves being crushed when opening or closing.
Bifold doors are becoming increasingly common in new build properties, so if you plan on having a conservatory built or simply adding a fresh dimension to your existing conservatory threshold, choose either perfect fit or INTU blinds for both easy fitting and ease of access.
11. Maximise Convenience With INTU Blinds
INTU blinds are one of the most genius conservatory blind ideas. Unlike some installations, which require brackets to be screwed in to support the blind, INTU blinds work by having a rail that clips into the top of the conservatory window frame.
The blind is then free to run up and down said window frame, typically via a discrete cord positioned at the side; this maintains a consistent level of tension that allows the blind to open and close much easier.
INTU blinds come in a variety of styles, making them suitable for most conservatories. They are also a highly practical addition, never hindering outdoor access because of their fitted structure.
Yvonne Keal explains: "Throwing open your patio doors to host an impromptu BBQ is one of the best things about the warmer weather. But the last thing you want as you merge your indoor and outdoor spaces are your window dressings getting in the way.
"To prevent any unwanted flapping or blowing in the wind, our INTU micro pleated blinds are designed to fit directly into the beading of your patio windows, so they stay put as you open and close the door."
12. Don't Forget the Conservatory Roof
Installing conservatory roof blinds should be as much of a priority as the fitting of window blinds around this type of room. Given their susceptibility to the cold in winter and excessive heat in summer, a conservatory must be protected from above to ensure conditions do not deter you from using it.
Roof blinds can not only help in insulating a conservatory roof and help prevent UV damage to the flooring and furniture, but also reduce glare, which is essential if you plan on having TV, computer or phone screens present within the space. Available in many different materials, it won't take much research to find the right roof blinds for your conservatory's overall aesthetic.
Do keep in mind that a professional fitter will ideally be needed to ensure that your conservatory roof blinds are installed correctly for optimal effectiveness. "Installing conservatory roof blinds requires intricacy and skill, along with a keen eye for detail," explain the experts at Appeal Home Shading.
The latest technological advances also mean that conservatory roof blinds can be programmed via an electronic motor, or even controlled via your smartphone for added convenience. It is vital to ensure easy accessibility for your roof blinds so that they can be used effectively regardless of the weather.
How Much Do Conservatory Blind Ideas Cost?
Generally speaking, conservatory blinds themselves can be bought relatively cheaply, with estimated supply costs for roller blinds starting at about £15 per unit. However, large Venetian blinds can cost as much as £85 per blind.
Motorised blinds or similar usually cost extra as well, owing to their electrical components and more complex installation; you're looking at spending roughly £130-£170 per blind on these.
Next, you may need to factor in professional fitting. Some products can be installed on a DIY basis, but not all.
On average in the UK, expect to pay anywhere from £50-£120 per blind fitting. Although, costs may increase if the blinds themselves are custom-made, or fall under a different category of non-standard installation.
Basic roller blinds, fitted to conservatory windows on a DIY basis, could end up costing you a couple of hundred+. However, if you plan on having more elaborate motorised blinds fitted across your entire conservatory, your total budget should be anywhere between £1,500-£4,000 — factoring in the size of your conservatory area, different types of blinds, labour costs, etc.
Occasionally, taking into account the time to install electrics, some conservatory roof blinds have been known to cost higher than the figures quoted above; close to £10,000, in fact. These kinds of fees make it absolutely imperative that you have a clear understanding of your conservatory blind ideas before committing to any major work.
How Do You Fit Conservatory Blinds?
Certain types of blinds can be fitted throughout your conservatory with relatively little hassle. For example, perfect fit and INTU blinds suit DIYers of all abilities, seeing as they are both designed to fit seamlessly into a window frame without the help of any additional tools.
However, when it comes to fitting most other types of conservatory blinds, including roof blinds, you would be wise to call out a professional fitter or supply and install company, such as Thomas Sanderson. They will work to ensure that any and all strict measurements are adhered to for maximum shade, insulation and privacy.
Rob Keal is the Content Editor at Homebuilding & Renovating. With a background in content marketing, he began his career back in 2016 as a freelancer, before honing his craft at various digital marketing agencies. Looking to specialise in DIY and homes, he joined the team in February 2022.
Renovation has been part of his life since he was nine years old, when his parents bought a medieval cottage and completely revived it, introducing him to kitchen remodels, loft conversions, landscape gardening, and much more besides along the way. A bedroom extension and patio refurbishment are among his next planned projects. He is also passionate about interior design and landscape gardening.
Homebuilding & Renovating Newsletter
Get the latest news, reviews and product advice straight to your inbox.
Thank you for signing up to Homebuilding. You will receive a verification email shortly.
There was a problem. Please refresh the page and try again.