Your complete guide to conservatory roof replacement
Could a conservatory roof replacement be just what you need to breathe life back into your old, drafty addition without replacing the whole structure or is the cost not worth it? Here's what you need to know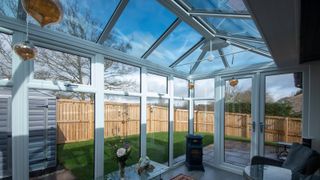 (Image credit: Conservatoryland)
It might surprise you to learn that a conservatory roof replacement could completely transform your existing conservatory, taking it from draughty, leaky and cold into a space that feels comfortable all year round, is bright and airy, well-ventilated and thermally efficient. It could also give it a real facelift appearance-wise — something that will not only enhance the glazed structure itself, but also your house.
Although repairing conservatory roofs can go a long way towards updating a structure such as this, if you are keen to make a big change to the way your conservatory looks or the roof is beyond repair, then complete replacement will your only option.
If you are still trying to decide whether replacement is right for you, it might be useful to bear the following benefits of a conservatory roof replacement in mind.
It will change the appearance giving it a new look that can be chosen to complement your home
You can incorporate spotlights, rooflights and roof lanterns for added light from above
A new conservatory roof is likely to make it more thermally efficient, not to mention warmer
If done properly, it will also add value to your home by providing more space and a room that is habitable all year round
Can be designed to prevent overheating
Should I replace my conservatory roof?
There are several reasons why conservatory roof replacement can be a good idea. While insulating a conservatory roof can go a long way to making the space more comfortable and in reducing condensation in conservatories, sometimes complete replacement will be the better option.
Many old conservatories have a lightweight plastic roof with no proper foundations. As a result, many have proved to be short-lived structures that:
Leak rainwater from poorly weathered joints
Crack from ground movement
Are perforated by hailstorms.
Those conservatories that do survive for any length of time are often abandoned for much of the year, as they are too hot in the summer months and too cold in winter.
"If a number of roof glass units are all broken down (i.e. have condensation in them) then it is time to consider replacing all the roof units and fitting a more thermally efficient double glazed roof, as standards of glass manufacture and solar control have improved a lot in recent years," explains Leslie George from Mark George Conservatories. ."
How do you replace a conservatory roof?
There are many different options should you decide to replace your conservatory roof — and there is absolutely nothing to say you have to replace like with like so do think through how you want your new conservatory design to look before making your final decision.
In general, there are three main options when it comes to the type of roof used for conservatory roof replacement: glass, polycarbonate and solid roofs.
Here, we take a look at what each type of replacement entails.
How do you add a new glass roof to a conservatory?
For many people, even those wishing to replace their old conservatory roof, glass will still be the preferable option, allowing plenty of light to stream in and providing beautiful views of the sky above.
"Those who would like to replace their existing glass panels with new glass should ensure they consider the different variants available today," says managing director of Roofing Megastore Gian-Carlo Grossi. "In particular you should consider double glazed panels with an argon filling, which is shown to prevent heat escaping during cooler months. This also helps to keep cold air out. If glare is an issue during summer, you'll find tinted glass panels too."
If you are worried about the glass being problematic to keep clean, don't give up on your hopes for a glazed roof.
"To reduce maintenance you may benefit from considering self-cleaning glass panels," advises Gian-Carlo. "These feature an outer coating which reacts to environmental changes to break down dirt. Simply ensure you have the necessary pitch and weather conditions for the glass to effectively self-clean."
While there are many benefits to selecting a new glass conservatory roof, it is important to bear in mind the disadvantage of this material too.
Glass is extremely heavy and can be damaged — it is also trickier to install than other materials.
That said, this is also a long-lasting option.
"A glass conservatory roof will likely last in excess of 30 years with minor discolouration," says Gian-Carlo. "Whilst this does depend upon maintenance, it is certainly a long-term solution. This is assuming you utilise high-quality glazing bars that are designed to fold glass panels."
Can you add a solid roof to a conservatory?
More and more people are now choosing to replace their conservatory roof with a solid roof.
Some conservatory roof conversions use lightweight solid roofs of either moulded resin sheets with the appearance of tiles or composite lightweight slates. The insulation is usually provided by the PUR sheets (a Polyurethane rigid foam) creating a warm roof without a cold void that needs ventilating.
"Whilst roof tiles are typically thinner than both glass and polycarbonate, the overall build-up of a tiled conservatory roof provides superb insulation," says Gian-Carlo. "With glazing bars not being required, there is also less chance of drafts and cold air seeping through small gaps.
"Traditional concrete and slate roof tiles provide brilliant insulation, although demand greater structural support. Plastic or metal tiles provide similar insulating capabilities whilst being considerably more lightweight at approximately 15kg per square meter," continues Gian-Carlo.
"You can also choose from individual tiles or panels, with the latter being easier to fit."
Bear in mind that replacing a conservatory roof structure with a solid roof is defined as material alteration work, which means that it is covered by the Building Regulations.
You will have to submit a building control application and a building inspector will check the work meets building regulation requirements. If it does, you would then be issued a completion certificate.
Some of the national conservatory roof conversion companies have partnered with building control bodies to ensure they have a nationally-approved design they can follow wherever they are working.
You also need to consider that, as lightweight as many solid roofs are, the weight adds up and a ceiling finish will be needed and if you are replacing a polycarbonate roof, the windows that supported the roof before are now being asked to carry a heavier load.
If they are PVCu windows, the frame's profile will need to include steel reinforcing inside. Some discreet pilot-hole investigation or magnet testing may be necessary to confirm this
Without a steel core reinforcement, changing from a polycarbonate sheet roof to a solid one will require replacement windows or a new supporting framework.
"A tiled conservatory roof will typically last in excess of 50 years with little maintenance being required," advises Gian-Carlo.
What type of new polycarbonate roofs are available?
Polycarbonate replacement roofs have come on in leaps and bounds in recent years so don't discount them just because you currently have a leaky, noisy old one.
Unlike multiwall polycarbonate, solid polycarbonate does a brilliant job of mimicking the appearance of glass.
"Multiwall polycarbonate is a low-cost and well insulated sheet that combines multiple layers of plastic," explains Gian-Carlo. "Between these layers are tunnels, which hold air to prevent dramatic changes in temperature.
"Solid polycarbonate is a more premium solution," continues Gian-Carlo. "Whilst its insulating properties are not as significant, it offers superb strength with it being up to 200 times stronger than glass. This makes solid polycarbonate virtually unbreakable. The sheets themselves are also lightweight and do not require any extensive support beyond high quality timber battens."
So what are the downsides of polycarbonate?
"Whilst a polycarbonate conservatory roof offers better insulation than glass, many still struggle with fluctuating temperatures throughout the year," warns Gian-Carlo. "In many cases this is due to gaps remaining following installation or poor maintenance, but polycarbonate will rarely provide greater insulation than a tiled conservatory roof.
"A polycarbonate conservatory roof will typically provide a life span of 10 years. To maximise the longevity of your polycarbonate conservatory roof, utilise high quality PVC glazing bars or aluminium glazing bars."
Will replacing my conservatory roof help with heat loss?
With most heat lost up through roofs, the alterations will help, but the roof is only one element of the conservatory.
As the remaining structure will still be considered lightweight and possibly over-glazed with windows (more than 25% of floor area) the accepted approach is for them to remain thermally separated from the main house with insulated doors and windows.
Effectively you will end up with a completion certificate for a replacement conservatory roof. This is the same as if you had replaced the roof of an exempt front porch, for example.
Get the Homebuilding & Renovating Newsletter
Bring your dream home to life with expert advice, how-to guides and design inspiration, direct to your inbox.
Michael is Homebuilding & Renovating's Director of Content, Vice Chair of the self build industry body, the National Custom and Self Build Association (NaCSBA), presenter of multiple property TV shows and author of Renovating for Profit (Ebury). He also runs an architectural and interior design practice, offering design and project management services. He is one of the country's leading property experts and has undertaken over 30 building projects including two self-builds and the renovation of a Grade-II listed farmhouse.
Michael has presented over 150 property shows for BBC, ITV1, Channel 5, UK TV Style, and Discovery RealTime, including I Own Britain's Best Home; Don't Move Improve; Trading Up; Good Bid, Good Buy; Build, Buy or Restore?; How to Build A House; and Hard Sell.
Michael is also a regular expert at the Homebuilding & Renovating Shows. He has written for leading British newspapers, including The Daily Telegraph, Sunday Times, Daily Express and The Independent and has appeared on news programmes such as BBC Breakfast.