How to Update an Old Conservatory
Updating your conservatory with a solid roof is becoming a popular way to make a conservatory habitable throughout the seasons. We look at the main options available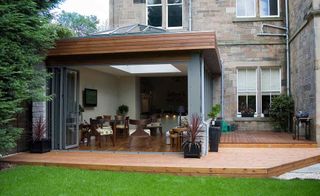 (Image credit: Apropos)
Conservatories have been a lightweight bolt-on to many homes. Traditionally they:
are raised from a shallow or slab foundation
are built of 'windowed' walls
have a roof that is glazed with polycarbonate or glass.
Like porches, conservatories are not considered to be part of the permanently habitable zone of a house. This means that they are exempt from the Building Regulations, including the heat loss requirements.
What is the difference between a conservatory and a glazed extension or sunroom?
For an extension to be defined as a 'conservatory' in Building Regulations terms, it must meet a significant proportion of the walls and roof must be glazed. Although this isn't defined, it is usually accepted to be 75% of the roof and 50% of the walls.
To be exempt, conservatories also have to be:
Under 30m2 in floor area
Added at ground level (not to enclose an upper floor balcony, for example)
Separated from the house by thermally insulating construction (for example, insulated walls, double-glazed windows, bi-fold doors or an external door)
Without any fixed heating, unless it is isolated from the rest of the home's heating system
Fitted with safety glazing in the critical zones of doors, side door lights and low windows to Part K standards.
Many exempt conservatories have a lightweight plastic roof with no proper foundations. As a result, many have proved to be short-lived structures that:
leak rainwater from poorly weathered joints
crack from ground movement
and occasionally, are perforated by hailstorms.
Those conservatories that do survive for any length of time are often abandoned for much of the year, as they are too hot in the summer months and too cold in winter. Not surprisingly, many owners are keen to replace or upgrade them. A recent trend is to replace the roof with a lightweight solid composite roof.
Something that is both properly insulated and solid, rather than translucent or transparent, will block out the sun's rays and keep the heat in. However, there are some issues to overcome on the way.
Updating an Existing Conservatory with a Solid Roof
Replacing a conservatory roof structure with a solid roof is defined as material alteration work, which means that it is covered by Building Regulations. This means that the project should be the subject of an application for control and a certificate on completion. Some of the national conservatory roof conversion companies have partnered with building control bodies to ensure they have a nationally approved design they can follow wherever they are working.
There are four main options:
The existing roof of polycarbonate or glass is usually only supported by the windows from thin glazing beads. These are unlikely to be suitable to act as rafters supporting the new solid roof. Replacing the beads with stronger I-shaped profiles that have a wide top flange capable of supporting the new roof is the first element of the project.
You could install something more substantial, such as timber rafters alongside the existing beads. Timber is strong, but:
As a live material it is prone to twist and warp as it dries out and so it needs bracing and fixing in place.
It also needs supporting at the end bearings. It can't simply be screwed alongside the existing glazing beads for support.
At the eaves, support might be absent if the walls are all windows. An arrangement of lintels and posts could be needed.
For many years, the designers of sunrooms and garden rooms, where traditional heavy tiled roofs sit over windowed walls, have built this way. The beams over the windows bear on the corner posts that frame them and transfer the roof weight down to the walls or foundations beneath.
Some conservatory roof conversions use lightweight solid roofs of either moulded resin sheets with the appearance of tiles, or composite lightweight slates. The insulation is usually provided by the PUR sheets over OSB sheeting, creating a warm roof without a cold void that needs ventilating.
As lightweight as these individual elements are, the weight adds up and a ceiling finish will be needed. The weight is greater than a polycarbonate roof but perhaps equal to one double or triple glazed in toughened glass.
This means that the windows that supported the roof before are now being asked to carry a heavier load:
If they are PVCu windows, the frame's profile will need to include steel reinforcing inside. Some discreet pilot-hole investigation or magnet testing may be needed to confirm this.
Without a steel core reinforcement, changing from a polycarbonate sheet roof to a solid one will require replacement windows or a new supporting framework.
By itself, this project will not create a habitable extension that can be made open plan to the home; work to the roof alone is not enough. You may decide to revamp the structure or replace it entirely.
Will replacing the roof help with heat loss?
With most of the heat loss escaping up through roofs, the alterations will help, but the roof is only one element of the conservatory. Because the remaining structure will still be considered lightweight and possibly over-glazed with windows (more than 25% of floor area) the accepted approach is for them to remain thermally separated from the main house with insulated doors and windows.
Effectively you will end up with a completion certificate for a replacement conservatory roof. This is the same as if you had replaced the roof of an exempt front porch, for example.
Homebuilding & Renovating Newsletter
Get the latest news, expert advice and product inspiration straight to your inbox.
Thank you for signing up to Homebuilding. You will receive a verification email shortly.
There was a problem. Please refresh the page and try again.