Conservatory Planning Permission: Will You Need It?
By Natasha Brinsmead published
Wondering whether conservatory planning permission will be something that you need to consider? Our guide is here to explain everything you need to know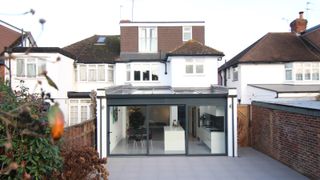 (Image credit: Thames Valley Window Company)
Conservatory planning permission is something you are very likely to be thinking about it if you are planning on extending your home with a new glass structure, such as an orangery or conservatory.
Conservatories now come in so many different styles, shapes and sizes – from the more traditional to some highly contemporary designs – that they can a make beautiful addition to pretty much any type of home, be that a renovated period property or a new build.
Before getting stuck into collating your conservatory ideas, however, it is important to understand the ins and outs of conservatory planning permission.
Our guide gives you all the information you will need to ensure your new conservatory complies with all the related rules and regulations to ensure nothing can hamper your enjoyment of the new space.
Is Conservatory Planning Permission Required?
The same planning rules relating to any house extension apply when adding a conservatory to your house — something that may interest you if you can't decide between an extension or conservatory.
In the majority of cases, the addition of a conservatory will not require a planning permission application as it will fall under permitted development.
However, should your conservatory exceed the limits of permitted development rights then you will, of course, need to make a planning application.
"There is no real difference in gaining planning permission for a sunroom, orangery or conservatory," says Richard Bennett, designer surveyor at Room Outside (opens in new tab). "Most small conservatories and sunrooms can be built under permitted development, but you may still need sign off in terms of Building Regulations."
You may need planning permission for your conservatory if:
You live in a detached house and your conservatory will extend more than 4m (or 8m under prior approval — more on which later) to the rear
You live in a semi-detached or terraced house and your conservatory will extend 3m (or 6m under prior approval) to the rear
You are building a conservatory to the side of your house and it will be higher than 4m or of a width more than half the house
The conservatory is of a design that uses materials different to those used elsewhere on the exterior of your house
You are using your conservatory to extend at the front of your house
You live in designated area, such as a conservation area
You live in a listed building (you will almost certainly require listed building consent in this case)
Your conservatory will cover more than half your garden
How Big Can a Conservatory Be Without Planning Permission?
When designing a conservatory, bear in mind there are limits on the size of conservatory you can build if it is to fall within permitted development.
In the case of detached houses the conservatory must not extend more than 4m and for terraced or semi-detached houses, this is reduced to 3m.
It should also have a maximum height of 4m, or 3m if it is within 2m of a boundary.
Alternatively, under the prior approval – which involves notifying the local planning authority who will in turn consult your neighbours – you can now build up to 8m (detached homes) and 6m (semi-detached and terrace homes) without planning permission.
Also bear in mind that a conservatory larger than 30m2 will need to adhere to Building Regulations.
How Much Does Planning Permission Cost For a Conservatory?
If you do find that you need to make a planning permission application, you are probably wondering how much it will cost you.
The cost of planning permission varies depending where in the UK you live.
A householder application will usually suffice when it comes to adding a conservatory. This type of application is for proposals to alter or extend a single house (as opposed to building an entirely new house).
In England, a householder application costs £206. This rises to £230 if you live in Wales, or £202 in Scotland.
Do I Need a Lawful Development Certificate for My Conservatory?
While you don't have to have a lawful development certificate in order to build a conservatory, many people do choose to get one — they can be invaluable when building using permitted development rights.
A lawful development certificate (LDC) will prove that your new conservatory has been built legally — it can be shown to your local authority and future buyers should planning rules change down the line.
You will need to apply for one in a similar way to planning permission, submitting plans and elevations and the like, and pay a fee.
The cost of an LDC is half the normal planning fee.
Does a Conservatory With a Solid Roof Require Planning Permission?
If you are planning on a building a conservatory with a solid roof, or considering conservatory roof replacement to swap a glazed roof for a tiled design, you will probably be wondering whether a planning permission application will be needed.
Providing your conservatory still meets permitted development criteria there should be no need to make an application, although it is always best to check with you local planning department if in any doubt.
A new solid roof conservatory may require Building Regulations approval, however, just as an extension would.
Do You Need Building Regulations For a Conservatory?
When building an extension you will usually need to apply for Building Regulations. However, the good news is that very often this will not be the case for conservatories.
Your conservatory is unlikely to require Building Regulations approval providing:
It is no more than 30m2 in floor area
It has been built at ground level
High quality walls, doors or windows have been used to separate it from the house
It has been fitted with an independent heating system featuring separate temperature and operation controls. (There are different ways for heating a conservatory independently, including electric plug-in radiators and electric underfloor heating.)
All glazing and electrical work complies with the relevant Building Regulations requirements
You should bear in mind that even if your conservatory is exempt from Building Regulations, any new structural openings that have been made between your existing house and the new conservatory will require approval.
Contact your local building control department to check if you are in any doubt.
Natasha is Homebuilding & Renovating's Associate Editor and has been a member of the team for over two decades. An experienced journalist and renovation expert, she has written for a number of homes titles. She has renovated a terrace and is at the end of the DIY renovation and extension of her Edwardian cottage. She is now looking for her next project.
Homebuilding & Renovating Newsletter
Get the latest news, reviews and product advice straight to your inbox.
Thank you for signing up to Homebuilding. You will receive a verification email shortly.
There was a problem. Please refresh the page and try again.