How Much Does a Conservatory Cost? A Price Guide
To make sure your conservatory costs don't take you by surprise, we've put together a handy conservatory price guide, so you know exactly what to expect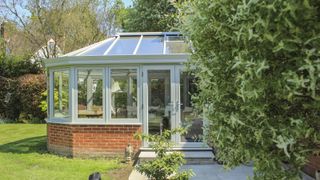 (Image credit: Thames Valley Window Company)
Conservatory costs are usually at the forefront of the minds of those looking for a way to add extra space to their homes.
Adding a conservatory is a great way to increase the foortprint of a house, providing a bright separate area that can be used in a number of ways. There is an abundance of great conservatory ideas out there, and popular uses for a conservatory include sun lounges, playrooms and dining areas, although the choice is yours.
For many people craving additional space, the choice comes down to an extension or conservatory — both have their pros and cons, but those wanting to keep costs down are often attracted by the fact that conservatory prices tend to be lower than those associated in extending, or converting a loft.
In this conservatory cost guide we take a look at the prices you can expect to pay for the type of conservatory you are after, as well as pointing out factors that could mean your budget gets stretched.
Are Conservatory Costs Worth It?
One of the main concerns of anyone looking at ways to add space to their home, be that in the form of a garage conversion, extension or conservatory, will be how much value the new addition could add to their home. Even those not planning on selling and moving on in the near future will be keen that their new conservatory adds to the value of their home.
So, just how much value does a conservatory add? Of course this will depend on the area you live in and the type of house you are adding it to — as well as the specification of the conservatory and what it can be used for.
A well-built conservatory has been estimated to add between 5% to 15% to the value of your home — but this will very much depend on its quality and where in the country you live.
Be sure to check the ceiling prices of properties in your area though — you don't want to end up losing money by paying too much for a conservatory that won't result in a worthwhile uplift in value.
What Does a Conservatory Cost?
It is possible to get a fully-fitted, simple uPVC lean-to conservatory, measuring 3m x 3m, from £10,950, on average, fully fitted prices closer to £30,000+ can be expected for a hardwood conservatory of the same size and specification.
The cost of a conservatory will depend on a number of factors which makes it hard to give exact prices. It is important to understand the choices that are likely to affect what you pay for your conservatory, including:
The material you opt for
Size
Glazing type (standard, toughened, solar or low-e, noise-reduction etc.)
Construction method (DIY or professionally installed)
Location
Extras such as heating, rooflights, sliding doors
One of the main influences on conservatory costs is the material used in its construction. It is important not to try to save money when it comes to materials — your choice will, ultimately, determine the finished look of your conservatory and, given that this is a structure that will be attached to your house, you don't want to get it wrong. A cheap, flimsy structure could actually devalue your home.
As well as materials, there are other factors to bear in mind when calculating conservatory costs, such as the type of glazing you opt and whether or not you want a solid or glazed roof.
When getting quotes in, be sure to ask exactly what is included. Some of the very cheap prices out there can seem appealing, but they often won't include the conservatory base, dwarf walls or installation.
uPVC Conservatory Prices
uPVC conservatory costs tend to be the lowest compared to timber and aluminium, which goes a long way towards explaining why uPVC is still the most popular material choice.
If you like the idea of a uPVC conservatory, aim to choose one with a reinforced steel frame, which will ensure it is robust.
The average cost of a uPVC conservatory is £13,500, based on an estimated £1,500/m2. This price includes foundations, base, brickwork and any damp proofing.
Although you might see costs as low as £6,000 for a small, lean-to uPVC conservatory this is likely to be for a DIY kit.
What Does an Aluminium Conservatory Cost?
Prices for aluminium conservatories vary hugely. Although aluminium is often thought of as being a little cheaper than hardwood, when it comes to conservatories, this can be misleading as some of the very striking contemporary glass structures out there will most certainly exceed the top prices paid for hardwood conservatories.
Offering slim sightlines, minimal maintenance requirements and great thermal efficiency, aluminium is a great material for a conservatory. Average aluminium conservatory costs tend to be from around £25% higher than those for uPVC conservatories.
How Much Does a Wooden Conservatory Cost?
The price of a timber conservatory will depend on the type of wood the frame is constructed from, with softwood being a cheaper option than hardwood. This type of conservatory is, on average, the one with the highest price tag.
Although hardwood conservatories in materials such as oak cost more than softwood, they tend to have greater longevity and require less maintenance, making them a very worthwhile investment. They are also a fantastic way to enhance the architecture of period properties or traditional-style homes.
According to The Oakfields Group, you can expect to pay somewhere between £2,500/m2 for a quality hardwood conservatory, up to £3,500/m2 at the very top end, depending on the complexity of design, detail and specifications and excluding the building works.
Again, an oak frame conservatory or sunroom can cost a minimum of £2,500/m2, so a 20/m2 conservatory would cost in the region of £50,000.
"A realistic cost for a 20m2 oak frame conservatory would be £2,500 per m2 (+VAT)," confirms James Underwood, a regional design consultant at Oakwrights. "This will deliver an above average build. It's worth bearing in mind, too, that this average cost will fall with larger builds as the computer design and CNC machining costs are spread over a larger footprint."
Are There Any Hidden Conservatory Costs?
When calculating your conservatory costs and prices, be sure to factor in the following essential extras:
Heating
Window shading
Costs to knock through from the house (lintels may be required)
Doors from house into conservatory
Decoration
New electrics
Building regulations fees (in the case of solid roof conservatories or those bigger than 30m2)
Planning permission fees (only occasionally required)
What Does Your Conservatory Quote Include?
Quotes can be misleading – very cheap quotes are often too good to be true – so it really does pay to ask the following questions when asking for conservatory prices:
What type of doors to outside are included? French, bi fold, sliding etc.?
What specification is the glazing quoted for? Standard, self-cleaning, solar, noise reducing, for example?
Are groundworks included?
Is the base construction included?
Is the construction of any dwarf walls included?
Is heating included? Bear in mind a conservatory has a heating source separate from the house
What type of rooflights does the quote include? Automatic or manual?
Is delivery extra?
Get the Homebuilding & Renovating Newsletter
Bring your dream home to life with expert advice, how-to guides and design inspiration, direct to your inbox.
Natasha is Homebuilding & Renovating's Associate Content Editor and has been a member of the team for over two decades. An experienced journalist and renovation expert, she has written for a number of homes titles. Over the years Natasha has renovated and carried out a side extension to a Victorian terrace. She is currently living in the rural Edwardian cottage she renovated and extended on a largely DIY basis, living on site for the duration of the project. She is now looking for her next project — something which is proving far harder than she thought it would be.