Shou Sugi Ban: A Guide to Charred Timber Cladding
By Claire Lloyd published
Shou Sugi Ban is a traditional Japanese wood burning technique which creates a dramatic black finish that has become a popular choice for external cladding. We examine how to get the look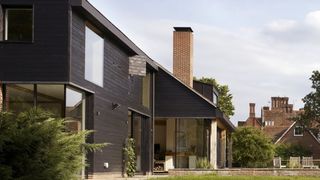 (Image credit: Kilian O'Sullivan)
If the term Shou Sugi Ban isn't one you're familiar with, you'll undoubtedly recognise the style of this charred timber cladding when you see it.
The ancient Japanese wood charring art has grown in popularity in recent years as a dark, dramatic and contemporary exterior treatment for self builds and extensions.
Charred timber may also be used internally, as a wall covering or even for furniture, and it can be oiled in a variety of finishes.
As it's popularity has grown, so have the options for sourcing materials to achieve the charred timber look. Here we take a look at the essentials of Shou Sugi Ban and how it can be used to add a unique spin to your project.
What is Shou Sugi Ban?
Shou Sugi Ban originated in 18th-century Japan as a method of charring cedar in order to colour, waterproof and preserve the timber, as well as making it resistant to fire, rot, insects and UV effects from the sun.
The overall look of the cladding is dark and homogeneous, yet each timber is highly individual. The texture and grain of the wood is brought out by an incredible range of subtle purple, blue and silver tones appearing against the charcoal black. The finished surface texture can then be brushed or left raw.
Shou Sugi Ban can be treated with a fire rating of class 1 and 0.
Which Kind of Wood do You Use for Shou Sugi Ban?
Timber species suitable for charring include:
Oak
Douglas fir
Western red cedar
The harder the timber (i.e. oak or larch) the more durable it will be, and the longer it will withstand the weather and retain its looks. "The most commonly used timber is Siberian larch, and there are two other timbers we recommend that are hands down the best in terms of durability and aesthetic," says Venetia Harrison of specialist company Shou-Sugi-Ban (opens in new tab). "Accoya carries a 50-year warranty against rot, and Kebony a 25-year warranty, and they are among the most eco-friendly timbers available."
How Does the Shou Sugi Ban Process Work?
The process starts by charring the wood evenly on both sides to avoid it bending out of shape from the heat. Excess carbon can then be removed to clean the wood and add texture.
Once the timber has cooled down it may be finished with a natural oil to seal and protect it from dirt, water and changes in humidity.
The process is not an exact science and there will be slight surface burn variations throughout the board length, which adds to the unique characteristics.
Charring the outer surface brings out the richness of the wood and the grain structure, while varying the intensity of the burning process produces different finishes – from a traditional highly charred look to a sleeker, more contemporary brushed effect.
Some finishes are more durable than others, with brushing resulting in a smooth board. If brushed further, the natural timber will be exposed.
Traditionally, charred products which are untreated can be fragile and need to be handled and stored carefully. Boards which have been brushed and/or treated will still need to be handled with care.
Is Shou Sugi Ban Expensive?
Prices starting from around £120/m2 plus VAT, depending on the finish, quantity, timber and profile.
This represents a significant expense in comparison to the approximate costs of other timber cladding, such as uncharred cedar from £30/m2 and even timber effect fibre cement board from £45/m2.
How Long Does Shou Sugi Ban Cladding Last?
In some cases, charred timber can last up to 120 years, due to the protective layer created by carbon released during the charring process.
Can I DIY Shou Sugi Ban?
"What I love about charred timber is that you can do it yourself," says architect Laura Jane Clark (opens in new tab). While Shou Sugi Ban refers to a specific, specialist technique, there are ways to create a similar look on a DIY basis.
Although it is labour intensive and obviously safety is paramount when working with fire, the end results on anything from cedar cladding to scrap pine can be spectacular. If you are up
for a bit of an adventure, then purchasing a gas blow torch is a very cost-effective but lengthy way to produce charred timber cladding.
Creating a simple blockwork kiln to pass your timbers through will help quicken the process and the speed of burning will give different effects.
A quick, light burn will give good surface charring, bringing out the colours of the timber, while a longer burn time will deepen the texture and depth of the charcoal colour range. Cedar is by far the superior wood to use, and the most authentic. You can often get uneven pink or red toned runs of cedar cladding as cheaper seconds from timber yards.
However, some say it's a skill best left to the professionals. "We don't recommend that anybody tries charring timber on a DIY basis, as the process is potentially dangerous," suggests Venetia Harrison.
How to Get the Shou Sugi Ban Look for Less
There are composite boards that are manufactured to give the appearance and texture of charred wood available from companies such as Millboard (opens in new tab).
The approximate cost for such boards for decking and cladding is around £50/m2.
Such cladding is fuss free and gives a similarly harmonious and unique look to Shou Sugi Ban.
As this option is usually a proprietary system, it also comes with the advantage of easy installation.
Claire became Editor of Homebuilding & Renovating in 2016 and has been a member of the team for 14 years. An experienced homes journalist, her work has also appeared in titles such as Real Homes and Period Living.
She has a particular interest in green homes, and interior design is a passion too; she has undertaken qualifications in this area.
After finishing a major renovation of a period cottage, she is now onto her next project: overhauling a 1930s property in the Shropshire countryside.
Homebuilding & Renovating Newsletter
Get the latest news, reviews and product advice straight to your inbox.
Thank you for signing up to Homebuilding. You will receive a verification email shortly.
There was a problem. Please refresh the page and try again.