What is Shou Sugi Ban?
By Claire Lloyd
The world of self build and renovation is often filled with technical jargon which can be anxiety-inducing for those planning their first projects. Here we explain the Shou Sugi Ban wood charring technique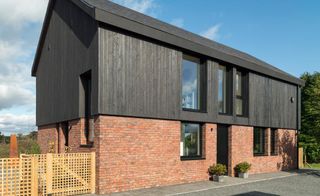 (Image credit: Jeremy Phillips)
One of the most exciting elements of building your own home is that you have a great opportunity to create something unique and out of the ordinary, often achieved with innovative design, products and techniques.
Here we take a look at the Japanese wood charring art of Shou Sugi Ban and how it can be used to add a unique spin to your project.
What is Shou Sugi Ban?
Shou Sugi Ban literally translates to 'burnt cedar board'. For centuries the Japanese perfected the art of charring wood in order to make it resistant to fire, rot, insects and UV effects from the sun. It was first used by the Japanese in the 18th century for cladding buildings.
In some cases, charred timber can last up to 120 years, due to the protective layer created by carbon released during the charring process.
The technique – which involves charring a wood surface to render it a deep charcoal-black – has caught on recently as a treatment for dramatic, contemporary exteriors. Charred timber may also be used internally as a wall covering or even for furniture; it can be oiled in a variety of finishes and can also be treated with a fire rating of class 1 and 0.
"We've extensively researched the process to create new and exciting textures to be used on all manner of unique projects," says Venetia Harrison of specialist company Shou-Sugi-Ban.
Which Timbers can be Charred?
Timber species suitable for charring include:
oak
Douglas fir
western red cedar
The harder the timber (i.e. oak or larch) the more durable it will be, and the longer it will withstand the weather and retain its looks. "The most commonly used timber is Siberian larch, and there are two other timbers we recommend that are hands down the best in terms of durability and aesthetic," says Venetia Harrison. "Accoya carries a 50-year warranty against rot, and Kebony a 25-year warranty, and they are among the most eco-friendly timbers available."
What is the Shou Sugi Ban Process?
The process starts by charring the wood evenly on both sides to avoid it bending out of shape from the heat. Excess carbon can then be removed to clean the wood and add texture.
Once the timber has cooled down it may be finished with a natural oil to seal and protect it from dirt, water and changes in humidity.
Definitely best to leave this one to the professionals. "We don't recommend that anybody tries charring timber on a DIY basis, as the process is potentially dangerous," suggests Venetia Harrison.
What Finish Can You Get?
The process is not an exact science and there will be slight surface burn variations throughout the board length, which adds to the unique characteristics.
Charring the outer surface brings out the richness of the wood and the grain structure, while varying the intensity of the burning process produces different finishes — from a traditional highly charred look to a sleeker, more contemporary brushed effect.
Some finishes are more durable than others, with brushing resulting in a smooth board. If brushed further, the natural timber will be exposed.
Traditionally, charred products which are untreated can be fragile and need to be handled and stored carefully. Boards which have been brushed and/or treated will still need to be handled with care.
How Much Does It Cost?
Prices starting from around £120/m² plus VAT, depending on the finish, quantity, timber and profile.
Homebuilding & Renovating Newsletter
Get the latest news, expert advice and product inspiration straight to your inbox.
Thank you for signing up to Homebuilding. You will receive a verification email shortly.
There was a problem. Please refresh the page and try again.