Wet Room Ideas: 9 Stylish Designs for Walk-In Showers
By Hugh Metcalf published
Researching wet room ideas for your bathroom renovation? Check out this brilliant design inspiration for your project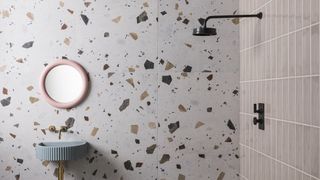 (Image credit: Mandarin Stone)
If you're on the hunt for wet room ideas, there's a good chance you already know what one is, but for anyone who has stumbled across these inspirational spaces during their search for bathroom design ideas, it's best to clear up exactly what a wet room is defined as.
In theory, a wet room refers to a bathroom that has been completely tanked, which means sealing the floors and walls with a waterproof membrane to ensure that water can't egress beyond the bathroom, causing leaks and drips elsewhere in the house.
In practice, not every space that we'd consider a wet room is completely tanked up the walls, but the core of any bathroom design is that any wet zone will be completely waterproof. In a wet room design, the shower is usually open and at the same level as the floor, meaning that the entire floor is tanked, along with any tiled areas of the walls in the wet zone. This creates a walk-in shower — not only a stylishly minimal approach to shower design, but great for small spaces where an enclosure would be bulky and eat up too much valuable room.
(MORE: Bathroom Design Ideas)
Sound like the perfect solution for your bathroom space? Then check out these wet room ideas for inspiration on how to design an effective one.
1. Go Without a Shower Screen in a Wet Room..
The joy of a true wet room is that every area of it can be a wet zone, meaning you don't necessarily need to worry about installing a shower enclosure or even a shower screen. For awkwardly small ensuite bathrooms, for example, this can be a big benefit, as you won't need to worry about opening and closing a shower enclosure and the claustrophobia that comes with showering in a tiny space. Teaming a tanked wet room with underfloor heating can be a great way to keep the floor dry.
(MORE: Ensuite Bathroom Ideas)
2. Or Go for a Screen for a More Practical Wet Room Space
Having said that, if possible a shower screen is a practical addition to a wet room, helping to keep water contained to one place, not because of worries about it seeping through the floors, but for practicality reasons. If your partner has just used the shower, you don't necessarily want to have to walk on a very wet floor to use the sink, for example.
(MORE: Shower Room Ideas)
This will also help stop your basin, WC and towel rail getting soaked every time you take a shower too. Sleek, frameless screens are often chosen in wet rooms to highlight the lack of enclosure, but you could also opt for something stylish like this Crittall-style screen in this bathroom designed by Day True.
3. Patterned Tile Floors: the Perfect Wet Room Flooring Idea
Using a standard shower drain in a wet room is perfectly viable, however keep in mind that the shower area will need to incline slightly towards it in order for water to drain effectively. With a standard drain, this will mean your tiler having to cut the tiles surrounding the drain and angle them towards it.
(MORE: Bathroom Flooring)
Get a tiler on board with experience doing this, and you can end up with an effective result, but don't and this part can look messy. These patterned floor tiles from Ca'Pietra also do an effective job at hiding these cuts when installed correctly.
4. Choose a Discreet Shower Drain Instead
Another option is to opt for a sleek inset shower drain, often either in a metallic finish or adapted with your chosen floor tile. In this instance, a slight, unnoticeable incline will be used across the shower area, meaning that the water naturally drains towards the drain.
5. Mix and Match Tiles for a Distinctive Wet Room
With a fully tanked wet room, using one tile throughout for the walls and floors can be a little intense. Add texture and break up the uniformity of the space with a mix of tile designs, and create a unique statement. We particularly love this combination of rustic metro tiles and marble-effect tiles from Mandarin Stone.
6. Highlight the Shower With a Bold Wet Room Idea
As previously mentioned, the lack of a shower enclosure or tray can really streamline the visual clutter of a small bathroom, so why not draw attention to this sleek look with a statement tile design? This bathroom using Matki products draws the eye through the room with a feature floor and wall that perfectly complements the dimensions of the bathroom.
7. Walk-Through Wet Room Ideas
You've heard of walk-in showers, but what about a walk-through shower? The nature of a wet room means you can free the shower from being firmly positioned in a corner of the room, and walk-through shower screen offer a stylish way to make a feature of the shower in an unusual way within the space.
8. Create a Separate Wet Room in Your Bathroom
If the idea of a near seamless shower floats your boat, but you still want an enclosure for your wet room, why not try an idea like this from XUL Architecture for creating a wet room within your bathroom?
Built into a recess in the space and separated with doors, this spacious design has room to sit and dual showers, while retaining the visual simplicity of a level floor throughout the bathroom space.
9. Use Unique Plaster Finishes for the Walls
In general, a wet room means an excess of tiles, but tiles aren't the only way to provide a waterproof surface, especially for walls. Shower wall panels are growing in popularity for use in wet zones, but you could also consider waterproof polished plaster such as Tadelakt or microcement for a wet room, like interior blogger Pink House Living did in her small shower room, fitted with Perrin & Rowe brassware.
Hugh is Digital Editor of homebuilding.co.uk and has worked on a range of home, design and property magazines, including Grand Designs, Essential Kitchens, Bathrooms, Bedrooms and Good Homes. Hugh has developed a passion for modern architecture and green homes, and moonlights as an interior designer, having designed and managed projects ranging from single rooms to whole house renovations and large extensions. He's currently renovating a Victorian terrace in Essex, DIYing as much of the work as possible. His current project is a kitchen renovation which involves knocking through walls and landscaping a courtyard garden.
Homebuilding & Renovating Newsletter
Get the latest news, reviews and product advice straight to your inbox.
Thank you for signing up to Homebuilding. You will receive a verification email shortly.
There was a problem. Please refresh the page and try again.