Bathroom Lighting Ideas: 12 of the Best
By Amy Reeves
Take a look at our stylish and practical bathroom lighting ideas to help spark some inspiration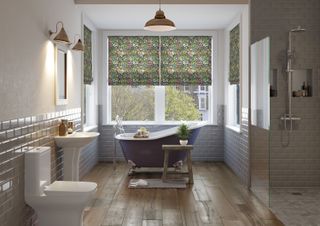 (Image credit: 247 Blinds)
Bathroom lighting ideas, like a lot of home design, comes down to three core elements: practicality, functionality and personal style. Without all three, a bathroom can become a tricky space to interact with and for a room we all use so frequently, it's important to get the design right from the beginning. 
Below, we delve into what makes a great bathroom lighting design using a gallery full of gorgeous images and how to apply the guidelines to your own project — be that a renovation of an existing tired bathroom or a fresh start in a new house. 
(MORE: Bathroom Design)
1. Including Suitable Bathroom Lighting Ideas
On a practical level, ensuring the lights you choose are suitable for a space where humidity and water splashes are common will be key.
You need to think about zones and IP ratings. Zones are given to the different areas of a bathroom — so Zone 0 is a wet area, such as inside a shower enclosure or bath.
An IP rating indicated how resistant a light fitting is to water and the rating needed will depend on which zone the light will be fitted into. 
IP44 is protected against splashes of water while an IP67 can withstand water immersion for a short time.
Zone 0 (inside baths and showers) should be rated at least IP67
Zone 1 (above the bath/shower) requires a rating of IP65
Zone 2 (0.6m outside the perimeter of zone 1) needs IP44
Zone 3, where no water splashes are likely, no IP rating is required
2. Understanding Types of Lighting Before Creating a Bathroom Lighting Scheme
There are always three types of lighting design that need to be carefully considered in every room of the house, including the bathroom: task, ambient and accent. 
Spotlights are a popular way of achieving uniform ambient lighting, while task lights can come in the form of an illuminated mirror or wall lights (avoid targeted overhead lighting if you can as it's very unflattering). 
If you want to highlight particular features (accent lighting) LED strips can be a great option to run along the side of coving or under baths and are available in a wide range of colours and IP ratings. 
3. Creating a Scheme that Works for You
Functionality of a bathroom lighting scheme will come down to who will be using the bathroom and when. For instance, small en suites for adults relaxing before bed have different requirements to large bathrooms with young children getting ready. 
Being able to control lighting for different purposes is fast becoming a popular way of incorporating multiple types of lighting in family bathrooms. If you can — try for two main circuits, one for everyday activities like brushing teeth, and another to encourage relaxation, perhaps with dimmers or accent lighting.
4. Solving Problems with Good Bathroom Lighting Ideas
Remember the Little Things
Decide early on if you will have a pull chord or external light switch as it will impact the rest of the design inside the bathroom and how your local electrician approaches the circuit. Extractor fans are essential for modern bathroom Building Regulations as well so remember to add a separate or integrated switch for control. 
When designing your scheme, think about the opportunity it presents to cater for your specific space and how you could increase enjoyment of using the room with the correct lighting.
Consider the natural light that filters into the bathroom — if you need to apply make-up while getting ready but the bathroom is shady in the morning would a light-up mirror do the trick? Or, if the bathroom has no window, how will your ambient lighting compensate?
If the bathroom is small, adding a focal feature in the form of pendants or statement wall lights can help the room feel better designed and curated for the compact space.
5. Add in Special Lighting Features 
Personalising modern bathroom ideas with interesting or unique features will make a huge impact on how you interest with the room. 
If you like to hit the ground running in the morning, bright wall lights around the vanity that express your style are ideal, but if you prefer to be gradually awakened, LED strips in the shower on a separate circuit are a luxurious spa-like addition. 
6. Double Up for More Impact
One of the most popular bathroom design ideas of the last few years is dual sinks on the vanity, so why not embrace the trend and design a symmetrical lighting scheme?
This traditional bathroom oozes class and elegance as the wall lights have been positioned handily above the double vanity unit.
7. Express Yourself with Statement Pendant Lights
Pendants are not just for above the kitchen island anymore, they are being seen more and more in bedrooms, snugs and even bathrooms. 
Plus, they're great way to both illuminate vanity units and unify a specific style, as in this bohemian, natural bathroom design. 
8. Mix It Up for a Spa-like Bathroom
Layer different types of lighting for a confident and calming environment. This beautiful and tranquil bathroom ingeniously combines LED strip lighting around the ceiling and down the wall while a low-hung pendant is effortlessly stylish. 
9. Keeping it Simple for a Curated, Fuss-free Bathroom
A bold colour and pared-back white tiles are flawlessly accompanied by nods to an industrial style in this bathroom. The bare bulb and aged brass sconce perfectly match the brighter taps and matt-black vanity. 
10. Get Experimental in Small Bathrooms
Going bolder with lighting choices in more compact, or awkward bathrooms can lead to truly special results. 
Rather than feeling hemmed-in, the right temperature of lighting (usually specified in lumens) will provide a warm atmosphere, while eye-catching or unusual wall lights and pendants will emit a confident finish, bespoke to the small space. 
(MORE: Small Bathroom Guide)
11. And Keep it Simple in Larger Bathrooms with High Ceilings
Dropping low-hung pendants either side of a vanity unit or bath tub is a majestic and endlessly impressive way to finish off a large bathroom, especially if the space has the high ceilings of a period property. 
12. Set the Mood with Dimmer Controls
Opting for fittings that can be dimmed is a neat solution to only having one circuit but wanting to calm down after a long day. Be sure to discuss products with your electrician for compatibility however — there' nothing more annoying than the distant, irritating hum while trying to soak in the tub. 
Editorial Assistant Amy began working for Homebuilding & Renovating in 2018. She has an interest in sustainable building methods and modern rustic interior design. She is on the lookout for a potential step onto the property ladder in the form of a budget renovation project, but for now settles on filling her Pinterest board with ideas for the future.
Homebuilding & Renovating Newsletter
Get the latest news, reviews and product advice straight to your inbox.
Thank you for signing up to Homebuilding. You will receive a verification email shortly.
There was a problem. Please refresh the page and try again.