16 Bathroom Lighting Ideas to Spark a Stylish Design
By Amy Reeves published
Our bathroom lighting ideas will help inspire a stylish and practical space with bright designs, expert advice and fantastic top tips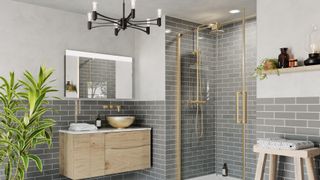 (Image credit: Crosswater)
Bathroom lighting ideas, like a lot of home design, comes down to three core elements: practicality, functionality and personal style. Without all three, a bathroom can become a tricky space to interact with and, for a room we all use so frequently, it's important to get the design right from the beginning.
Planning ahead and organising smart lighting alongside a bathroom design from the beginning of a project (be it a quick update or completely new space) will save both time and money. Alterations to a lighting design once work has begun can be messy and costly so do speak to your electrician.
From a quick refresh using existing wiring, to a full rewire and new lighting layout, we delve into what makes a great bathroom design with practical advice and helpful guidelines to use on your own project.
Bathroom Lighting Ideas
Functionality of your bathroom lighting ideas will come down to who will be using the bathroom and when. For instance, en suites for adults relaxing before bed have different requirements to large bathrooms with young children getting ready in the morning.
"Lighting design can make or break a bathroom design," begins Lee Reed, head of marketing at Easy Bathrooms (opens in new tab). "Getting the lighting correct in a bathroom can double the perceived value."
"When it comes to choosing bathroom lighting, we suggest taking into consideration both function and fashion choices," continues B&Q (opens in new tab) category manager, indoor lighting, Emily Moss.
"Lighting comes in all styles so focus on what your space represents – are you looking for modern, traditional or unique? Think about the colour, style, and size of your lights and how you would like the lighting to compliment the space."
1. Ensure Lighting Units are Suitable for Bathrooms
On a practical level, making sure the lights you choose are suitable for a space where humidity and water splashes are common will be key.
You need to think about zones and IP ratings. Zones are given to the different areas of a bathroom — so Zone 0 is a wet area, such as inside a shower enclosure or bath.
An IP rating indicated how resistant a light fitting is to water and the rating needed will depend on which zone the light will be fitted into.
IP44 is protected against splashes of water while an IP67 can withstand water immersion for a short time.
Zone 0 (inside baths and showers) should be rated at least IP67
Zone 1 (above the bath/shower) requires a rating of IP65
Zone 2 (0.6m outside the perimeter of zone 1) needs IP44
Zone 3, where no water splashes are likely, no IP rating is required
2. Use Practical Mirror Lighting
There are always three types of lighting that need to be carefully considered in every room of the house, including the bathroom: task, ambient and accent.
Bright, but warm LED mirror lighting is ideal for a clear view of every-day tasks like putting on make-up and brushing teeth. For tasks such as these, overhead lighting can be unflattering while natural light doesn't always illuminate effectively.
Many units come with touch or motion sensors while the latest designs can also be linked to an app for remote control.
3. Add Accent Lighting to Set a Relaxing Mood
LED strips and under-mounted spotlights are a popular way of achieving uniform ambient lighting. Highlight particular modern bathroom ideas and features such as baths, interesting tiling patterns or along the side of coving and choose a light which will let you unwind after a long day.
This type of lighting is best set to a separate circuit so they can be turned on without the rest of the bathroom lighting. This way, a spa-like atmosphere can be created for baths and nobody is blinded by overhead lights when visiting the bathroom at nighttime.
4. Introduce Good Ambient Lighting in Family Bathrooms
Bright, functional lighting is an essential component when collecting family bathroom ideas.
To begin, weigh up the benefits of spotlights vs downlights — will a flexible change of directional lighting assist over the course of the day, or would an overall wash of illumination (as above) be more helpful?
Dimmers in family bathrooms are a cost-effective way to incorporate changeable moods for different uses. As dimmer and switches (that is, not a pull-cord) must be installed outside of a bathroom, this will affect how your electrician approaches the circuit. Extractor fans are essential for modern bathroom Building Regulations as well so remember to add a separate or integrated switch for control.
5. Create a Space that Feels Special
"When choosing bathroom lighting, think not just about the overall lighting effect but the look of the fittings themselves," advises Peter Bowles, founder/MD of Davey Lighting (opens in new tab).
"So often, bathrooms can look austere and clinical, with rows of white cabinets and reflective surfaces. Often only recessed or concealed lighting is used, which can result in a cold, characterless space. Interesting fittings are a great way to soften the look of your bathroom and also bring some individuality.
"Look out for original ship's lights, which were built to withstand harsh weather conditions and are usually IP rated, so safe for use in bathrooms. Quality materials such as copper or bronze can look very dramatic, either in the form of a central pendant light or as wall lights flanking a mirror or bath. You can also consider mixing metals, which brings a relaxed, quirky feel – you don't need to use chrome or aluminium light fittings just because your taps are chrome."
6. Create a Uniform Look with Lighting
Choosing the best bathroom lighting can be just an important as picking out the sanitarywear and tiles. The temperature, brightness and appearance will all affect not just the first impression, but also the everyday functionality of the space.
The best LED bulbs for a bathroom will provide good illumination without being harsh. Try to source bulbs and LED strips that are similar in temperature for a uniform light that works as one.
Here, the cool lighting of the recessed downlight, wall light and mirror don't just blend together seamlessly for a well-lit space, but also inform the style of the bathroom, fitting in with the modern, yet inviting space.
7. Express Yourself with Statement Pendant Lights
Pendants are not just for above the kitchen island anymore, they are being seen more and more in bedrooms, snugs and even bathrooms.
Position above the bath for a luxurious finish, or to either side of a mirror as an alternative to mirror and wall lights.
Plus, they're great way to both illuminate vanity units and unify a specific style, as in this bohemian, natural bathroom design.
8. Use Bathroom Mirrors to Reflect and Amplify Lighting
When renovating a bathroom, if your space is small, or has awkward corners (such as an en suite in a loft conversion) try to group lighting around a mirror to maximise illumination.
This simple trick won't just make the bathroom feel more spacious, but will also reflect the light into darker spots.
Take a leaf out of this bathroom's book and install a room-wide mirror with integrated wall lights. With a rooflight above the bath for an injection of natural light and the sconce materials matching the taps and other details, the finish is smart, elegant and undoubtedly practical.
9. Add in Special Lighting Features
Personalising interesting or unique bathroom trends and features to your lifestyle will make a huge impact on how you interact with the room.
While the latest bathroom design ideas are tempting, ensure they are timeless and suit how you live and who will be using the bathroom.
For early rises, bright wall lights in a fun, bright colour around a vanity for a happy getting-ready routine is ideas, while night owls might prefer concealed LED strips along a shower recess (as above) for a feeling of decadence.
10. Let Lighting Bring Warmth to a Modern Bathroom
"Warm metallics can be used in any interiors scheme but are an essential component in the new industrial luxe look," says Charlie Bowles, director of Original BTC.
"Brass, copper and bronze are very much here to stay, mainly due to their versatility. Rich, glamorous but also edgy. Having said that, chrome and the cooler metals are also edging their way back in. Consider using cool and warm-toned metals together, which will give you an eclectic look miles away from the matchy-matchy schemes we remember from chrome's last heyday."
11. Double Up for More Impact
One of the most popular bathroom design ideas of the last few years is dual sinks on the vanity, so why not embrace the trend and design a symmetrical lighting scheme?
Wall lights could be added either side of a long, landscape mirror or above two vertical ones, as in this traditional bathroom.
The overall style oozes class and elegance as the metallic finishes of the wall lights mimic the polished chrome of the taps and cupboard handles.
12. Mix It Up for a Spa-like Bathroom
For a confident yet calming environment, layer the different types of lighting in strategic positions around the bathroom.
This beautiful and tranquil bathroom ingeniously combines LED strip lighting around the ceiling and down the wall while a low-hung pendant is effortlessly stylish and compensates for the room's lack of natural light.
13. Keep it Simple for a Curated, Fuss-free Bathroom
A bold colour and pared-back white tiles are flawlessly accompanied by nods to an industrial style in this bathroom. The bare bulb and aged brass sconce perfectly match the brighter taps and matt-black vanity.
14. Get Experimental in Small Bathrooms
Going bolder with lighting choices in more compact, or awkward bathrooms can lead to truly special results.
Rather than feeling hemmed-in, the right temperature of lighting (usually specified in lumens) will provide a warm atmosphere, while eye-catching or unusual wall lights and pendants will emit a confident finish, bespoke to the small space.
Peter Bowels comments: "Most small bathrooms will benefit from a central lighting source in the form of a ceiling light and a combination of practical, space saving wall lights and spotlights. Wall lights are a great choice for bathrooms, especially if you have low ceilings."
15. Make the Most of Bathrooms with High Ceilings
Dropping low-hung pendants either side of a vanity unit or bath tub is a majestic and endlessly impressive way to finish off a large bathroom, especially if the space has the high ceilings of a period property.
16. Set the Mood with Dimmer Controls
Opting for fittings that can be dimmed is a neat solution to only having one circuit but wanting to calm down after a long day. Be sure to discuss products with your electrician for compatibility however — there' nothing more annoying than the distant, irritating hum while trying to soak in the tub.
What is Good Lighting for a Bathroom?
"The main LED spotlights (or downlights) can be standard/non-bathroom lighting, except above the shower, for which we would recommend IP65," says head of marketing at Easy Bathrooms, Lee Reed.
"Know your zones," he continues. "The bathroom is split into 3 zones for electrical IP ratings. For Zone 1 (which is above the bath and inside the shower enclosure) you need IP65 at least. For Zone 2 (next to the bath, shower or basin) you can use IP44 as a minimum and Zone 3 (elsewhere) there are no IP requirements."
How Do You Light a Small Bathroom?
"The size of your bathroom should not stop you from creating the perfect ambient space in your home, however, it may mean you have to select an alternative style of lighting to maximise space in your bathroom," advises B&Q category manager, indoor lighting, Emily Moss.
She adds: "Lighting can help really open up a space and give the impression of a bigger room. We would suggest sticking with ceiling lights, as wall lights can take up more additional space than you may desire."
"For large bathrooms give it that extra wow with a central chandelier, while for small bathrooms I would suggest track lighting with spotlights. Point them in the right directions to highlight the features of the room, e.g. shine one onto the vanity one onto the toilet," concludes Lee Reed.
Assistant Editor Amy began working for Homebuilding & Renovating in 2018. She has an interest in sustainable building methods and always has her eye on the latest design ideas. Amy has interviewed countless self builders, renovators and extenders about their experiences for Homebuilding & Renovating magazine. She is currently renovating a mid-century home, together with her partner, on a DIY basis, and has recently fitted her own kitchen.
Homebuilding & Renovating Newsletter
Get the latest news, reviews and product advice straight to your inbox.
Thank you for signing up to Homebuilding. You will receive a verification email shortly.
There was a problem. Please refresh the page and try again.