Modern Bathroom Ideas: Trends, Designs and Top Tips for Every Budget
By Amy Reeves
Embrace these modern bathroom ideas to create a contemporary space of luxury that won't date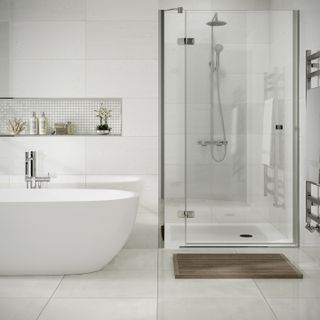 (Image credit: Tile Giant)
When it comes to modern bathroom ideas, there are so many boards, lists and photo galleries it is easy to get quickly overwhelmed and indecisive.
Bathroom design should be a joy, not a chore so we've compiled the very best designs, ideas and styles under one roof — so to speak.
Find out how to get the best for your budget, use layout tricks to make a small bathroom feel larger and include the very latest trends without the space feeling dated in a few years.
What's in Style for Bathrooms in 2021?
Creating a feeling of luxury and escape is one of the biggest trends for bathrooms in 2021. With families in the home more than ever, designing a sanctuary away from it all with a relaxing shower or comforting soak in the tub has to be number one on every new bathroom wishlist.
Playing around with neutral colours and dark, statement accents seems to be here to stay, as does the current love of 'opulent' materials and fixtures like marble, pendant lighting and, of course, the freestanding bath.
Below, we cover all the latest trends for modern bathrooms from daring wallpaper, baths in bedrooms, wow-factor tiling and metallic finishes.
If you're asking yourself "how can I make my bathroom look modern" or even, "how can I modernise a bathroom cheaply", the best advice anyone can give is to invest in the essentials: choosing the right layout for the space.
From there, opting for a neutral base of sanitarywear is always a good place to start, as tiles, taps and storage can all be updated to come in line with contemporary trends as they develop and change.
Make a Small Bathroom Feel Bigger
Modern bathrooms are all about making the most of every inch of space and creating a relaxing environment. Freestanding or wall-hung vanity units prevent smaller bathrooms from feeling too boxed in and cramped while shower screens visually open up the room where a traditional enclosure can feel dividing.
Here, a vaulted ceiling increases the feeling of space and an upcycled antique side table has been used to create a vanity unit to keep costs down.
Create a Luxurious Modern Bathroom with a Flush Shower Tray
Keeping the threshold between floor and shower tray low, or even flush, is a sure-fire way to give a relaxing and well-considered finish. Pair with concealed pipework for an extra neat look.
Go Big when Designing a Small Bathroom
Create Bespoke designed this stunning small bathroom and used bold wallpaper inside the bedroom, in the en suite and even on the doorway for a cohesive plan.
The built-in unit conceals toilet roll and pipework for a beautifully uncluttered small space.
Combine Old and New styles for a Modern Farmhouse Bathroom
Exposing interesting or original features in a renovation will always add a certain charm to a bathroom, but in this home a traditional sink has been matched with a contemporary freestanding bath and shower for the best of both worlds.
Go for Marble-effect when Choosing Modern Bathroom Tiles
A timeless choice, marble and marble-effect tiles can be mixed and matched with pretty much any colour and can be modernised with stylish fixtures and fittings.
Keep it Neutral with a White Bathroom
A classic for a reason, a tranquil bathroom with white tiles and minimal clutter looks amazing and can be achieved on a tight budget.
Here, chrome is used to highlight areas of interest around the room while maintaining a calm finish.
Create a Spa-Inspired Bathroom in the Loft
A loft conversion is full of potential to create unique spaces, so why not transform a dusty attic into a relaxing bathroom?
Often a great option for adding value to a home, a new master suite with a full bath upstairs can be the perfect sanctuary to forget about the world.
Here, clever LED strip lighting design compensate with warm artificial light while rooflights inject some much-needed natural illumination essential to the success of rooms in the roof. Pale, pared-back tiles, cabinetry and fixtures embrace the serenity of a spa.
Introduce Strong Colours into a Modern Bathroom
Modern bathroom design isn't afraid of a splash of colour — add dark jewel paint or tiles to make a contemporary impact.
Choose Statement Sanitaryware
Surprisingly transformative adding bronze, copper or chrome showers, taps and bath fillers are an easy way to modernise and update a bathroom.
This bathroom, although working with 'period-style' elements is nothing but contemporary.
(MORE: Cheap Bathroom Suites)
Opt for a Wall-mounted Look in Small Modern Bathrooms
Maximising visual floor space make any sized room feel larger, so choose modern wall-hung basins, vanity units and sanitarywear to make to most of a small bathroom.
Add a Second Basin for a Boutique Bathroom
There will no no more fighting at night time after adding a second basin or vanity unit. A great option for busy family bathrooms as well as en suites, twin sinks have become one of the most popular trends in modern bathroom design.
Get Creative with Small Bathroom Layouts
While we would all love a endless amounts of space when renovating a bathroom for a freestanding bath, a walk-in shower and a spot to get ready in the morning, the truth is some homes just can't fit it all in.
That being said, this petite bathroom manages to achieve all three by astutely planning the layout. Wasted space in the right hand corner is cornered off with a shower screen and utilised effectively and the freestanding bath is showcased at the back of the room to take advantage of savvy wall-mounted storage.
Get Rid of Walls for a Modern Shower Room
Modern bathroom layouts are taking a leaf out of broken plan notebooks and partitioning off dedicated spaces, rather than creating separate rooms. By outsourcing a w/c elsewhere, this bathroom is purely designed for a luxury experience.
Be Bold with a Black Bath
The black bathroom trend of 2020 is definitely here to stay for the foreseeable but if you're not ready to commit, cherry pick a key element – such as a bath – and compliment with easily replaced or updated fixings, such as handing rails and cast-iron bathroom radiators.
Choose Metallics for a Stylish Bathroom
Modern metallic finishes create a beautiful finish to a contemporary bathroom design, as this stunning room goes to show.
Don't Forget About Smart Storage
A new bathroom or renovation offers the opportunity to tailor a space to modern lifestyles, which normally includes copious amounts of bottles, jars and boxes.
Whether you decide on a open shelving as shown here or built-in units, if you consider storage early on in a bathroom design you're sure to be onto a winner.
(MORE: Bathroom Storage Ideas)
Update a Tired Space with a Modern Bathroom Tile
If you're not going for a full bathroom renovation but want to spruce up your space, retiling is a cost-effective way to rejuvenate a room.
Plus, tiling a job that can be completed by a competent DIYer so further saving could be reallocated to extra additions.
Build a Bathroom Escape in the Eaves
Utilising awkward loft rooms for a bathroom is a great use of space. Think about installing a rooflight or dormer window and keeping sanitarywear simple, as in this small en suite loft conversion.
Small Bathroom? Get Creative with Modern Baths and Showers
Deep plunge baths and concealed showers are wonderful ideas for narrow rooms with low ceilings, as this Day True design goes to show, but the latest products and models offer the chance for every space to be transformed into a modern and luxurious bathroom.
Pick Large Tiles for a Busy Family Bathroom
Large format tiles are a godsend for modern family bathroom flooring. Not only is there less grout to scrub away at, but also slip-resistant and easy-clean coatings make bathtime a little less stressful.
Lay Herringbone Metro Tiles for an Ultra-modern Bathroom
Modern bathroom tiling is all about the pattern you choose. Hexagon and tessellating scale shapes are among the most popular styles from 2019 and 2020 to create a stand-out feature, but when you're after a classic yet contemporary style, herringbone is the way to go.
Go for a Modern Wetroom in a Small En Suite
Modern en suites really suit a luxurious wetroom design. Away from the family bathroom, a flush walk-in shower room is a great luxury and can be a great problem solver when adding a new bathroom space.
(MORE: Shower Room Ideas)
Make a Small Bathroom Feel Spacious
Mirrors, layered lighting, and correctly proportioned furniture all do their bit in making a room feel bigger so planning there aspects early on is key to the success of a modern bathroom design.
Editorial Assistant Amy began working for Homebuilding & Renovating in 2018. She has an interest in sustainable building methods and modern rustic interior design. She is on the lookout for a potential step onto the property ladder in the form of a budget renovation project, but for now settles on filling her Pinterest board with ideas for the future.
Homebuilding & Renovating Newsletter
Get the latest news, reviews and product advice straight to your inbox.
Thank you for signing up to Homebuilding. You will receive a verification email shortly.
There was a problem. Please refresh the page and try again.