24 Modern Bathroom Ideas to Make Your Bathrooms Dreams a Reality
By Amy Reeves , Natasha Brinsmead published
We've got modern bathroom ideas in abundance to help you create a beautiful bathroom whatever your style and budget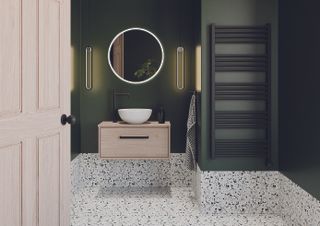 (Image credit: Crosswater)
As anyone after modern bathroom ideas quickly discovers, the sheer scale of inspiration out there can actually be rather overwhelming as opposed to useful.
Bathroom design should be a joy, not a chore! And so with that in mind, we have come to the rescue, selecting only the very best designs, ideas and styles so you can get going quickly on your bathroom project.
We show you how to get the best bathroom for your budget, use layout tricks to make a small bathroom feel larger and include the very latest trends without the space feeling dated in a few years.
Modern Bathroom Ideas Inspired by 2022 Trends
These past couple of years have seen our homes become our retreats from the rest of the world and, similarly to in 2021, creating a feeling of luxury and escape is one of the biggest trends for bathrooms.
Playing around with neutral colours and dark, statement accents seems to be here to stay, as does the current love of 'opulent' materials and fixtures such as copper, marble, pendant lighting and, of course, the freestanding bath and steel framed glazing.
Below, we cover all the latest trends for modern bathrooms from daring wallpaper, baths in bedrooms, wow-factor tiling and metallic finishes.
If you're asking yourself "how can I make my bathroom look modern" or even, "how can I modernise a bathroom cheaply", the best advice anyone can give is to invest in the essentials: choosing the right layout for the space.
From there, opting for a neutral base of sanitarywear is always a good place to start, as tiles, taps and storage can all be updated to come in line with contemporary trends as they develop and change.
1. Try This Modern Mural Idea in a Small Bathroom
After modern bathroom ideas for a small bathroom? How about turning your walls into a feature in order to draw the eye away from the proportions of the space? Whether you opt for a striking wallpaper such as this, or simply add a bold splash of colour using paint, this is a great trick.
Modern bathrooms are all about making the most of every inch of space and creating a relaxing environment. Freestanding or wall-hung vanity units prevent smaller bathrooms from feeling too boxed in and cramped while shower screens visually open up the room where a traditional enclosure can feel dividing.
(MORE: Small Bathroom Guide)
2. Opt for a Modern Basin Design
A statement basin will really bring your bathroom to life — as something that is used on a daily basis it obviously needs to be practical and easy to clean, as well as hardwearing, but there is no reason why it can't also be beautiful.
Thankfully, there is no shortage of stunning basins out there to choose from — such as this striking Motif basin from Omvivo, which looks more like a work of art than a functional item. Made from a combination of solid surface and hand etched glass, the basis come in three etched patterns: Forest, Kaleidoscope and Pebble.

3. Create a Luxurious Modern Bathroom with a Flush Shower Tray
Keeping the threshold between floor and shower tray low, or even flush, is a sure-fire way to give a relaxing and well-considered finish. Pair with concealed pipework for an extra neat look.
4. Get Creative With Modern Bathroom Lighting
Use your bathroom lighting ideas to make your room feel bigger — a selection of small yet decorative pendant lights, or just one statement light, is a great idea, as are wall washers.
(MORE: Check out our Best Bathroom Lighting Picks)
5. How to Create a Modern Farmhouse Bathroom
Exposing interesting or original features in a renovation will always add a certain charm to a bathroom, but in this home a traditional sink has been matched with a contemporary freestanding bath and shower for the best of both worlds.
6. Go Luxe With a Marble Bathroom
A timeless choice, marble and marble-effect tiles can be mixed and matched with pretty much any colour and can be modernised with stylish fixtures and fittings.
7. Go Modern With an All-White Bathroom
A classic for a reason, a tranquil bathroom with white tiles and minimal clutter looks amazing and can be achieved on a tight budget.
An all-white bathroom need not be cold or sterile providing you use different textures too and mix in shades of off-white.
8. Bathroom Loft Conversion Idea
A loft conversion is full of potential to create unique spaces, so why not transform a dusty attic into a relaxing bathroom?
Often a great option for adding value to a home, a new master suite with a full bath upstairs can be the perfect sanctuary to forget about the world.
Here, clever LED strip lighting design compensate with warm artificial light while rooflights inject some much-needed natural illumination essential to the success of rooms in the roof. Pale, pared-back tiles, cabinetry and fixtures embrace the serenity of a spa.
9. Be Brave With Bathroom Colours
Modern bathroom design isn't afraid of a splash of colour — add dark jewel paint, earthy yellows and moody blues and greens or tiles to make a contemporary impact.
10. Rolltop Baths Make a Statement
A freestanding statement bath is definitely an investment and they can run well into the thousands when it comes to costs.
However, a centrally-placed, freestanding bath can be icing on the cake in a master bathroom and a real treat at the end of a long self build or renovation project.
11. Save Space With Wall-mounted Sanitaryware
Maximising visual floor space make any sized room feel larger, so choose modern wall-hung basins, vanity units and sanitarywear to make to most of a small bathroom.
12. Twin Basins Add Some Hotel Chic
There will no no more fighting at night time after adding a second basin or vanity unit. A great option for busy family bathrooms as well as en suites, twin sinks have become one of the most popular trends in modern bathroom design.
13. Small Bathroom Layout Ideas
While we would all love a endless amounts of space when renovating a bathroom for a freestanding bath, a walk-in shower and a spot to get ready in the morning, the truth is some homes just can't fit it all in.
That being said, this petite bathroom manages to achieve all three by astutely planning the layout. Wasted space in the right hand corner is cornered off with a shower screen and utilised effectively and the freestanding bath is showcased at the back of the room to take advantage of savvy wall-mounted storage.
14. Opt for a Walk-in Shower Room
Modern bathroom layouts are taking a leaf out of broken plan notebooks and partitioning off dedicated spaces, rather than creating separate rooms. By outsourcing a w/c elsewhere, this bathroom is purely designed for a luxury experience.
15. Built-in Baths Offer Style on a Budget
If you plan on incorporating a bath into your bathroom design be sure to make a feature out of it.
If you are on a budget, a built-in bath tends to be a cost effective option. Choose a simple, yet sturdy bath and then build into into a timber frame before cladding it in tiles, panelling or a waterproof bathroom panel.
16. Copper Bathroom Finishes Rule
Modern metallic finishes are particularly popular right now and are the perfect way to ensure warmth and character in any modern bathroom.
Copper baths are the ultimate in luxury but can be pricey — if you are trying to keep a lid on costs, consider copper light fittings or taps instead.
17. Brilliant Bathroom Storage Solutions
A new bathroom or renovation offers the opportunity to tailor a space to modern lifestyles, which normally includes copious amounts of bottles, jars and boxes.
Whether you decide on a open shelving as shown here or built-in units, if you consider storage early on in a bathroom design you're sure to be onto a winner.
(MORE: Bathroom Storage Ideas)
18. Modern Bathroom Tiles For an Easy Update
If you're not going for a full bathroom renovation but want to spruce up your space, retiling is a cost-effective way to rejuvenate a room.
Plus, tiling a job that can be completed by a competent DIYer so further saving could be reallocated to extra additions.
19. Embrace Sloping Ceilings
Utilising awkward loft rooms for a bathroom is a great use of space. Think about installing a rooflight or dormer window and keeping sanitarywear simple.
Here, a classic sink has been installed in a vanity unit to maximise storage while wall lights either side of the mirror ensure the space is well lit.
20. Tile Ideas For Modern Bathrooms
Deep plunge baths and concealed showers are wonderful ideas for narrow rooms with low ceilings, as this Day True design goes to show, but the latest products and models offer the chance for every space to be transformed into a modern and luxurious bathroom.
21. Shower Panel Ideas
Shower panels are a brilliant alternative to bathroom tiles — they make quick work of covering a wall, are sleek and grout free and are easy to install.
(MORE: Shower Panels vs Tiles)
22. Lay Herringbone Metro Tiles for an Ultra-modern Bathroom
Modern bathroom tiling is all about the pattern you choose. Hexagon and tessellating scale shapes are among the most popular styles from 2019 and 2020 to create a stand-out feature, but when you're after a classic yet contemporary style, herringbone is the way to go.
23. Go for a Modern Wetroom in a Small En Suite
Modern en suites really suit a luxurious wetroom design. Away from the family bathroom, a flush walk-in shower room is a great luxury and can be a great problem solver when adding a new bathroom space.
(MORE: Shower Room Ideas)
24. Quick Bathroom Flooring Idea
Along with mirrors, layered lighting, and correctly proportioned furniture, your choice of bathroom flooring can have a huge impact on how spacious your bathroom feels.
This quick bathroom update was carried out using paint from Annie Sloan.
Assistant Editor Amy began working for Homebuilding & Renovating in 2018. She has an interest in sustainable building methods and always has her eye on the latest design ideas. Amy has interviewed countless self builders, renovators and extenders about their experiences for Homebuilding & Renovating magazine. She is currently renovating a mid-century home, together with her partner, on a DIY basis, and has recently fitted her own kitchen.
Homebuilding & Renovating Newsletter
Get the latest news, reviews and product advice straight to your inbox.
Thank you for signing up to Homebuilding. You will receive a verification email shortly.
There was a problem. Please refresh the page and try again.