The 15 Bathroom Trends set to Define 2022
By Hugh Metcalf published
Looking for the latest bathroom trends to inspire your space? Here's what's going to big news in bathroom design in 2022, according to the experts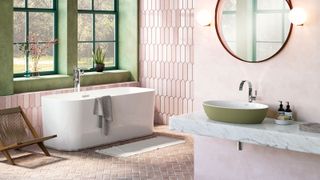 (Image credit: Villeroy & Boch)
Now's the time to examine the big bathroom trends for next year if you're starting a bathroom project in 2022, after all, you'll want to make sure your design stays ahead of the bandwagon.
The latest bathroom trends are a bit of a departure for bathroom design, with new and interesting colours, textures and styles entering this once simple and practical space, meaning you can be more expressive in your scheme than ever before.
We asked the bathroom experts to walk us through exactly what some of the hottest trends in bathroom design are for 2022 to inspire your project. Here's 15 of the best.
Should I be Following Bathroom Trends?
If you're worried about committing to bathroom trends and your interior design aging quickly, it's worth considering that most bathroom trends don't tend to be such a flash in the pan as in other rooms in the house. Regardless, it's impossible to make a decision informed by your personal likes and dislikes without considering trends.
Even what would now be classified as classic bathroom design or a 'safe choice' for the bathroom, think white metro tiles and grey grout as one example, were once not in vogue, however, some trends have more staying power than others.
1. Green in the Bathroom
While each year the big players in colour forecasting such as paint brand Dulux and colour experts Pantone make predictions about the shades that are set to define the coming year, the reality of the colours that resonate over that time can be very different.
While Blue Skies, a soft blue, is Dulux's choice for 2022 and Very Peri, a periwinkle-indigo blue, has been chosen by Pantone, it's actually searches for sage and forest green that have boomed over the last year, up some 23%.
Green is a great choice for a bathroom too, especially in these warmer toned varieties. The colour looks great against brass and copper finishes, and leans in to creating a natural connection in a bathroom space.
Introducing colour into a bathroom is easier than ever too, with many new fixtures and fittings being produced in colourful finishes.
2. Open Showers
Is 2022 the end of the freestanding tub trend? Probably not, but there's certainly a trend towards a certain type of shower, according to bathroom retailers.
"More people are choosing to go for walk-in showers and wetrooms over baths, while also moving away from smaller cubicles to much bigger and larger enclosures," says Paul Wells, Showroom Manager & 3D Bathroom Designer at Sanctuary Bathrooms (opens in new tab).
Think about the benefits of walk in shower ideas and wet rooms or wet floor bathrooms — they're a great way of maximising the space that you have available, as well as proving more accessible, futureproofing your home.
Open showers also mean that you don't need a door on your shower enclosure, freeing up extra room where you'd need to consider the swing of the enclosure door and making the shower enclosure feel more spacious. Open showers are a great choice for a small bathroom.
3. Statement Stone Finishes
Large expanses of marble and other stone are a trend shortcut to a luxe look, however, using real stone can be prohibitively expensive, even for the biggest of budgets.
"From marble-effect to onyx-effect, this season wonderful stone effect patterns make their mark in the world of tiles," says Grazzie Wilson, Creative Lead at Ca' Pietra (opens in new tab). "As stone effect tiles typically come in materials including porcelain and ceramic, it makes them more affordable than the real deal."
Marble-effect tiles often come in both large and small formats, ensuring that you can execute almost any bathroom tile idea with ease.
4. Creative Bathroom Lighting
Decorative bathroom lighting is nothing new, but in 2022 you can expect to see even more ornate and interesting bathroom lighting ideas hit the market, where once bathroom lighting was mostly perfunctory.
These new designs, which will require a higher IP rating depending on where they're used in bathroom, give you a greater range to explore when creating a lighting design for your bathroom. Mixing different types of lighting and creating a more sophisticated lighting scheme should be high on your agenda for your 2022 bathroom project.
5. Coloured Ceramics for Baths and Basins
"Coloured ceramic is one trend I see returning with a vengeance," says David Garner, a Retail and E-Commerce Manager from Villeroy & Boch. "Maybe not avocado green or whisper pink which were so popular in the 80s and 90s but we are already starting to see a large demand for statement coloured ceramic basins and even WCs."
This mirrors a wider trend for bolder interiors in bathrooms, focusing on brighter, more colourful spaces where bathrooms have long been sterile white boxes. But will these styles of bathrooms age well?
If your concerned about the longevity of a bathroom with coloured ceramics, choose one bolder statement piece rather than the whole suite. Statement basins will add wow-factor without overwhelming the space, and if you get tired of them years down the line, they're relatively easy and inexpensive to replace.
6. Wellbeing and Biophilic Design
Wellness has become a hugely important trend for the home, both in terms of physical and mental wellness. Unsurprising really, after the events of the last few years.
"There was certainly a surge in homeowners and designers creating spaces that became a place to escape to after a day of working from home or homeschooling," says Emma Joyce, Brand Manager EMEAA at House of Rohl. "With so many people still working from home and a greater appreciation for the little things in life, the requirement for a place of calm and respite in the home has not dwindled."
For the bathroom, this has meant creating a space that goes beyond perfunctory use to becoming a space in which you can spend time and unwind.
Biophilic design is one way in which this can be approached — a design ethos that relies on the health benefits stimulated by an exposure to nature that can be adapted into home, and bathroom, design.
7. Steam Rooms and Spa Bathrooms
Taking the idea of home wellness to a new level, creating a bathroom design with extras you'd expect in hotel or spa bathrooms is a huge trend. Steam rooms and saunas are becoming much more common options in large homes with the space to accommodate them, allowing homeowners to use these as part of their everyday routines.
"With so many added extras such as in-built Bluetooth speakers, heated seating and exquisite finishes, it allows you to have your own home spa," says Nicola Whyte, KI Bathroom Interiors (opens in new tab) designer.
8. Fluted Features
Fluted designs have been kicking around interior design for the past year, but you'll see it appear much more in bathroom design in 2022 as designers and brands launch new fluted products.
While fluted bathroom furniture is relatively easy to find, new fluted basins and tiles are a big trend for the coming year. Fluted finishes are also popular wall panelling ideas which can be adapted for use in a contemporary bathroom too.
9. Terracotta Bathrooms
When it comes to choosing natural-inspired colours for a bathroom design, we tend to go towards blues and greens, but there's a range of more earthy tones that are becoming big bathroom trends too.
As well as taupes, beiges and browns, terracotta is one of the biggest trending ideas for the bathroom right now, both the colour and the material.
"Similar to green, terracotta encourages positive energy in the home and is an up-and-coming shade for 2022," says Rikki Fothergill of the Big Bathroom Shop (opens in new tab). "When it comes to using terracotta in your bathroom, think of a Mediterranean villa and use cement tiles or even choose a soft apricot shade for accessorising with towels and bathmats."
10. Mixing Modern and Period Styles
Traditional bathroom styles are perennially popular, but there are certain ways to create a classic look without falling into pastiche. Giving a contemporary twist with colour selections, while honouring the shakes of a traditional bathroom suite is one way to get it right.
"This trend is about how you successfully combine the two styles. Consumers are more informed in what they love and want and are also willing to take more risks when it comes to their bathroom design, to create something truly unique," says Darren Allison, Marketing Manager at BC Designs (opens in new tab).
"The secret to making it work is in the mix. Just remember, opposites attract! Traditional bath with modern and sleek faucet. Period faucets with a modern shaped sink."
11. Wallpapered Bathrooms
Wallpaper might have been an odd choice for a bathroom 10 years ago, but with modern vinyl wall covering ideas now widely available, wallpaper in a bathroom is a common sight.
"Vinyl wallpaper is best to use in a bathroom due to its resistance to moisture and humidity. If decorating a large space, go for a large-scale print or pattern. For a smaller space, choose a singular wall or the corner of a room to give the illusion of a bigger bathroom." says Rikki Fothergill.
However, if you want to use traditional wallpaper, it's still possible, you'll just need to consider placement. Avoid areas where it will be in direct contact with water and make sure your bathroom has plenty of ventilation.
12. Microcement and Polished Plaster
While maximalist bathrooms are a huge trend in interior design, on the other end of the spectrum, more minimalist spaces are also trending.
One of the biggest up and coming trends for these minimalist spaces is microcement or polished plaster walls — a specialist process which creates a waterproof bathroom wall without relying on tiles or shower panels, creating a stripped back room design.
The way that these finishes are applied also creates a desirable texture on the walls, and it can also be used for furniture and floors too.
13. Arches
The big shape trend in 2022? Arches — and there's loads of clever ways to use them in your bathroom.
You could look for a shower screen in a statement arch shape, like this one from Villeroy & Boch, or opt for a simple arched mirror to bring this to your space. If you're remodelling your bathroom, why not include a recessed arch alcove in your design? This is a great way to frame an area like around the bath and create more of a feature of a plain wall.
14. Modern Mosaics
Small square mosaic tiles had a real moment some 10 or 20 years ago, but since then, this style of tile has largely fallen out of favour. However, this year, we can expect to see more mosaic tiles come to the forefront, reflecting new trends in tiles.
This Iggy mosaic tile (opens in new tab) from Mandarin Stone is a perfect example of a modern mosaic tile, incorporating trends for shape and irregular, handmade finishes for a mosaic that adds bundles of charm and character to your space.
Plus, mosaic tiles are super simple to install, even around tricky areas, making them a good candidate for bathroom DIY — something that's become more popular as we've been in and out of lockdown over the past few years.
15. Split Level Bathrooms
In looking to create a more interesting bathroom scheme, alternative layout ideas are coming to the forefront, including this bathroom design idea for split levels.
Adding platforms into your scheme is both a way to create a layout that naturally zones different areas, but in a bathroom, these raised floor platforms can also be used to hide pipes and other bathroom infrastructure.
While freestanding baths have been the big trends over the last few years, there's a move back towards fitted bathtubs, especially in designs like this which incorporate them into the floor, creating more of a design feature out of these practical baths.
Hugh is Digital Editor of homebuilding.co.uk and has worked on a range of home, design and property magazines, including Grand Designs, Essential Kitchens, Bathrooms, Bedrooms and Good Homes. Hugh has developed a passion for modern architecture and green homes, and moonlights as an interior designer, having designed and managed projects ranging from single rooms to whole house renovations and large extensions. He's currently renovating a Victorian terrace in Essex, DIYing as much of the work as possible. His current project is a kitchen renovation which involves knocking through walls and landscaping a courtyard garden.
Homebuilding & Renovating Newsletter
Get the latest news, reviews and product advice straight to your inbox.
Thank you for signing up to Homebuilding. You will receive a verification email shortly.
There was a problem. Please refresh the page and try again.