Bathroom Flooring: Which Should I Choose?
The devil is in the detail when specifying a bathroom floor, so read our guide to the pros and cons of the different options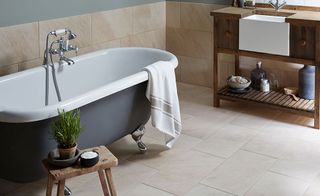 (Image credit: Topps Tiles)
When it comes to choosing bathroom flooring for a new home, it has to be one of the toughest choices to get right. Not only does it have to look good and complement the chosen wall finish, but it also has to stand up to water and humidity, as well as being slip resistant and low maintenance.
Potential choices include:
Porcelain and ceramic tiles (often the default choice)
LVT (luxury vinyl tile)
stone
rubber
polished concrete
engineered wood flooring
Choosing a Bathroom Floor to Suit Your Lifestyle
You can trust Homebuilding & Renovating. Our expert reviewers spend hours testing and comparing products and materials in order to help you choose the best for your home and garden. Find out more about how we test.
To begin, your lifestyle will have an impact on your decision. A family bathroom used by young children, for instance, will require a floor that is able to withstand frequent splashes and pools of water, and also offer slip resistance, whereas an en suite to a master bedroom is an altogether different affair.
In general, most surface types will work for a family with older children or adult inhabitants — but if you have very young or older people at home, certain hazards must be addressed.
Lifestyle: Family With Young Children
A family bathroom used by young children will require a floor that is able to withstand frequent splashes and pools of water during bath time, and also offer slip resistance.
Rubber and vinyl are hard wearing and withstand water well. The vast choice of colours and patterns means more opportunities for a playful and fun design scheme.
What's more, rubber and vinyl are much softer should your little ones take a tumble.
Lifestyle: An Elderly Person
The bathroom will need to be accessible with a good level of slip resistance, and a floor which is soft underfoot in the event of falls.
Vinyl is a great choice as it comes in a variety of finishes and can emulate stone and wood.
Rubber is good from a maintenance and comfort point of view, but it can be very slippery so choose one with a high slip resistance rating.
Engineered wood floors look great and are warmer than tiles (and not as hard), but they do require a bit more care to be kept in good condition.
Porcelain and Ceramic Tiles
It's important to note that porcelain and ceramic are not the same material. Porcelain is made with denser clays and fired for longer and at a higher temperature — it's subsequently a hardier and less porous material.
The pattern and colour of a ceramic tile is typically fired on as a surface layer, whereas porcelain tiles tend to be (but are not always) through-coloured. It is imperative that you consider the finish, as a highly polished porcelain tile can be very slippery when wet, making them unsuitable for bathrooms.
The grout lines between tiles can be off-putting to those who prefer a low-maintenance home.
Expect to pay from £20/m² for porcelain tile flooring.
Porcelain tiles are:
Hardwearing
Impervious to water
Resistant to stains
Easy to clean
A hygienic surface minus the allergy issues of soft finishes like carpet
Versatile and available in many finishes (some can be matched to wall tiles too)
Uniform in size
Lightweight
Easy to lay
Bear in mind:
Not all products are designed for both the walls and bathroom flooring
Tiles can come glazed or unglazed. Glazed do not need to be sealed when installed (unglazed do) but they are vulnerable to chipping. Unglazed are less slippery, so better from a safety point of view
One complaint with tiles is that they can be cold and unforgiving underfoot, so they are often paired with underfloor heating for comfort
You should use cleaning products which are recommended by the tile manufacturer — some household cleaners can be abrasive and damaging
The grout will need extra attention when it comes to cleaning (but remember wider grout lines aids slip resistance)
Stone Bathroom Flooring
Incredibly popular for a good reason, stone tiles can provide a stunning finish and are available in a wide variety of options. As natural stone can be quite porous, it might be best to consider a marble or limestone tile.
However, as Darren Hopkins of Stone Age explains: "Most stones are properly treated with an impregnator [a protective sealant] which is standard practice when fitting stone." So installing stones tiles in a bathroom shouldn't be an issue.
Stone will set you back £30/m², but some slate tiles can cost as little as £20/m².
Stone is:
Not as prone to waterproofing issues as it used to be due to advancements in treatments such as Lithofin Stain-Stop
Widely available and there is lots of choice
Stunning when honed or polished
Very hardwearing
Bear in mind:
It can be higher maintenance than options such as porcelain and vinyl
Stone is porous, so slate marble and some limestones (which all have a lower porosity) are more suitable for bathroom floors
Stone requires sealing prior to and during installation
Although stone is durable, it does need to be looked after properly with the right cleaning products and resealing every couple of years
How to Clean Stone
"There are some great products like LTP or Fila, but often people make the mistake of using overly harsh household chemicals to clean the stone — all this does is strip the sealer and damage the aesthetic beauty of natural stone." – Paul Owen of Mrs Stone Store.
Vinyl or Luxury Vinyl Tile as Bathroom Flooring
Water resistant, durable and warm underfoot, luxury vinyl tiles (LVT) tick many boxes. Forget memories of cheap sheets with naff imitation wood or stone patterns, today's LVT offerings come really quite close to looking like the real thing.
Luxury vinyl tiles cost about £30–40/m², while decent vinyl or linoleum (a vinyl type material made from natural materials bound together with linseed oil), can cost £20/m² or less.
Luxury vinyl tiles are:
Water-resistant
Softer and warmer underfoot than stone or porcelain
Works well over underfloor heating
Thinner than stone so easy to retro-fit
Hardwearing with guarantees of 12 to 20 years
Available in wood and stone effect, as well as a number or exciting, dynamic finishes
Bear in mind:
Many LVT manufacturers sell directly, or via bathroom design and installation companies
Installation tends to be the job of a specialist, although there are click systems and products such as Karndean's LooseLay which are DIY friendly
There is a common misconception that silicone sealant is needed when fitting vinyl in a bathroom, but this is not the case when the tiles are fitted correctly with no gaps
Wood and Engineered Wood Bathroom Flooring
Engineered wood flooring can be introduced to bathrooms, but specification again comes down to the application.
Unlike solid wood, which consists of a single piece of timber, engineered is made up of several layers. A wear layer of wood (higher-quality products tend to have thicker wear layers) sits above layers of either wood or plywood, arranged at right angles.
Due to the multi-layered nature of engineered wood, there might be more suitable options for those with younger children as water could pool and find its way behind the surface.
Good engineered wood flooring will cost in excess of £30/m².
Engineered wood bathroom flooring is:
Much more stable and less prone to movement in humid conditions than wood
A far more appropriate option than laminate which warps and swells if water penetrates the seams
Bear in mind:
Where specified, simple maintenance is key to avoiding problems — don't leave wet bath mats and towels on the floor and mop up water straight away
It is not really suited to a family bathroom where younger members of the family may be less attentive when it comes to cleaning up spillages
Wood Effect Alternatives for Bathroom Flooring
If you want the look of wood, without any worry of water penetration, there are a few options.
There are manufacturers such as Aqua-Step however, who claim their laminate is 100 percent waterproof
These alternatives are often resin based, rather than having any wooden components and they are available in large DIY outlets from £30/m²
Wood effect porcelain tiles are also proving popular, as the texture and patterns are much improved. They're also cheaper than real wood
Rubber Bathroom Flooring
A textured finish is best for rubber flooring to prevent any slips when overly wet, but this child-friendly option is shock absorbent, warm underfoot and hygienic.
The bold and bright patterns available are ideal for a family bathroom while neutral coloured and wood-effect collections offer a more grown-up design. It looks great with white walls and sanitaryware, for a fun look that can be easily evolved.
Rubber flooring could cost anywhere between £30–60/m².
Rubber is:
Tough wearing
Warm
Soft underfoot and shock absorbent
Available in pretty much any colour, pattern or texture
Perfect for creating a hygienic surface which is easy to clean
Easy to maintain
Bear in mind:
Rubber can be slippery when wet so opting for a textured finish with a high slip resistance rating is a good idea
Abrasive and acidic cleaners should be avoided
Rubber often comes as tiles but can also be fitted as one single sheet. The latter is great from a hygiene perspective as it has no joins for dirt to lurk in. However, tiles are more easily replaced if a few become damaged, whilst a single piece cannot be patch repaired in the same way
Preparing the Subfloor
The subfloor is vital to the longevity of your floor finish. If sound and level, surfaces like porcelain and LVT can last for years. A self-levelling compound may be required on an uneven floor, however there are some situations in which an entirely level floor is not going to be achievable such as in old homes. What's more, concrete and timber subfloors have a different set of requirements.
Newly laid concrete or screed, for example, will need to be left to dry out thoroughly (as cracks in screed will result in cracks in your tiles)
Timber floors may need to be topped with a membrane or marine plywood and flexible adhesive before being topped with your chosen flooring
Stone tiles can be laid on timber floors, but because they're heavy, you'll need to ensure the structure can support the extra weight
Installing Your Chosen Bathroom Flooring
It is recommended to install floor finishes across the entire floor rather than cut around sanitaryware. This is for futureproofing purposes as replacement sanitaryware may be smaller or wall hung, leaving gaping holes in your flooring.
Get the Homebuilding & Renovating Newsletter
Bring your dream home to life with expert advice, how-to guides and design inspiration, direct to your inbox.
Claire is Editor in Chief of Homebuilding & Renovating website and magazine. She became Editor of Homebuilding & Renovating in 2016 and has been a member of the team for 15 years. An experienced homes journalist, her work has also appeared in titles such as Real Homes and Period Living.
She has a particular interest in green homes and sustainability, and interior design is a passion too; she has undertaken qualifications in this area.
After finishing a major renovation of a period cottage, she is now onto her next project: overhauling a 1930s property in the Shropshire countryside.