What is Daylighting?
By Hugh Metcalf published
Daylighting looks at how to optimise the way natural light enters a building. For a self builder or renovator, this means a healthier, more energy efficient home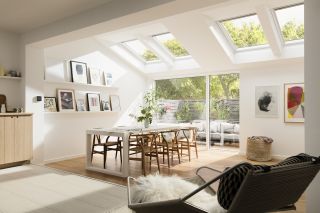 (Image credit: Velux)
Daylighting refers to a passive architectural strategy for modelling how natural light enters a building and the effect it has on the environment inside. The practise is based on a distinction between direct sunlight and diffused daylight as discrete sources of natural light for your home, with the latter being the preferred option.
The health benefits, both mental and physical, of a home well-lit by natural light are well documented, but without careful planning, it's easy for areas to be either too bright or not bright enough.
(MORE: Building a Healthy Home)
Daylighting examines how to optimise the way light enters your property, ensuring you gain the full benefits of a home with a good relationship with natural light, which also includes comfort and energy-efficiency, factors which go hand-in-hand with a considered approach to daylight.
We take a look at some of the key principles of daylighting, and some key ways you (or your architect) can incorporate it into your home's design.
What are the Benefits of Daylighting
The health benefits of daylighting within your home are tied intrinsically to your body's circadian rhythm. This is, in basic terms, your body clock — something naturally governed by the pattern of the sun, but that can easily be disrupted by a number of factors in modern life, including how your home and workplace interact with both natural and artificial light.
Circadian rhythm will affect your sleep patterns, and therefore has a wider effect on mood, fatigue and overall health. Daylighting is much more common in commercial architecture, especially in the creation of office space, where benefits such as reducing eye strain are much more important — something to consider if you work from home.
There's also evidence to suggest that daylighting can help to reduce the risk of Seasonal Affective Disorder, which is a depression-related illness linked to the availability of natural light, usually during the winter months.
Beyond the health benefits, daylighting will help to make your home more energy efficient. Not only will it reduce your home's reliance on artificial lighting as it makes full use of the natural light on offer, but it goes hand in hand with optimising your home for solar gain, reducing reliance on heating, while also preventing the need for cooling during the warmer months.
Types of Natural Light
Direct sunlight can be characterised as a very intense light, but will vary depending on the time of year, time of day and sky conditions. In terms of illuminance, direct sunlight will vary between 32,000 and 100,000 lux. Direct sunlight will cause glare, so may require thoughtful planning in areas with extensive glazing.
Skylight or daylight refers to natural sunlight that has been dispersed and diffused through cloud cover. A typical overcast day may average around 1,000 lux.
Reflected light is made up of both skylight and direct sunlight and is reflected from the environmental surroundings of your home. In densely populated areas, reflected light can make up a large quantity of the natural light mix.
Light is also reflected when it enters your home, and your interior finish choices can help to bounce it around the space more effectively.
How to Model Daylighting
Some architects will use Building Information Modelling (BIM) tools which include daylight modelling. These are complex 3D modelling systems that take into account a plot's environment and climate to track how natural light behaves in relation to the planned property. These systems can be used to look at natural light in different sky conditions and different cloud densities.
To put a concrete measurement against 'brightness', there are several units of measurement used:
Luminous flux (lumens): the amount of light coming from a light source
Illuminance (lux): the amount of light falling on a surface
Luminance (cd/m2): the amount of light reflected off a surface
Different times of day and cloud densities will reflect in these measurements, while different requirements will be outlined by architects for different uses of space — something again we primarily see in commercial architecture.
There are a couple of other measurements it's helpful to know in relation to daylighting:
Daylight Factor: Presented as a percentage, Daylight Factor is the ratio of light inside a building compared to the light level outside.
Daylight Autonomy: Percentage of time that a building is at a target level of illuminance
Daylighting Considerations for a Self Build Home
Building Orientation
The orientation of your building on the plot is probably the first consideration when daylight modelling. Light from the south will likely be the best for your home, as it is generally more consistent throughout the day and is the ideal facing for making use of solar gain. Light from the east and west will be harsher and more direct at different points of the day, so this facing should be used for rooms that require less daylight. North facing, though lower in light quantity, will have an equally consistent light as a south facing room.
Your building orientation will also need to take the external surroundings into account. Trees and other buildings can affect the amount of light that reaches your property, but they may have a role to play within the larger daylighting strategy too.
Reducing Glare
Alongside overheating of a space through solar gain, glare is another drawback of direct sunlight entering your home. While excesses of glazing will undoubtedly make your home brighter and lighter, without taking glare into account, you may find yourself with rooms that are unusable at certain times of the day.
There are a few key daylighting tricks that can be employed to keep a space bright while reducing glare, including using higher windows, especially styles such as clerestory. Light shelves are another stalwart of daylighting, stopping direct sunlight from ingressing past the shelf, instead reflecting it and bouncing a more diffused light around the property.
External additions, such as brise soleil systems, are also employed by architects to reduce glare at times of the day when it might be most prominent. Don't forget your internal window treatments have a role to play in reducing glare too, but daylighting focuses more on structure.
Windows
Glazing is at the heart of daylighting. Vertical glazing, however, is probably the least versatile tool in your quest for bringing light into the most problematic areas of your home.
Rooflights are particularly important in bringing light into areas which are at a greater distance from your home's vertical glazing.
Clerestory windows (high, often narrow windows along top of the room) will allow for a widespread diffused light across a room, especially when combined with a light shelf in a south-facing space.
Light wells are another great way to bring light into a space, and thanks to their enclosed construction, offer diffused daylight into adjoining rooms in more abundance than direct sunlight.
Reflective surfaces
While reflected light from outside the home has already been mentioned, reflective surfaces inside will help to bounce light around the home too. Light-painted walls may be considered, while flooring is another key area to think about.
Hugh is Digital Editor of homebuilding.co.uk and has worked on a range of home, design and property magazines, including Grand Designs, Essential Kitchens, Bathrooms, Bedrooms and Good Homes. Hugh has developed a passion for modern architecture and green homes, and moonlights as an interior designer, having designed and managed projects ranging from single rooms to whole house renovations and large extensions. He's currently renovating a Victorian terrace in Essex, DIYing as much of the work as possible. His current project is a kitchen renovation which involves knocking through walls and landscaping a courtyard garden.
Homebuilding & Renovating Newsletter
Get the latest news, reviews and product advice straight to your inbox.
Thank you for signing up to Homebuilding. You will receive a verification email shortly.
There was a problem. Please refresh the page and try again.