Eco Flooring: How to Make a Sustainable Choice for Your Home
By Hugh Metcalf published
Choosing an eco flooring is high on the agenda for the modern green homes enthusiast. Discover which choices have the lowest impact on the environment with our guide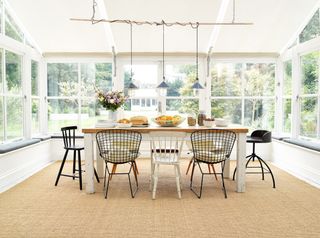 (Image credit: Sisal & Seagrass)
Once upon a time, opting for an eco flooring would have limited your choices dramatically; however, thankfully there's now many types of flooring you can choose that have the right credentials for your eco house.
From what characteristics you should look for in an eco-friendly floor covering to which flooring is considered the most sustainable, find out more in our complete guide.
What is Eco Flooring?
There are several ways in which a flooring material can be considered an eco flooring, though there isn't any official requirements for a material to be able to use the term.
This includes:
Sustainability
A sustainable flooring material is one that replaces itself quick enough and in enough volume that it doesn't deplete the resource below a set equilibrium. This may be because the material grows in abundance, or that the material is being carefully managed to ensure that producing flooring from it is a sustainable practice.
Chemical treatments
An eco flooring may also be defined as one that doesn't use chemical treatments in its processes that may both damage the environment, but also potentially release harmful Volatile Organic Compounds (VOCs) into our homes, reducing the indoor air quality and potentially leading to health issues — not something you want when building a healthy home.
Carpet is one culprit for VOCs in the home (though not in all instances), and you also need to look out for some of the treatments and oils used on hardwood flooring.
Did you know?
Some flooring products have official accreditation from schemes such as EU Ecolabel and Cradle to Cradle, which certify exemplary eco-credentials across their supply chain.
Durability
The longer your flooring lasts, the longer it stays out of landfill, plus you won't need to invest in another floor for longer, meaning less materials, energy and chemicals used to produce a replacement, alongside a lower carbon footprint.
Recyclability
While you may be investing in a good quality flooring for the long-run, all materials have an end of life. At this point, choosing a material that can be easily recycled means that you won't be contributing to landfill.
Waste
A truly eco flooring manufacturer should also pay attention to its entire supply chain, and look at what waste is produced in the manufacturing process and how it is disposed of.
Types of Eco Flooring
Eco Wood Flooring
When choosing a supplier for eco wood flooring, ensure that all timber is sourced from a sustainably managed forest. This usually means that timber is sourced from a FSC (Forest Stewardship Commission) certified forest, but other accreditations do exist, including PEFC (Programme for the Endorsement of Forest Certification).
The most sustainable flooring tends to be oak and pine, while more exotic timber species are generally less sustainable.
You should also be mindful of VOCs in wood flooring. Many modern timber flooring brands have FloorScore certification, which focuses on low indoor air emissions on hard flooring surfaces.
Bamboo Flooring
Bamboo is technically a fast-growing grass rather than a timber, offering a sturdy and renewable raw material that can be used for flooring. If you've ever had bamboo growing in your garden, you might have an understanding of how fast it can grow, and why it's so easy for it to be a sustainable material. It reaches full maturity (meaning it can be harvested for flooring) within five years, compared to at least 25 years for most hardwood timbers. It's also as durable an oak, if not stronger in some cases.
Bamboo used for hard flooring is generally grown in China, so it's also worth investigating the providence of where the retailer sources it from, ensuring it's responsibly sourced from a humanitarian point of view and that local communities are being fairly recompensed for their work.
The look of bamboo flooring is somewhat similar to hardwood flooring, though with a slightly more complex, smaller scale grain pattern. While natural bamboo is a lighter, golden hue, look out for carbonised bamboo flooring, smoked during the manufacturing process, for a darker brown shade.
Natural Linoleum
Linoleum is made from natural resources, meaning it's easily recycled and biodegradable. At the end of its life, you can take linoleum to an energy-recycling incineration plant or even compost it for your garden as you might do with mulch or wood chips.
It also doesn't emit harmful VOCs and has natural antibacterial and antiseptic qualities, which means you don't need to use harsh chemical cleaners.
Linoleum is also hardwearing and resistant to stains and tears, with an estimated lifespan of around 40 years for good quality floor coverings.
Cork Flooring
Cork is a naturally occurring material that's harvested from cork oak trees — crucially, it doesn't harm the tree to remove the cork. As cork flooring is 100% natural, there are no chemical treatments required and therefore no harmful VOC emissions.
The largest cork forests in the world are located in Portugal, and there are strict regulations in place to ensure its sustainability. It is completely recyclable, and the process has very little waste. In fact, sometimes cork flooring is made from waste from the much more prolific bottle cork market.
Cork is naturally resistant to water, as well as the likes of mould and mildew, and is a great choice for a bathroom. It also offers natural acoustic insulation.
Eco-Friendly Carpet
When it comes to choosing a type of carpet for your home, it's relatively simple to make an eco-friendly choice. Those carpets made from natural fibres are the ones that are more sustainable, use less energy and chemicals to make and can be recycled or are biodegradable.
While sisal, seagrass, coir and jute are all natural materials, they offer a rougher texture underfoot, while carpets made from bamboo and wool (organic where possible) are both sustainable and soft. Some wool carpets are mixed with small amounts of polyester to boost their durability — a trade off worth consideration, but that may effect how you can dispose of your carpet.
While polyester, polypropylene and Nylon carpets are all made from non-sustainable plastics, carpets made from recycled plastics do exist which help remove these materials from the natural environment and put them back into use. These carpets are extremely long-lasting.
(MORE: 8 Ways to Use Less Plastic in Your Build)
Reclaimed Flooring
Reclaimed flooring not only has the benefit of increasing the scope of materials that you can use (as they don't, necessarily, need to have been subject to the same sustainable criteria at the time of original production), but also bring character, uniqueness and history to your project.
Some materials don't have the best eco credentials during production. Bricks, for example, need to be fired to high heats, meaning their manufacturing is a energy-intensive process. However, these materials can be salvaged, ensuring that these reclaimed bricks don't go to waste and can be used without contributing any extra energy usage.
Solid wood timber flooring is also a relatively easy material to reclaim, as it can be sanded back and re-finished, ensuring a good-as-new finish when installed in your home. Salvaging flooring may allow for some rarer timber species to be used, which are often less sustainable as new flooring.
When sourcing reclaimed materials, look for a seller who abides by the Salvo Code. This is a best practice for ethical sourcing of architectural salvage.
Hugh is Digital Editor of homebuilding.co.uk and has worked on a range of home, design and property magazines, including Grand Designs, Essential Kitchens, Bathrooms, Bedrooms and Good Homes. Hugh has developed a passion for modern architecture and green homes, and moonlights as an interior designer, having designed and managed projects ranging from single rooms to whole house renovations and large extensions. He's currently renovating a Victorian terrace in Essex, DIYing as much of the work as possible. His current project is a kitchen renovation which involves knocking through walls and landscaping a courtyard garden.
Homebuilding & Renovating Newsletter
Get the latest news, reviews and product advice straight to your inbox.
Thank you for signing up to Homebuilding. You will receive a verification email shortly.
There was a problem. Please refresh the page and try again.