Stone Flooring: How to Choose the Right Option for Your Home
If you're looking to lay real stone flooring then both limestone and travertine are popular options. Here's what you need to consider before investing — including the colour, finish, care and cost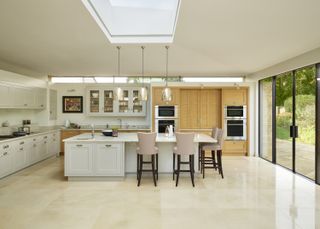 (Image credit: Martin Moore Stone)
Select natural stone flooring and you can be pretty sure of a lasting love. After all, stone is enduringly stylish and should age beautifully. Narrow your focus to limestone and travertine stone flooring, as well as being confident that your choice won't fall foul of the whims of interior design fashion, you'll find a range of gorgeous colours and appealing natural detail. 
Limestone VS Travertine Stone Flooring
Both limestone and travertine are eminently suitable as stone flooring. Limestone is a sedimentary rock composed of calcium carbonate and organic matter. 
Limestone flooring: There are many different limestones from around the world, including the UK, and they have characteristic colours and markings. It's important to realise that limestones have different densities. The bottom line? A higher density generally offers better durability and stain resistance.
Travertine stone flooring is actually a type of limestone deposited by mineral springs. The way it's formed means it's like a honeycomb and these pits and voids are exposed when it's made into tiles, which gives it a more rustic look than limestone. 
Travertine floor tiles are generally filled with resin – which is colour matched – although some can be purchased unfilled. The voids are then filled during grouting. Holes can re-occur over time — and be refilled. Travertine stone flooring isn't as hard wearing as limestone, or as stain resistant, but it's still an attractive choice. 
You can shop for limestone and travertine at stone merchants, flooring specialists and online suppliers, but while many stock both, it is quite common to offer limestones only.
Be aware that quality varies with stone flooring. The best travertine has fewer, less deep pits, and doesn't have black or other discolouration. Limestones should be matched carefully to location, with the densest for high-traffic areas. For either, a good supplier will be able to advise, so if you're not satisfied with their expertise, move on to a more knowledgeable source.
Where to Lay Stone Flooring Tiles
As long as an individual limestone is durable enough for the foot traffic of the space, it's a great stone flooring option for entrance hallway design, kitchen and dining spaces, and living areas. There are limestones tough enough for the exterior, too, so you can get a seamless flow from indoors to the terrace — although weathering will mean the two areas won't retain the same appearance over time. 
Top Tip
If you want to lay limestone flooring in the bathroom, choose a version with low porosity. 
(MORE: Bathroom Flooring Guide)
When it comes to travertine, avoiding it in the highest traffic areas will ensure a longer life for your floor and less refilling along the way. Its porosity makes it more liable to be stained by acidic liquids – think citrus juice, for example – so care is needed if you use it in a kitchen.
Colour Choices for Stone Flooring
Cream or beige neutrals might spring to mind when you picture limestone or travertine stone flooring, and there is definitely a huge choice of these tones. But the range of colours is larger than you might expect. 
If maximum light reflection is what's needed, a very pale near-white limestone could be a winner. Look out, too, for grey limestones from paler through to charcoal and black tones. The latter are practical for halls and other spaces that lead directly to the outside. 
Travertine also offers an abundance of options outside the classic ivory  and sand versions, including rich brown and yellow tones, and silver, grey and blue shades. 
Consider the finish of the stone flooring as this is key to its character. Polished tiles are the glossiest and have a marble-like appearance. The process brings up the colour and markings of the stone. It's the least slip-proof of the finishes, so factor this in, especially if the floor will get splashed or those not steady on their feet will be using it. 
Honed tiles are also smooth, but less glossy than polished — it's a finish that's often used for travertine. Tiles that are brushed or tumbled – the names derive from the process that creates the effect – have a more rustic and aged appearance. The texture makes them more slip-proof, too.
How to Install Stone Flooring 
You can lay stone flooring tiles yourself but, given the cost and for optimum results, it's advisable to call on a natural stone specialist. 
"In both new builds and renovations, subfloors need to be level and clean — in most cases this will involve removing existing material and any residual glue. It may be necessary to apply a self-levelling floor screed and, if the subfloor is concrete or screed, check that you have a damp-proof membrane," says Joss Thomas, founder and designer from Indigenous. 
It's vital that both limestone and travertine stone flooring is sealed before grouting. Stone is naturally porous, and it helps them resist staining. Ask your supplier which sealant is appropriate for the floor tile you've selected, as this should take into account both the porosity of the individual stone and its finish.
Selecting Grout for Your Stone Flooring
The grout you use with your stone flooring has a big influence on the final look of the floor. "If you're looking for a seamless finish, try using grout in a shade that coordinates with the tile," says Sian O'Neill, head of marketing at Topps Tiles. 
"Opting for contrasting colours can add structure and definition if the tone you pick is complementary. For example, using an ashy grey grout with the lighter, creamier hues of tumbled travertine gives the texture a pop and white grout paired with limestone is great at highlighting each tile's unique shape and structure."
Consider the size of the grout joint before the stone floor is laid, too. "Generally, a honed stone with a square edge will look better with a very narrow grout joint, while an aged-looking stone with a pillowed edge will suit a slightly larger grout joint," says Indigenous' Joss Thomas.
How to Look After Your Stone Flooring
Natural stone is hard wearing, but chipping a tile isn't out of the question. "Replacing individual tiles is difficult, but possible," says Indigenous' Joss Thomas. 
"Usually, the idea would be to cut around the grout of that specific tile and to chip away at a corner of the tile to break it off. There should then be enough space to get under the tile to lever it up. Any remaining adhesive should then be cleaned away from the subfloor. You need to be very careful not to damage adjoining stone tiles or the pipework of any underfloor heating."
Sweeping, vacuuming and mopping will keep both limestone and travertine stone flooring clean, but the right cleaning products are essential. "Avoid general household cleaners, as they tend to be quite acidic," advises Richard Osborne, managing director at LTP. 
Sealant will also need to be reapplied from time to time to maintain the floor's stain resistance. How frequently depends on the wear the floor gets, but count on doing this every few years. 
How Much Does Stone Flooring Cost?
Rarity and accessibility of a stone both have an influence on price. 
If you're laying limestone flooring, expect to pay from around £35/m2, but bear in mind that limestones can cost over £100/m2. 
Travertine stone flooring can start from around £25/m2, but can also be more than £100/m2.
Alternatives: Stone-effect Flooring
You can't claim that your floor's unique, but man-made tiles can reproduce the look of stone flooring highly effectively for less outlay, and they're simpler to care for. 
"The most important thing is to check how many 'faces' the tile has -— this basically means the number of different designs," says Eloise Street of The London Tile Co. "If it's just one or two you will notice heavy repetition that will not look natural, so go for a higher number." 
You'll find a huge choice of stone-effect flooring tiles made from porcelain, which is highly durable, and will stand up to high traffic areas. 
Ceramic tiles can also pull off the look, although they aren't as hard wearing as porcelain so are best used away from busy spaces. 
Budget from £20/m2 for porcelain and from £15/m2 for ceramic.
Laying stone-effect tiles yourself should be straightforward. "The floor will need to be levelled and if there is any possible movement or cracks in the subfloor you may also need an uncoupling layer to prevent damage to the tiled surface," advises Eloise Street. 
"Porcelain stone-effect tiles are easy to lay with a standard tile adhesive and require less maintenance than natural stone. If your tiles have a polished surface they might need sealing, so check with your supplier."
(MORE: Complete Guide to Flooring)
Homebuilding & Renovating Newsletter
Get the latest news, expert advice and product inspiration straight to your inbox.
Thank you for signing up to Homebuilding. You will receive a verification email shortly.
There was a problem. Please refresh the page and try again.