Cork Flooring: The Pros and Cons Explained
By Natasha Brinsmead published
Not only is cork flooring an eco-friendly choice, it is also a stylish one — we take a look at its benefits and downsides, as well as how much it costs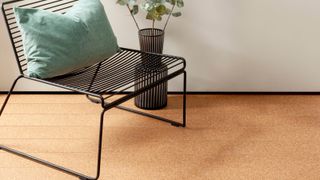 (Image credit: Recork)
Cork flooring is a brilliant option for many reasons — beloved of designers during the 1970s and now making a huge comeback.
If, for you, the mere mention of cork flooring still conjures up images of highly varnished, artificially orange tiles that were reserved for bathrooms in equally garish shades of mint green, blush pink and 'champagne', then you need to have a rethink.
The new wave of cork flooring couldn't be further from this — with architects and interior designers now using it not just on floors, but as wall cladding too. It is even being used as a building material with the term 'corkitechture' being thrown around in some circles.
The renewed popularity of cork amongst those looking at types of flooring has much to do with its eco credentials, as well as its natural beauty and a whole host of other benefits.
Here, we take a look at cork flooring pros and cons and some of the newest products currently on the market.
What is Cork Flooring?
It will likely come as little surprise to learn that cork flooring is made from, yup, that's right, cork. However, you may be wondering how it is made.
Cork flooring actually comes from the bark of the cork tree – also known as Quercus suber – and uses leftover material from the production of wine corks.
Every seven to 10 years, the bark of the tree is harvested, stripped away to leave a protective inner layer that means the tree continues to grow, gradually gaining new bark. Once the wine corks have been punched out of this bark, the remaining cork is boiled and ground up before being combined with resin and compressed into sheets, tiles and planks for flooring.
In some cases, the ground up bark is simply used as a backing material, with the shaved bark being used as a decorative veneer.
Cork Flooring Pros and Cons
Before you can decide on which type of flooring will most suit your needs, it is crucial to understand the pros and cons of each. If you want to know more about this eco flooring option, do take a moment to delve into how it could work for you.
When it comes to cork flooring, the benefits generally far outweigh the disadvantages.
Cork Flooring Pros:
Sustainable and biodegradable
Soft and comfortable underfoot
Good heat insulation properties
Excellent soundproofing qualities
Durable (depending on the quality of the product)
Easy to install, even on a DIY basis
Hypoallergenic
Anti-microbial
Water resistant
Available in a huge range of colours, patterns and styles
Cons of Cork Flooring:
Can be damaged by sharp objects, such as high heels, pet claws or similar
Can fade if exposed to direct sunlight — so not the best option for conservatories or sun rooms
Water resistant but not waterproof
Glue down tiles can be tricky to get right on uneven floors
Requires re-coating every few years
What Types of Cork Flooring Are There?
Cork flooring comes in several different forms, each better suited to certain applications than the other.
To begin, there are a couple of ways in which cork can be installed:
It is commonly supplied in tile form, designed to be glued down directly to a sub floor, such as concrete or plywood.
There are also planks and tiles that click together and are laid as a floating floor.
In addition, you can buy sheets of cork that are sold in rolls to be cut to fit before being stuck down.
Some cork flooring is solid cork through and through, while other products use a fibreboard core. These laminated, or engineered, planks feature a base layer of compressed cork, a fibreboard inner layer and a top layer of high quality cork. They are usually made with tongue-and-groove edges.
In terms of colours and designs, the options are seemingly limitless. Although cork has a naturally light, buff colour to it, the surface can be stained to achieve many different colours and effects.
How is Cork Flooring Installed?
There are two main ways in which cork flooring is laid. One of the most common is to glue it directly to the sub floor. In this case, the flooring must first be allowed to acclimatise on site for at least 24 hours.
The floor must be level and completely free of moisture and dirt or debris — if a levelling compound has been applied, this must have completely dried out before installation can begin. If you are applying the cork to a wooden floor, it should be sanded until it is level.
If you are laying over a vinyl or linoleum floor, most manufacturers advise that this be completely removed before attempting to glue cork down.
With glue-down cork it is crucial to use an adhesive that has been recommended by your supplier and to remove any excess from the surface as quickly as possible.
In the case of a click-fit floating floor you should once again ensure the subfloor is level and remember to allow for an expansion gap around the perimeter of the room. It is common to lay a thin foam-based underlay beneath a floating cork floor.
In both cases it is absolutely crucial to follow installation with an appropriate sealant — in some cases, failing to follow the supplier's recommendations for sealing could mean your guarantee is invalid.
How Much Does a Cork Floor Cost?
Cork flooring costs vary, depending on the thickness and density of the product, as well as whether it comes pre-sealed or coated.
On average, prices tend to range between £35-£50/m2 although they can rise to £60/m2+.
Is Cork Flooring Sustainable?
Whether you are looking to replace old carpet or perhaps after some kitchen flooring ideas, there are plenty of reasons to consider cork flooring if you are keen to secure the eco-credentials of your home.
"Cork is 100% natural and renewable, and across a 200-year lifespan, a typical cork oak tree is harvested 15 times without damage. It simply regenerates after each extraction." explains founder of Recork (opens in new tab), James Scully.
"A harvested cork oak retains three to five times more CO2 than an unharvested tree, so the cork oaks of the Montado forest play a vital role in the fight against global warming."
What's more, depending on the finish and adhesive used, cork is biodegradable, meaning it will simply break down into the environment once it is no longer required as flooring.
Is Cork Flooring Waterproof?
This where things can get a little confusing. Cork is water-resistant – to a degree – but not waterproof.
The degree to which it is water-resistant will also depend on the sealant or finishing treatment used. In general, it is advised that spills are quickly dealt with and that water is not allowed to stand on the surface of a cork floor for long.
Providing a high-quality, recommended surface coating is applied, cork should repel water pretty effectively. Kitchens, living rooms, hallways and the like are perfect spaces for a cork floor. Cork can even be used as bathroom flooring, providing care is taken, but wet rooms could be problematic.
Can Cork Flooring Be Used Over Underfloor Heating?
In short, yes, cork flooring can be used over underfloor heating — providing manufacturer's guidelines are followed.
Generally, this means turning the heating off 48 hours prior to installation and then turning it back on, in stages, at least 72 hours after installation. There may also be a maximum recommended temperature suggested.
Is Cork Flooring Good For Allergy Sufferers?
Cork contains a naturally-occurring substance called 'suberin' which is not only fire-retardant but also makes this type of flooring antimicrobial and hypoallergenic as it repels a whole host of allergens, including bacteria, insects such as dust mites, mould and even rodents. This makes it ideal for households where some members suffer from allergies.
"Recork flooring contributes to improved health through cleaner, purer air as it is naturally antimicrobial and hypoallergenic, and therefore doesn't harbour dust or promote the growth of mites," confirms James Scully.
Do You Have to Seal Cork Flooring?
Yes, it is really important that cork flooring is given multiple coats of whichever sealant the manufacturer recommends — not only could failing to do this result in your floor becoming damaged, but it could also invalidate your guarantee.
Sealing cork creates a barrier over its surface that gives a level of protection against scratches, stains and water ingress. It is really important to reseal a cork floor regularly in order to retain the protection offered by the coating.
"It is important to periodically re-coat your cork floor when it starts to show signs of wear and tear," says James Scully. "Cork is very easy to look after. Spills can be wiped up promptly with a mop or damp cloth. Use a vacuum or dust mop on the floor to remove loose dirt and, for bonded dirt, use a spray mop or mechanical mop.
"Due to its natural compressibility and elasticity, cork is extremely long wearing, allowing your floor to adapt to pressure and quickly recover its shape, surviving the test of time."
Some types of cork flooring come pre-sealed but do check whether or not they require subsequent treatment after installation.
How Do You Repair a Cork Floor?
A particular benefit of cork flooring is that it can be repaired should stains or scratches occur — just like some types of wood flooring.
In the case of solid cork tiles or planks, all that is required is sanding, staining and a fresh coat (or coats) of sealant. It should be noted that there are only so many times a cork floor can be sanded down — and if you have opted for engineered cork flooring (with a fibreboard core) that has only a thin cork veneer, this might not be an option.
Natasha is Homebuilding & Renovating's Associate Editor and has been a member of the team for over two decades. An experienced journalist and renovation expert, she has written for a number of homes titles. She has renovated a terrace and is at the end of the DIY renovation and extension of her Edwardian cottage. She is now looking for her next project.
Homebuilding & Renovating Newsletter
Get the latest news, reviews and product advice straight to your inbox.
Thank you for signing up to Homebuilding. You will receive a verification email shortly.
There was a problem. Please refresh the page and try again.