Types of Wood Flooring: Engineered, Solid, Laminate and More
Don't be daunted by the many types of wood flooring out there — our guide makes choosing the right one for you easy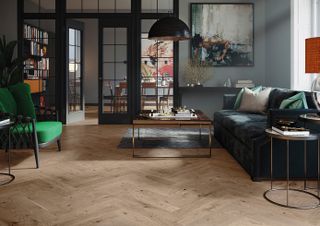 (Image credit: Flooring Mountain)
There is now such a huge range of different types of wood flooring that it can be hard to know the difference between the variations on offer — or which one is best for you.
Wood flooring is a hugely popular choice — and it is easy to understand why. Wood offers a charm and character to homes that can be hard to achieve with some other types of flooring. Even contemporary types of wood flooring can add a sense of warmth — something sometimes lacking in modern properties.
Our guide to the types of wood flooring out there covers not only the different variations of timber flooring, but also look-a-like products, such as luxury vinyl tile and laminate.
We also discuss costs, longevity and how easy they are to lay and maintain.
What is the Best Type of Wood Flooring?
There is no easy answer to this one — the type of wood flooring that works for one person won't necessarily suit another.
The flooring you choose should be based on your budget, the room you are fitting it in and how much maintenance you are prepared to put into keeping your floor looking good.
With that in mind, we discuss the various types of wooden floor available, along with the pros and cons of each.
What Colour of Wooden Floor Should I Pick?
Before you start your search for the best types of wooden floor for you, consider the overall look you are aiming for in your home — there are many wooden floor colours to choose from and the shade you pick will have a huge effect on the final look and feel of your interior scheme.
Light wood floors: Perfect for creating a fresh, contemporary look, light wood floors come in many shades. Choose from painted or stained floors in pale colours such as grey and white, or opt for a more natural finish. Timbers such as ash, beech and maple are all good choices if you want a pale wood floor.
On the downside, a light wood floor will show up dirt and damage so is best avoided in high traffic areas or if you have pets.
Dark wood floors: Dark wood floors are great for both modern and classic schemes and even suit industrial-style interiors well. They conjure up a cosy feel with their rich tones and look brilliant paired with crisp white or muted neutrals.
Choose a stained wood floor or a naturally dark timber such as walnut.
Mid-tone and golden wood floors: Ideal for anyone after a warm, informal yet traditional feel in their home, golden wood floors can be achieved by picking a natural timber such as oak or oak-effect wood flooring.
Solid Wood Flooring
As the name suggests, solid wood flooring is made from one solid piece of wood. It comes in many different forms, but is often shaped to have a tongue-and-groove edge so that boards fit together neatly. It is, however, also possible to buy solid wood floors without a tongue-and-groove edge. These are nailed down into existing joists and are often preferred by those after a more rustic, authentic look as the final finish is less perfect.
Solid wood flooring is available in various thicknesses from 15mm to 20mm, with the thicker boards being the most preferable. They are also available as finished or unfinished, stained, waxed or with a lacquer finish.
Engineered Wood Flooring
Unlike solid wooden flooring, engineered floors are made up of multiple layers. These are made up of a top layer of solid hardwood (the thickness of which will vary depending on the product you choose), bonded to several more thin layers of plywood or recycled wood.
It comes in a huge range of thicknesses, widths, lengths and configurations but usually all variations feature a tongue-and-groove edge to make fitting simple.
(MORE: How to Choose Engineered Wood Flooring)
Solid vs Engineered Wood Flooring
Both solid and engineered wood flooring are suitable for installation over underfloor heating, although both should be properly acclimatised first. Although both can be fitted in kitchens and bathrooms, neither is recommended for use in areas that are likely to be exposed to considerable amounts of water, such as shower rooms or wet rooms.
(MORE: Kitchen Flooring Ideas)
In addition, the durability and longevity of both will depend on the timber you choose — hardwoods are more resistant to damage and dents than softwoods. The thickness you choose will also play a role in the durability of the floor in both cases.
So, just what are the differences between solid and engineered wood flooring when it comes to durability, cost, ease of installation and maintenance? Here we take a look at the pros and cons of each type of flooring.
Pros of solid wood flooring:
Can be sanded and refinished many times if damaged or stained
Comes unfinished or pre-finished
Huge range of species and therefore colours and textures available
Ideal for a more authentic look
Easy to clean
Cons of solid wood flooring:
Not as stable as engineered wood flooring and can twist or warp
Must be nailed down and is tricker to install for the DIYer
Slightly more expensive than engineered flooring (although this will depend on the type of wood you opt for)
Not recommended for installation over a concrete sub floor
Pros of engineered wood flooring:
Simple to fit on a DIY basis
Superior stability over solid wood
Can be installed over both timber and concrete sub floors
Slightly cheaper than solid wood flooring (savings can also be made installation)
Easy to clean
Cons of engineered wood flooring:
Finished appearance 'too perfect' for some people
Can only be sanded once or twice depending on thickness of solid wood layer — unlike solid timber which can be sanded three or more times
Almost always sold pre-finished
Can lack the 'sturdy' feel underfoot of solid wood flooring
(MORE: How to Fit an Engineered Wood Floor)
Parquet Wood Flooring
Parquet wood flooring is extremely popular — a staple in the most fashionable kitchens and living rooms all over the country at the moment.
Parquet is comprised of small blocks of solid timber, laid in a pattern — commonly herringbone, but any flooring design made up of smaller blocks will be referred to as a parquet design.
As with solid hardwood boards, parquet flooring can be complex for DIYers to fit. Many people, and particularly those on a tight budget, replicate the look of parquet flooring with luxury vinyl tiles.
Laminate Flooring
Although commonly thought of as a type of wooden flooring, laminate flooring is actually not wood at all.
Laminate floors are made from compressed fibreboard planks with a top layer featuring a photographic wood-effect image. On top of this is a clear protective coating.
On the plus side, laminate flooring is considerably more affordable than both solid or engineered wood flooring — although spending a little more will get you a far more convincing and natural-looking product.
Laminate can be used pretty much anywhere in the home but if you plan on using it in a bathroom, check that you are buying a water- and humidity-resistant fibreboard-based laminate.
Boards with bevelled edges and rustic details such as knots tend to be amongst the more realistic products.
On the downside, laminate flooring cannot be sanded or refinished if damaged.
Wood Effect Vinyl Flooring
Many people looking at the different types of wooden flooring decide to opt for an imitation wood flooring instead of going for the real thing.
There are many reasons for this, including cost benefits and maintenance issues.
One of the most popular types of imitation wood flooring is luxury vinyl tiles (LVT).
But what exactly is LVT flooring and why is it so popular as a flooring choice these days?
LVT is comprised of several layers, including a bottom layer that is fixed to your sub-floor, a high definition photographic layer and a top protective layer, usually made from PVC.
Because LVT is made up of individual tiles, planks or shaped pieces, as opposed to vinyl sheet, it is possible to recreate the look of parquet and realistic wooden floor boards.
It is extremely durable too — plus it is suitable for use with underfloor heating.
Wood-Effect Tiles
Porcelain wood-effect tiles are a popular choice with those looking to fit wooden flooring in their bathrooms or shower rooms. Unlike wood floors, porcelain will not warp, rot or move when exposed to moisture and temperature changes — and it works very well with underfloor heating too.
How Much Does Wood Flooring Cost?
Types of wooden flooring vary considerably in cost. Influencing factors include the materials you opt for and who you get to fit your flooring. At the bottom of the price scale lies laminate, while hardwood parquet lies at the top.
Solid wood flooring costs from approx. £35/m² - £120/m²
Engineered flooring costs from £30/m² but can go beyond £90/m²
Engineered parquet costs from £75/m²
Laminate flooring costs from £6/m², up to £25/m² for high qualityer £60/m²
Porcelain tiles cost from £20/m²
Laminate flooring costs from £6/m², up to £25/m² for high quality versions
Get the Homebuilding & Renovating Newsletter
Bring your dream home to life with expert advice, how-to guides and design inspiration, direct to your inbox.
Natasha is Homebuilding & Renovating's Associate Content Editor and has been a member of the team for over two decades. An experienced journalist and renovation expert, she has written for a number of homes titles. Over the years Natasha has renovated and carried out a side extension to a Victorian terrace. She is currently living in the rural Edwardian cottage she renovated and extended on a largely DIY basis, living on site for the duration of the project. She is now looking for her next project — something which is proving far harder than she thought it would be.