LVT Flooring: Is It Right for Your Home?
Luxury vinyl tile or LVT flooring is a low-maintenance alternative to wood and stone flooring. Here's everything you need to know before buying and installing LVT in your home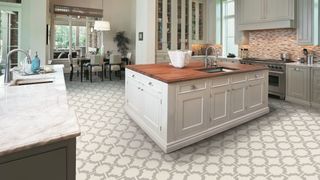 (Image credit: Harvey Maria)
LVT flooring, also referred to as luxury vinyl flooring (LVF), can be a comparatively easy to install, practical option for those who want to achieve the look of timber or stone, but without the maintenance often associated with these natural materials.
It can also be a good solution for those who simply want to inject some personality into their interiors — there are bold colours and patterns on offer.
The good news is, LVT is not only good for high footfall areas like hallways or wet spaces like bathrooms, but can be used throughout open-plan spaces, too.
(MORE: Complete Guide to Flooring)
What is LVT Flooring?
Luxury vinyl tiles are around 4 to 6.5mm in thicknesses and typically consist of four layers:
The top layer consists of aluminum oxide that prevents light scratching and shoe scuffs
This is followed by a clear film layer that protects the flooring against rips and tears
The design layer is next and is typically a photo-realistic print of stone or wood
The final layer, the backing, provides the solid structure and makes up 90% of the vinyl's thickness.
LVT flooring is typically made from PVC. That said, some stone designs will feature some mineral in the backing layer.
Some manufacturers of engineered vinyl floors are now offering a 12-layer system with an integrated underlay that's soft and silent underfoot. The LayRed® range of tiles by Moduleo (6.5mm thick) is an example of this, and comes with a lifetime warranty.
Options for LVT Flooring
Many people choose LVT flooring because it can resemble wood or stone, but is often a lower maintenance option to these natural materials.
The graphic process employed when manufacturing LVT flooring means that it is superior to that used for sheet / roll vinyl. It features non-repeat, high resolution imaging, with timber grain or stone-like markings, embossed onto the graphic layer.
On wood-effect timber, the different species, colours and grain patterns actually appear very much like the real thing
Stone-effect LVF comes in an array of colours and styles, from dark grey through to cream and beige.
Another increasingly popular option is a bright coloured or patterned LVT — patterns which resemble a tiled floor are gaining traction.
How Long will LVT Flooring Last?
LVF is flexible; however, it is considerably more rigid than roll sheet vinyl as it is extremely hard wearing and resilient.
With many manufacturers offering a guarantee of between five and 15 years, the covering is fast establishing itself as a durable competitor to laminate.
What are the Benefits of LVT Flooring?
LVT is a low-maintenance flooring solution. "A simple cleaning regime of vacuuming and using a non-chemical cleaner will keep the floor looking its best for years to come," says Katherine Matthews at Kahrs
It can be used throughout the home — so is ideal for open-plan spaces such as kitchen-diners
It is slip resistant, again making it good for bathrooms
It's relatively soft underfoot, as compared to real stone
It can be paired with wet underfloor heating, although it needs to be paired with the right system
Some products can be recycled and/or contain recycled material
Finally, it has sound damping qualities, too, which means it can be a good solution in first floor rooms.
Cons of LVT Flooring
LVT flooring should not be paired with electric matt-based underfloor heating systems
It can not replace stone or wood in terms of looks and texture for purists
You may need to use a cleaning product which is suitable for use with LVT, and avoid using harsh chemicals
It typically needs to be installed by a professional in order to ensure the guarantee is valid
Cheaper products can be prone to staining and/or marks.
Installing LVT Flooring
The key to good installation is a clean, smooth, level subfloor. (This is the concrete or timber suspended floor which sits below the floor finish.)
Any existing carpet or laminate floor will need to be removed first. If the subfloor is uneven you will probably need to call in an expert fitter to remedy this problem before the floor is installed.
On timber suspended floors, ply may be installed to ensure a smooth surface. A primer will typically be applied on the top
On concrete subfloors, a self-levelling screed may be required.
The subfloor will then need to be clean and dry before the LVT tiles or planks are installed.
There are a number of different installation systems available, from click systems which slot together, to those which need to be glued down.
Also allow LVT to adjust to the new environment for 48 hours. Get new flooring delivered to your home at least two days before installation is scheduled.
Can I Install it on a DIY Basis?
The Cost of Installation
"Prepping and installing the floor will cost between £75-125/m2 depending on the condition and more if floorboards need to be replaced or the concrete needs repairs," advises Steve Corbyn of Sentinel Design and Build.
Some LVF has been developed for quick and easy application, like click vinyl tiles. That said, some specialist brands like Karndean do not sell their LVF as a DIY product — they have a network of independent retailers who fit and sell their flooring. Warranties do not apply if flooring is bought outside of their network so it's always best to check with your chosen manufacturer what they recommend before buying it.
How Much Does LVT Flooring Cost?
Prices for LVT vary, with modest ranges starting at around £25/m2. Top of the range LVF can set you back over £60/m2.
Remember to factor in the cost of preparing the subfloor floor and installation, too.
Get the Homebuilding & Renovating Newsletter
Bring your dream home to life with expert advice, how-to guides and design inspiration, direct to your inbox.
Ifeoluwa Adedeji is a homes journalist with a keen interest in period renovations and sustainable house design. Her work has appeared in Homebuilding & Renovating magazine, as well as Evening Standard, Livingetc, Grand Designs, Ideal Home and Good Homes.