Ensuite Ideas: 11 Ways to Make the Most of Your Space
By Hugh Metcalf
Try these ensuite ideas for a dynamic bathroom that utilises space effectively and is a pleasure to use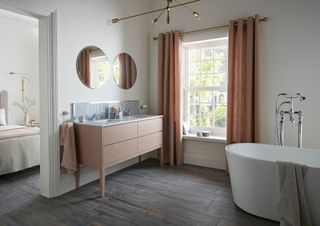 (Image credit: BC Designs / VADO)
The best ensuite ideas aren't necessarily the simplest — sometimes, making the most of a compact bathroom design requires some creative thinking. 
Get it right, and you'll end up with a relaxing retreat away from the chaos that often is the family bathroom, but get it wrong, and it can end up a drab, impractical space. 
With all that in mind, we've collected up some of the smartest ensuite ideas around to inspire your project. 
1. Try This Idea to Hide Your Ensuite Bathroom Door 
There's something novel (and a little bit magical) about a concealed door, and this idea for hiding your ensuite behind a wardrobe door will be sure to impress. 
From a practical perspective, it can also help to simplify the visuals of your room, where you might otherwise have a door among some built-in furniture, also allowing you to make the most of the space available in terms of storage. 
(MORE: Built-in Storage Ideas)
2. Use Pocket Doors for Your Ensuite Bathroom 
Where space is in short supply, planning a pocket door into your build for an ensuite bathroom is a clever idea. These doors retract back into a wall cavity, meaning you don't need to worry about clearance of opening and closing the door. 
It also means you can keep it open when not in use, creating a better connection between bedroom and ensuite, and even borrowing light from one another.  
3. Convert a Second Bedroom in to an Ensuite Bathroom 
An ensuite for a main bedroom is not only desirable, it may add as much as 5% to the value of your home. Re-configuring your home's internal layout may be an option to add an ensuite, changing the use of a second bedroom into a bathroom. 
Some rooms will be easier to convert than others, depending on the location of your soil stack and the arrangement of the existing hot and cold water supplies. 
4. Create a Walk-In Wardrobe Between Your Bedroom and Ensuite Bathroom 
A tried and trusted layout idea, an ensuite bathroom set along a walkway of fitted wardrobes is a clever way to  incorporate plenty of storage into your bedroom design. 
An idea like the above, created by interior design firm SCENESMITH allows the space to function as an open space, beautifully framing the BC Designs bath, while still affording privacy to the more intimate areas of the bathroom.     
5. Add Space for an Ensuite Bathroom With a Loft Extension
When looking at a loft conversion for an extra bedroom, you may find that in a standard home, the loft will struggle to accommodate an ensuite bathroom too. Adding a dormer window is an effective way to increase the head height available in the loft for a better functioning ensuite bathroom. 
6. Put the Bath in the Bedroom
The bath in a bedroom trend takes its inspiration from luxury hotels, and is based on the idea that taking a bath is usually more of a luxury than a convenience and one that can be enjoyed in a more spacious room at a time when privacy is no issue. 
While re-routing plumbing into a bedroom is easy enough, especially if there's an existing ensuite nearby, you will need to pay attention to the materials used in the room around the bath - especially flooring - to ensure that splashes from the bath don't cause damage.  
7. Save Space with An Ensuite Wet Room 
Where space is at a premium, which is often the case with an ensuite bathroom, a wet room can make the most of what's available by avoiding the need for a contained shower unit or separate shower tray.  
8. Use a Small Ensuite Bathroom Cleverly With This Simple Idea 
When creating an ensuite from an existing space without moving external windows, you'll need to be clever to make best use of the space. While a window can be easily incorporated into a shower, we love this idea of placing a basin in front of it. 
Where you'd usually expect to have a mirror over a basin, this clever design by design studio Day True uses a separate, side-mounted mirror to the same effect, offering the best of both worlds to this bathroom space.  
9. Divide Bedroom and Ensuite Bathroom with a Glass Partition 
Broken-plan suites are a big trend in luxury homes, where the main bedroom and ensuite bathroom aren't divided by solid walls and doors. Keeping a barrier between the two remains important, whether that's for ensuring the wet areas don't interfere with the dry ones, or just for privacy. 
Using a glass partition is a great way to achieve the broken-plan effect — keeping both rooms bright and airy, while creating a physical barrier between the two. Reeded or frosted glass could be used where privacy is needed.  
10. Create a Dividing Wall Between Bedroom and Ensuite 
Another great way to create a partition in an open-plan suite is to use a half wall. A design like this is great for creating some privacy, and can conceal key areas from view as required. In a more open space, always consider placing the WC in a separate room for ease of use. 
(MORE: Open Plan Living)
11. Brighten the Space with a Roof Light or Sun Tunnel
A windowless ensuite bathroom is less than ideal, so where making use of an existing window isn't workable, consider a rooflight or sun tunnel as part of your project. This can help give you the maximum wall space to work with for your bathroom fixtures too. 
(MORE: Ceiling Glazing and Roof Lights)
Hugh is Digital Editor of homebuilding.co.uk and has worked on a range of home, design and property magazines. Hugh has developed a passion for modern architecture and interior design. He's currently renovating a Victorian terrace in Essex, DIYing as much of the work as possible. 
Homebuilding & Renovating Newsletter
Get the latest news, reviews and product advice straight to your inbox.
Thank you for signing up to Homebuilding. You will receive a verification email shortly.
There was a problem. Please refresh the page and try again.