A Sympathetic Contemporary Extension to a Listed Farmhouse
By Natasha Brinsmead published
Jenny Marriott and Tim Stokes' restoration and extension of their 17th-century farmhouse not only provided them with a stunning new home, but also the perfect place to run their business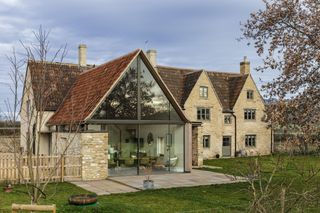 (Image credit: Simon Maxwell)
"We'd been looking for ages for an old farmhouse with land as we run a hotel for dogs and wanted somewhere suitable for the dogs to safely run and play," begins Jenny Marriott. "We spotted Ivy Farm while surfing the internet in the middle of the night when we should have been sleeping."
Undeterred by the run-down state of the Gloucestershire farmhouse and of buying a listed building (the house has Grade-II listed status), Jenny and her partner Tim Stokes could see its potential and got in touch with Martin Hall of Hall + Bednarczyk Architects.
Taking on a Neglected Listed Building
"Despite its listed building status, the building (much of which originates from the 17th century) had suffered from years of neglect and a sequence of ham-fisted adaptations," says architect Martin Hall.
"Basically it was a wreck in an attractive location — and required a considerable level of work," he continues. "The building was Grade-II listed because of its distinctive Cotswold farmhouse silhouette and its 17th-century roof structure remaining intact. However in many other respects it had not been treated with the care you would expect of a listed building.
"It was in such a sorry state, with lots of unsympathetic additions," he adds. "We saw this as an opportunity though."
(MORE: Our guide to renovating a house will help anyone thinking of a project anticipate what's in store, with expert advice and design inspiration)
Image 1 of 4
Image 2 of 4
Image 3 of 4
Image 4 of 4
Obtaining Planning Permission for the Extension
Keen to create a new, bright and open space, Jenny and Tim asked Martin to help them with designing and building an extension that could house an open kitchen and dining space and incorporate a boot room, with garden access.
With its listed status and the house's location within a conservation area, a sensitive approach was taken towards the design.
"Gaining planning permission was somewhat protracted," says Jenny. "It took over a year and the house was disintegrating day by day — the windows didn't fit, there were gaps under every door and the only bathroom in the house – shared with a field mouse – was outdoors! It was about as rough as you could get."
"We engaged with the conservation offers for pre-application planning consultations," says Martin. "Our fundamental approach was to ensure there was an honest distinction between the older sections of the house and the new."
Image 1 of 2
Image 2 of 2
Jenny and Tim had very firm ideas of what they wanted from the house — a layout that suited their dog boarding duties, plenty of light and a modern open plan living space to house the kitchen of their dreams.
"We wanted the kitchen extension to be very modern — to contrast with the old part of the house," explains Jenny. "In addition, we wanted to be able to accommodate up to nine dogs at a time so we needed to be able to divide each ground floor room easily and all rooms had to have an exit onto either the garden or the front yard."
Before work could begin, a series of unsympathetic extensions had to be stripped away. "We removed the jumble of additions that had been added during the 20th century," says Martin. "We also made the case for removing a lean-to dating from the late 19th century with limited heritage value."
Keen that the new extension, despite its modern extension design ideas, overtones and size, should not detract from the historic nature of the farmhouse, Martin came up with a single storey extension design that would complement rather than detract from the 17th-century elements.
"The construction build up of a modern roof, with its ventilation and insulation requirements, is much greater than that of a 17th century one," says Martin. "We designed the extension roof with a steep pitch, with slender verges that are reminiscent of the original tiled gables. We used a lightness of touch — we wanted to create a glassy echo of the original form of the building."
Image 1 of 2
Image 2 of 2
Along with expanses of full-height face glazing, the south-facing extension features western red cedar cladding, while Roman pantiles match those used to cover the main roof.
Stone to tie in with that on the original building has also been used, and continues around the side elevation of the building, where it has been combined with a new oak door and high-level clerestory windows.
"We were keen to avoid a design that would date but wanted to give the house a hint of modern sophistication," says Martin. "We aimed to respect the proportions and materials of the original house."
(MORE: Looking to add a sympathetic new space? Read our advice on matching materials for an extension.)
Renovating the Farmhouse
Image 1 of 2
Image 2 of 2
Along with adding the new extension, many existing elements of the house required complete restoration.
"In a misguided attempt to protect the stone walls, concrete cementitious render had been applied," explains Martin. "This had caused the stone walls to become damper than ever so all the render was stripped off and the stonework needed repointing."
All the lintels over the windows were rotten and had to be replaced with new oak — while the old windows needed complete replacement. All the new windows are bespoke farmhouse-style casement windows made from hardwood.
Jenny and Tim moved out during the work to allow the builders to work unimpeded.
(MORE: Get inspired by our amazing home renovation ideas gallery)
Remodelling the Internal Layout
Image 1 of 3
Image 2 of 3
Image 3 of 3
The new extension allowed key spaces to be repositioned and the layout not only now benefits from plenty of natural light, but it works from a practical perspective too.
"We wanted a light, bright, large kitchen, and boy, did Martin deliver on that!" says Jenny. "We were lusting after some beautiful but very expensive German-designed units, but in the end went for Howdens as a more cost-effective alternative."
The old staircase design was removed as its position was hampering a more flowing layout. The new one is located in the extension, freeing up circulation space elsewhere. "The old staircase was very rickety, but as the house is listed we had to work hard for its removal even though it was actually Victorian rather than 17th century," says Martin. "When a building is as muddled as this was, you have to apply a hierarchy of value to its features."
In the longer section of the L-shaped layout, a huge utility has been created, which is vital for the dog boarding business, while an office is positioned away from the hustle and bustle.
Image 1 of 3
Image 2 of 3
Image 3 of 3
The first floor spaces were cramped and dark — the new staircase location has opened up the landing and the removal of one of the four bedrooms that were on this floor has allowed for an en suite for the master bedroom. New stairs now lead up to the second floor bedroom and bathroom.
"The idea of a Cotswold farmhouse is quite a romantic one," observes Martin. "They can be turned into a polished version of the original but here, the original had been mauled and all that remained was a building in need of saving.
"We didn't want anything cloying. We have used a contemporary design approach to allow the historic elements of the building to come alive." Martin concludes.
Natasha is Homebuilding & Renovating's Associate Editor and has been a member of the team for over two decades. An experienced journalist and renovation expert, she has written for a number of homes titles. She has renovated a terrace and is at the end of the DIY renovation and extension of her Edwardian cottage. She is now looking for her next project.
Homebuilding & Renovating Newsletter
Get the latest news, reviews and product advice straight to your inbox.
Thank you for signing up to Homebuilding. You will receive a verification email shortly.
There was a problem. Please refresh the page and try again.