Small Living Room Ideas: How to Get the Design Right
By Amy Reeves published
Make the most of your snug with these small living room ideas — from lighting and layouts to incorporating special features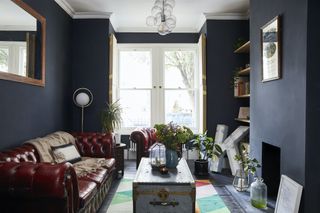 (Image credit: Chris Snook)
Looking for small living room ideas to make a compact space feel bigger than it is? Or maybe embracing the cosy, snug vibe is right for your spatially-challenged spot?
Living rooms may have fallen out of favour in the last couple of decades with open plan living taking the home design zeitgeist by storm, but they are an important space to get right.
Offering a sense of privacy and intimacy that larger spaces lack, small living rooms are making a come back in a big way and whatever size of space you're dealing with, there are some great ideas out there to suit every style of home that will make the most of every inch.
We've collected our favourite small living room ideas, from cosy home cinemas to snugs with savvy storage solutions, to help and inspire you to plan layouts, materials and decor for your space.
1. Deciding on a Layout for a Small Living Room Ideas
While a small living room should, in theory, be simpler to layout as there are less options for furniture positioning, taking care to decide what will be added to the room can turn it from cramped to cosy in no time.
The key to laying out small rooms is to have a clear idea of what it will be used for. Will it be an evening sanctuary away from the kids? Will it be a spot for the whole family to snuggle in while watching TV? Or, will it be used for teenagers to have friends over?
Making these decisions early on will help inform what you need to prioritise in terms of rewiring work (for TVs, gaming set-ups etc), flooring materials (will you choose practical LVT or copy carpet?) and storage options.
Choosing the correct orientation for furniture will also enhance the room. Narrow rooms, like the one above, can suit being sub-divided into usable chunks with an L-shaped sofa, while square and squat rooms often look better with small corner sofas or snuggly arm chairs.
2. Transform a Small Living Room with a Great Lighting Scheme
Just because a living room is small, doesn't mean the lighting design can't be just as creative as in large open-plan spaces.
This charming compact room ingeniously includes everything that a small space requires: statement pendant lights for ambient lighting, a cosy reading lamp for task lighting and accent lighting over the characterful gallery wall for added interest. Plus, on top of all that, a view out to the courtyard garden ensures the space gets natural light during the day.
(MORE: Lighting Design Ideas)
3. Embrace Natural Features in a Small Living Room
Small living rooms can feel cut off from the rest of the house, so be sure to give it it's own personality to keep you coming back. This living room expertly maximises the natural light coming through the large window by using an above-fireplace mirror, while the natural timber floor and lush amounts of houseplants really brings the outside into the small space.
4. Give a Small Living Room Multiple Purposes
If your small living room is seldom used, why not adapt it into a flexible space that can be changed to suit your needs?
This living room-cum-guest-bedroom also includes a small desk (out of shot) and practical storage for children toys when it is used as a play area.
5. Keep an Small Living Room Uncluttered but Featureful
Cramming too much into a small room will make it feel unusable, so be picky about what gets added to resist the feeling of a dumping ground.
That being said, creating pockets of focal features will make the space feel curated. Think about adding a gallery wall, a statement fireplace or paintwork that shows off high ceilings.
6. Make Small Living Rooms Feel Bigger with Glass Doors
Being able to shut away from it all in a snug is an important part of modern living, but if you're conscious of the room feeling dark or gloomy, link it to other spaces using a glass partition wall and door.
(MORE: How to Choose Internal Doors)
7. Double Up on Furniture Uses
Small spaces suffer from being limited in how much seating or storage can physically fit comfortable inside, so try to maximise potential of every item added.
Here, a window seat doesn't just provide extra seating for guests, but also can store away blankets, toys and odds and ends.
8. Amp Up the Cosiness of a Small Living Room
From wall panelling and a wood burning stove to plump cushions and a warm rug, this small living room expertly creates an inviting and comforting environment.
9. Utilise Built-in Units for Small Living Rooms with TVs
While it might seem counter-intuitive to box-off more space, adding built-in storage units to hide away digital boxes, wires and everything else that comes with a modern TV set-up is immensely helpful in small spaces.
Plus, if you want to use the rooms for multiple purposes there are amazing range of cupboard designs to conceal screens, or as in this home, camouflage it within a dark scheme.
10. Create a Small Living Within an Open Plan Space
Modern living is all about flexibility, so designing a place within an open-plan living, kitchen and dining area that can be shut away to catch up on a box-set or have a private chat is becoming increasingly popular.
Here a rustic barn door does the job, but sliding partition screens or minimalist pocket doors are also great options, depending on your home's style.
11. Add the Ultimate Small Cinema Room
Home cinemas don't have to cost the earth and can be achieved on a tight budget by using reclaimed seating. This simple set-up finishes off the atmosphere in the small space by using black-out curtains and hanging iconic moving posters.
12. Go Bold with Dark Colours
For the longest time homeowners avoided dark colours in small spaces for fear that it would feel gloomy, but time and time again deep, jewel colours in cosy snugs prove that they are anything but.
Assistant Editor Amy began working for Homebuilding & Renovating in 2018. She has an interest in sustainable building methods and always has her eye on the latest design ideas. Amy has interviewed countless self builders, renovators and extenders about their experiences for Homebuilding & Renovating magazine. She is currently renovating a mid-century home, together with her partner, on a DIY basis, and has recently fitted her own kitchen.
Homebuilding & Renovating Newsletter
Get the latest news, reviews and product advice straight to your inbox.
Thank you for signing up to Homebuilding. You will receive a verification email shortly.
There was a problem. Please refresh the page and try again.