10 Brilliant Home Renovation Ideas
Old houses tend to need more in the way of ingenuity and creativity when it comes to sensitively transforming them into something suitable for modern-day living. Here are some great design ideas to consider when renovating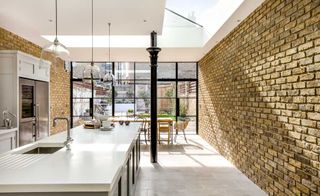 (Image credit: c/p Granit Architecture + Interiors)
No matter how much research you carry out, a renovation project is always a step into the unknown. But with some creative and ingenious ideas, you can transform an older home into one that not only has the wow-factor, but is also much more suitable for 21st century life.
Here are 10 brilliant renovation design ideas that you could consider for your own project.
Check out our complete guide to renovating a house if you are unsure of where to start.
1. The Glass Link
Using a glazed link to connect old and new sections of a house that's being extended is an increasingly popular design idea for renovations. A glass linking section can provide a distinct junction between two sections of a house, as well as bring in pockets of light to otherwise dark, old properties.
This glazed link, designed by Adam Knibb, joins together the original Grade II-listed former barn with a timber-clad, contemporary extension, and has many clever design features. The link addresses the difference in floor levels between the old and new sections, brings in light and gives views of the garden. The top of the link is set at a slight angle to ensure rainwater runs off.
2. The Voluminous Space
A renovation project can offer scope to maximise potential in an existing home, but we often think in terms of floorspace, with the space above often overlooked.
This contemporary home is now unrecognisable from the cramped 1930s bungalow it once was. By including picture windows, strategically placed rooflights and soaring vaulted ceilings, this single-storey home feels airy and spacious. Keeping internal walls to a minimum further enhances the sense of space.
3. The Broken Plan
Going the whole hog with an open plan layout is not for everyone. While completely open plan areas undoubtedly make the most of smaller spaces and ensure light can flow from one space to another, they can make it hard to create more private, intimate areas in renovation projects.
This is where 'broken plan' comes in — layouts that are open, yet zoned through the implementation of partial walls, internal windows and room divides (as shown in this terraced home remodelling scheme, designed by Archer + Braun). This is a strategy that works in large and compact homes alike.
4. Existing Openings Transformed
Modern-day occupants of old houses usually want very different things from their home than the original owners. Ensuring a period house works as a dwelling for its 21st-century inhabitants, without compromising its original character is a real challenge. Both of these properties featured openings that were no longer required, yet the sensitive nature of the listed buildings meant the openings couldn't just be bricked-up.
Architect and homeowner Sean Peel created a shutter-style feature within the now defunct original doorways of his home (above), formerly three farmworkers' cottages. Along with looking striking, the design offers privacy, obscuring the view into the house from the road, while allowing natural light in.
Erected in 1836, the design for the renovation and conversion of this barn (by David Nossiter Architects) retained all of the large agricultural openings. Three different glazing companies were appointed to install bespoke glazing within the original openings, including a swathe of sliding doors. Elsewhere, simple fixed panes of glass ensure the once dark space is full of natural light. "The sensitive nature of the listed buildings meant openings couldn't just be bricked up."
5. Exposing the Original Fabric
Exposing the original fabric of an old home, or salvaging materials, can not only bring character to the interiors of a renovation project, but can also be a pleasing nod to the history of the building — as this exposed timber frame goes to show.
On the verge of collapse when work started on the extension and conversion of this Grade II-listed barn, the local conservation officer gave approval for the oldest part of the structure to be dismantled, providing as much as possible of the original oak frame was salvaged and reused.
Border Oak carried out the delicate task of dismantling and rebuilding the barn. While some of the timbers could be used structurally, those that were in too poor a state of repair have been used for decorative purposes.
6. The Supporting Post
In response to the clients' wishes for a home that had an "industrial aesthetic", a spacious feel and plenty of natural light, Granit Architecture + Interiors has created a contemporary extension to the side and rear of this property that incorporates features to fulfill the brief.
A reclaimed column, originally from an old bandstand, provides structural support and has removed the need for a load-bearing wall. It's an example of how a key part of the structure can play an aesthetic role, too.
Full-width steel framed doors spanning the rear of the house further add to the industrial feel of the space, as do exposed brick walls.
(MORE: The beginner's guide to building an extension)
7. The Twisted Roof
The front of this pretty Grade II-listed cottage in Norfolk gives no clue to the more radical rear extension — which includes a fine example of how renovations can result in some of the most inventive and striking solutions.
Here, the twisted roof of the new extension was a solution borne out of the desire to retain the rear bedroom window while incorporating a new staircase, as architect Tom Allen explains: "I needed to get a roof in that would miss the window at the back and have sufficient head height as you go up the stairs — and that is where the twisting roof design evolved from."
The roof is actually a standard warm deck roof construction, with softwood ceiling joists and rafters, but, unusually, each rafter has a slightly different pitch in order to accommodate the twisting element.
In place of standard sheets of ply over the rafters and joists, there are three layers of 6mm ply that have been glued and laminated in place to form a strong, curved construction — similar to the hull of a ship. The insulation too is a series of built-up layers, with a single-ply membrane over the top.
(MORE: Radical extension design ideas)
 8. The New Third Storey
On purchasing a decaying two-storey, double-fronted house, located at the foot of a sloping street mainly occupied by three or four-storey buildings, the owner was keen to ensure the house was more in keeping with neighbouring homes.
The solution, designed by Granit Architecture + Interiors, was to add not only a contemporary glazed, two-storey extension to the side at the rear, but also to add an entire new third storey. The exterior walls have been newly rendered and matching sash windows constructed so that the new storey sits seamlessly atop the old.
9. The Bifold Alternative
Designed by Granit Architecture + Interiors, this typical Victorian terrace has been transformed by a new rear and side extension. Keen to bring more natural light into the space, but looking for something a little different to the usual bifold or sliding doors, a huge run of steel-framed windows and doors has been introduced, along with a series of large rooflights above.
(MORE: Ways to bring in light from above)
10. Built-in Joinery
Not all rooms are square — particularly in renovation projects. While this is undoubtedly part of their charm, it can make finding furniture that fits and makes the most of the available space a little tricky.
Built-in furniture often works far better in awkward spaces, such as those with uneven walls and sloping ceilings, ensuring every last nook and cranny is taken into account and made use of. 
In order to squeeze as much usable space out of this bedroom as possible, bunk beds, with storage beneath, have been built in, ensuring that the space afforded by the vaulted ceilings has been fully taken advantage of.
Homebuilding & Renovating Newsletter
Get the latest news, expert advice and product inspiration straight to your inbox.
Thank you for signing up to Homebuilding. You will receive a verification email shortly.
There was a problem. Please refresh the page and try again.