Crittall-Style Doors: From Patio Glazing to Internal Screens
By Hugh Metcalf
Crittall-style doors have had a renaissance in recent years. We look at their history, the key things to know and explore some creative schemes with these iconic doors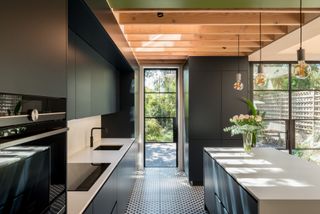 (Image credit: French + Tye)
Crittall-style doors have become one of the most lusted after designs for patio doors in recent times. Aesthetically, they offer a strong design prospect thanks to their celebrated grid-like frames, but what do you actually know about this style of door? 
There are plenty of permutations of Crittall style around when it comes to new doors for your home, so we're delving into the history of the design and what you should know before you buy, as well as serving up some serious inspiration for a scheme using Crittall-style doors for both external glazing and interior partitions. 
(MORE: Get a tailored quote for new doors)
What is a Crittall-Style Door? 
To answer the question of what a Crittall-style door is, first we need to know what a Crittall door is. Crittall is often used to describe generic black, metal, grid-framed doors, windows or internal screens in everyday parlance; however, Crittall is a registered trademark, so technically only those manufactured by the company itself can actually be called Crittall. 
Did you know?
Crittall's steel windows became incredibly popular in the 1920s, tying them with the Art Deco and Modernist architecture movements. 
The British brand, based in Essex, has been around for over 160 years, revolutionising the window market by introducing steel frames at a time when wooden windows were dominant.  
While Crittall may have fallen out of favour for some time, in recent years they've become a much sought-after treatment for modern and traditional homes alike, as an alternative to large, glazed bi-fold or sliding doors. Through this renewed popularity, many imitators have entered the marketplace, offering steel or aluminium windows and doors in the, by-this-point, iconic gridded Crittall style. 
Similar to Crittall-style doors, you may also see gridded designs referred to as Belgian doors. 
What are the Benefits of Crittall-Style Doors? 
The history of steel windows has largely been industrial, so for those looking to add an industrial edge to their home, the aesthetics of Crittall-style doors are a huge pull. They work well with both modern and traditional styles of properties, and can help to increase your home's value in comparison to opting for a lower quality or mismatching window style to your property's style and period. 
Steel doors are also incredibly durable, with the galvanisation process protecting them from warping and rusting. You can expect quality steel doors to last for up to 60 years. The powder coating is equally durable and will last for 25-30 years before requiring redecorating. 
Crittall-style doors can be double or triple glazed and feature quality draught proofing to ensure your home remains airtight and energy efficient. 
Thanks to the long-lasting nature and fact that steel is a recyclable material, Crittall-style doors can be considered a more eco-friendly option than uPVC for example. 
Are Crittall-Style Doors Expensive? 
Crittall, specifically, is a premium product, and as such can run into thousands of pounds per m2. While Crittall-style doors may not always carry the same prestige of the Crittall name, they are also likely to be high-quality, premium products which demand similar prices. 
Crittall-style doors are largely made from steel, which adds to the price, but there are some instances of aluminium frame doors, which while not a replacement for the quality of steel as such, offer a similar aesthetic on a tighter budget. 
Likewise, gridded door designs made from timber have become popular for internal doors and partitions, offering a much more budget-friendly option that doesn't require specialist ironmongery. 
Editor's Note: If you're looking for a quote for your patio doors, simply tell us a bit about your project in the questionnaire below and we'll match your requirements with the services and prices that our partners offer. And don't worry, only partners that match your needs will reach out to you.
Design Ideas for Crittall-Style Doors
Use Crittall-Style Doors Along a Corridor
n this design by XUL Architecture, Crittall-style doors and an internal partition separate the living space from the corridor, while retaining the sense of space and borrowing light from the roof light in the hallway.
Crittall-Style Doors Made to Non-Standard Shapes
In this design, a Crittall screen creates more structure in an arched opening. The sleek steel frame is made bespoke. A similar project costs from £5,984.
Use Crittall-Style Doors to Create a Pantry
Crittall's sliding Innervision doors have been used to create a separate pantry in this Davonport kitchen. Pocket, rebate and face-mounted opening options are available.
Choose Colourful Crittall-Style Doors
This deVOL kitchen, described as Provence meets Wes Anderson, uses Crittall-style doors powder-coated in pastel green. Steel Crittall windows can be powder coated in any colour to finish.
Sliding Crittall-Style Doors for Flexible Open-Plan Living
Crittall-style doors are perfect for creating a 'broken plan' scheme, creating distinction between spaces while preserving the openness of an open plan space. As well as classic style doors, sliding doors are available in Crittall styles. IQ Glass' MHB Internal range are hand-welded for a bespoke look.
Homebuilding & Renovating Newsletter
Get the latest news, reviews and product advice straight to your inbox.
Thank you for signing up to Homebuilding. You will receive a verification email shortly.
There was a problem. Please refresh the page and try again.