Solar PVT: A Homeowner's Guide
By David Hilton
Is Solar PVT worth having? Energy efficiency expert David Hilton delves into the pros, cons and costs of this renewable energy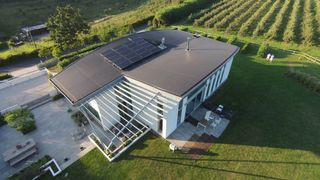 (Image credit: Hawkes Architecture)
Solar PVT (photovoltaic thermal) panels, or hybrid solar panels as they are sometimes known, are a  combination of solar photovoltaic panel and solar thermal panels in one module. 
A hybrid solar PVT module can therefore produce electricity and heat simultaneously.
(MORE: Solar Panels Guide)
How Does a Solar PVT System Work?
Don't confuse...
Solar PVT with Hybrid Solar air systems also referred to as aerovoltaic where ducts are built into the photovoltaic  panel and air is drawn across the panel and delivered to the home to cool the PV panel but also preheat the fresh air entering the home.
Solar PVT panels are effectively a solar photovoltaic (PV) panel that also has pipes that are built into the collector and have a fluid circulating between them and a water cylinder. As the sun shines on the panel the light is absorbed by the PV cells and the heat is absorbed by the solar thermal element. 
This has two advantages: one is that the fluid warms up and can be used as useful heat and the second is that the fluid cools the PV cells which makes them more efficient.
(MORE: Get a quote for the solar panels for your project)
How are Solar PVT Panels Installed?
Solar PVT panels are installed in the same way that regular solar panels are installed but will have electrical connections as well as plumbing components.
How Much Does a Solar PVT System Cost?
The cost of solar PVT systems ranges depending on the manufacturer, capacity of the system, components included and the installer. As there are not a lot of approved and experienced installers the price could fluctuate a lot due to travel. A 4kWp system could cost around £10,000 installed.
Editor's Note: Homebuilding.co.uk partners with the UK's best solar panel suppliers to match your requirements with their products. Simply answer a few questions on what you need from your solar panels and we'll put you in touch with a suitable partner.
How Much Energy do Solar PVT Systems Generate?
According to the manufacturers, a solar PVT system can generate around 1500kWh of energy per kWp installed per year. That would be around 1000kWh of electricity and around 500Wh of heat. 
The hybrid solar PVT panels can produce more heat than this but that could then be too hot for the PV cells. The crucial design details would be to make sure that you can use all the generated energy but also not overheat the PV cells. 
Most manufacturers will have software that can give you a reasonable indication of your annual energy generation and you can then use this to evaluate the return on investment.
(MORE: 15 Inspiring Eco Homes)
Is it More Cost-effective to Opt for Separate Solar Thermal and Solar PV Panels?
Given the cost of the solar PVT panels and the relatively small number of installers the general consensus is that if you have enough room on the roof then going for separate solar PV and solar thermal systems could be the best option. 
The solar PV and the solar thermal panel systems can then be sized properly and the energy use optimised. 
(MORE: Get a quote for the solar panels for your project)
What are the Pros of Solar PVT?
Solar PVT panels take up less space on a roof because the solar PV and the solar thermal panels are combined. This could be ideal on homes that have smaller roofs, such as three-storey properties.
What are the Disadvantages of Solar PVT?
Solar PVT panels can be expensive. They are not a mainstream product yet so the installers and materials could be harder to source and therefore more costly. 
The thermal element of the PVT panel will not get to the high temperatures reached by standard solar thermal panels. This makes the heat more difficult to use as it needs additional heating. 
PVT panels are a complimentary system and you will still need a primary heating system.
What Products are Available?
Thermodynamic Panels
Another product that is often confused with hybrid solar PVT is thermodynamic panels. These technologies have collectors that are mounted on a roof or a wall and have refrigerant in them that absorb the suns energy. They do not generate electricity and effectively a type of heat pump system.
There are a few different solar PVT manufacturers but the products are very similar. Always do check however if there are any other vital components that are required to make the system work.
Where Can I Find a Good Installer?
The best way to find solar PVT installers is to search for the manufacturers and then check with them for approved installers.
Do Solar PVT Panels Have a Future in our Homes?
Solar PVT panels could well have a future on homes that have smaller roof space. The combined nature of the way they work is a good concept and optimises the PV. If production increases then we may see economies of scale and the panels could then be financially competitive and more widely specified. 
(MORE: Renewable Energy Guide)
Get a Quote for Solar PVT Panels for Your Home
Get matched with a partner who can help you make the right choice of solar panels for your project.
How It Works
1. Enter your details below. Tell us a bit about your project and what you are looking for, and leave some contact details.
2. We search our database. We'll match your requirements with the products and services that our partners offer.
3. Partners will contact you. Don't worry about being bombarded - only the suppliers that match your requirements will contact you.
Homebuilding & Renovating Newsletter
Get the latest news, expert advice and product inspiration straight to your inbox.
Thank you for signing up to Homebuilding. You will receive a verification email shortly.
There was a problem. Please refresh the page and try again.