13 Renovated Terraced Homes Ideas
By Lindsey Davis published
If you live in a terrace that is ripe for renovation, be inspired by these homes that have been transformed through remodelling and extending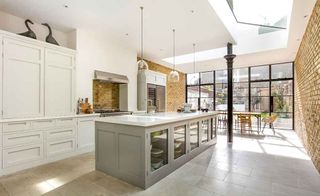 (Image credit: Andrew Beasley)
Over a quarter of all homes in the UK are terraces, but many were built in the Victorian era and are not well suited to modern life. Even those built later were often designed with economy rather than quality of life in mind.
Small kitchens, warrens of tiny receptions rooms and a lack of light are common complaints — but a terrace doesn't have to be that way, as these extended, remodelled and renovated homes go to show.
(MORE: How to extend and remodel terraced homes (opens in new tab))
1. A Contrasting Extension
After living in their property for 20 years, the homeowners of this Edwardian mid-terrace home in Bath chose to enlist the services of CaSA Architects to carry out a full renovation of their house, including a single-storey kitchen diner extension to improve the connection between the ground floor and the garden at the rear.
Externally, natural building materials have been used in a contemporary way to help the extensions tie in with the original Bath Ashlar stone. Full-height corner glazing opens up the new dining room to the garden, while the covering to the external terrace, western red cedar cladding and Douglas fir columns along the boundary wall prevents overlooking from neighbouring properties. The removal of internal walls (opens in new tab) has also allowed for through-views of the garden within the property.
On the first floor, the ceiling was lowered at the rear of the property to allow for a new study and external roof terrace to be formed at second floor level, which captures the best views of the city. A master bedroom and en suite has then been created in the attic space, with the party walls upgraded to help improve acoustic measures from the neighbouring property.
2. A Minimalist Terrace
Architectural practice Thompson + Baroni has updated this tired house in south-west London to create warm, open plan spaces, complete with a show-stopping stainless steel and oak open tread staircase at the centre.
After obtaining Permitted Development (opens in new tab) consent to extend the property to the rear, a bespoke kitchen diner has been created – which steps down from the open plan formal living area – and clad in brickwork to match the existing. Where internal walls were completely removed, the columns supporting the structure have been hidden in joinery to maintain the clean lines.
Providing a minimalist palette of materials, the house has been finished with white walls and oak flooring, with built-in joinery throughout, keeping the property clutter-free. Recessed Viabizzuno lighting has been carefully arranged in the ceiling to create a seamless and sparse finish. Further adding to the minimalist theme, a new master bedroom has been designed with the bed positioned on a raised platform.
3. Glazed Extension to a London Terrace
After nearly 20 years in their East London home, the Wubben's were starting to find it was a bit of a squeeze. They added a glazed two-storey, side return extension (opens in new tab), which houses a light-filled studio for fashion designer Claire.
A third storey extension in traditional brick was added too. The front façade however is largely unchanged.
4. London Flat with Zinc-Clad Extension
A tiny flat in a terraced building in a Conservation Area (opens in new tab), was probably not the most likely candidate for a family home. But the Unadkats have achieved just that by doubling their ground-floor flat with a striking zinc-clad extension.
They hired local practice Belsize Architects who knew what the planners were keen to see. The home is now a healthy 130m2 as opposed to the 65m2 it was when they purchased it.
5. A Victorian Terrace Revived
This period terraced home in London, has been transformed into a home for modern family living by the team at ID Architecture, thanks to an extensive remodel and extension project. A redesign of the ground floor layout has allowed for a new kitchen diner that opens out onto a rear patio.
There's a good connection with the outside space, thanks to full-height sliding doors. A bank of rooflights in this space also helps to bring natural light into the previously dark centre of the floor plan.
There have been large changes upstairs too: the new extensions have also provided space for a new master bedroom with en suite as well as a fourth bedroom. A staircase to a roof terrace also offers further outdoor amenity space, casting views overlooking the city.
6. A Renovation Under £10,000
When Will Stovell bought this Victorian terrace in Sussex, it had been used for rental and had an ineffective layout. He sacrificed a bedroom to move the bathroom to the first floor from downstairs, and used clever storage to make the most of the available space.
He has also taken care to restore period detailing, creating a traditional home with a modern edge. Will shopped around to find great deals on fittings, using eBay to source high-end features.
7. Terraced Council House Transformed
Buying an uninspiring council house was the only way architect-owners Kim and Jamal could afford to move from their cramped London flat to something larger.
After living in the three-storey property for a year, they decided to extend the kitchen – which they did under Permitted Development (opens in new tab) – and remodelled the layout, incorporating as much storage as they could.
8. An Industrial-Style Addition
With a view to opening up the ground floor of their mid-terrace Victorian home in Wandsworth, London, the homeowners called on Granit Architects to extend this period home and carry out a minimalist remodel throughout. Granit proposed lowering the floor and extending out to the side and rear in order to create a large open plan kitchen diner. The space is stepped down from the existing building to show a transition between old and new.
A reclaimed column – originally from an old bandstand – has been introduced in the kitchen to support the first and second floor above. This quirky addition removed the need for a load-bearing wall. A large L-shaped rooflight brings natural light right into the heart of this space — and forms a natural break between the old building and new extension. Huge steel-framed Belgian doors which open up to the rear, the reclaimed column, and exposed brick walls add to the industrial style.
9. Five-Storey Victorian Terrace
With all the period features long gone, Rick and Cindy Wells felt warranted to give this Victorian terrace a drastically modern overhaul.
The once muddled layout has been transformed, with a vast basement (opens in new tab) level and a raised ground floor that have large, semi-open plan rooms filled with light.
10. Remodelled Terrace in Shepherd's Bush
A strikingly modern extension was the perfect solution to the claustrophobic, Victorian terrace Cathie Curran bought to turn into a family home. Internal glazing and rooflights (opens in new tab) have been used to ensure light penetrates the once dingy interior.
11. Renovated North London Terrace
Many Victorian terraces feature a two-up two-down layout leading to small dark rooms with limited, awkward circulation space. Architect-owner Phil Coffey overcame this in his North London terrace by making the ground floor open plan (opens in new tab) but cleverly zoned using changes in level and flooring.
Improving the flow of light in the property was really important, so glass ceilings and bi-fold doors have been used wherever possible to enhance the sense of space. The result is a home with a modest footprint, that feels roomy and bright.
12. Timber Extension to a Victorian Terrace
The timber tower of an extension, at the rear of this London home, has a glazed roof and carefully placed privacy windows.
It has created a quirky, but highly functional addition to the listed (opens in new tab) terrace, remedying the issues of a home with cramped back rooms that discouraged enjoyment of the ample garden.
13. Terraced Georgian Townhouse
Chris Dyson has restored this townhouse in London's renowned Spitalfields back to its former glory. He repaired and replaced Georgian features in the derelict building and uses the top three floors as his home (the basement is a self contained flat and the ground floor a gallery space).
The top floor is a new mansard addition with adjoining roof terrace. As this was a new space with no history, Chris felt he had free reign to install a contrastingly modern kitchen diner (opens in new tab).
Homebuilding & Renovating Newsletter
Get the latest news, reviews and product advice straight to your inbox.
Thank you for signing up to Homebuilding. You will receive a verification email shortly.
There was a problem. Please refresh the page and try again.